If dips are your thing, The Choice of the Nation Competition is perfect for you. Enter your best dip at www.ladyschoiceofthenation.com and you could be crowned the winner with PHP100,000 cash prize and gifts! 

Join in 3 easy steps
Submit your information so diners can know who you are, and add in your restaurant's information so diners can know where you are.

Add your dip's name, description, recipe (we won't show it!) and photos.

Make sure your dip is in the Top 10 by getting your diners to vote from Aug 1 – 31.

Promote your dips, and prepare for a cook-off
Downloadable posters, stickers, and images are available so you can promote your dip submission to your diners and friends. 
The 10 entries with the most number of votes will battle it out in a live cook-off, judged by an esteemed panel of industry and celebrity chefs. Make sure you submit your very best dip as you can submit only one! 
Join the competition and submit a dip
Already have winning a dip in mind? Sign up for the competition today. Registration closes on 31 July 2018.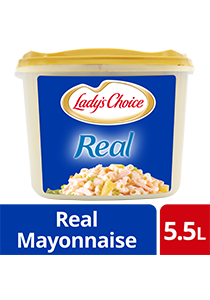 Lady's Choice Real Mayonnaise is made with real eggs, soybean oil and vinegar. Soybean oil naturally contains Omega 3, a group of essential fatty acids. Lady's Choice Real mayonnaise is your best choice for all traditional applications of mayonnaise such as - base for elaborated cold sauces - salad dressings - sandwich spreads and fillings.
Find out more