Carte D'Or Green Unflavored Gulaman 1kg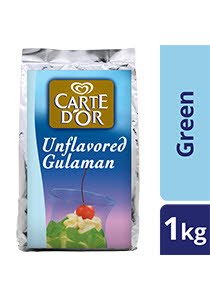 Packaging
List Price (Vat Inclusive)
Full product information
Nutrition and allergens
Ingredients
Sugar, Carrageenan, Stabilizers (Sodium Citrate, Potassium Chloride), Food Acid (Fumaric), Artificial Colors (Yellow 5, Blue 1)
Nutrition Information
| Typical values | Per 100 g as sold | Per 100 ml as sold | Per portion |
| --- | --- | --- | --- |
| Energy kJ | 1,631.00 kJ | - kJ | 367.00 kJ |
| Energy kcal | 391.00 kcal | - kcal | 87.98 kcal |
| Protein | 0.00 g | - g | 0.00 g |
| Carbohydrate | 4.00 g | - g | 1.00 g |
| Cholesterol | 0.00 mg | - mg | 0.00 mg |
| Sugars | 89.00 g | - g | 20.00 g |
| Total lipid, fat | 0.00 g | - g | 0.00 g |
| Fatty acids, total saturated | 0.00 g | - g | 0.00 g |
| Fatty acids, total monounsaturated | 0.00 g | - g | 0.00 g |
| Fatty acids, total polyunsaturated | 0.00 g | - g | 0.00 g |
| Fatty acids, total trans | 0.00 g | - g | 0.00 g |
| Fiber, total dietary | 409.00 g | - g | 92.00 g |
| Sodium, Na | 1,022.00 mg | - mg | 230.00 mg |
Key product information
Description
An easy-to-use mix for jelly-based desserts. Ideal for Buko Pandan.
Packaging
Per Case (6 x 1kg)
Container
Per Piece (Pouch)
Usage information
Preparation
1. Dissolve required amount of Carte D'Or Gulaman in measured amount of boiling water. Simmer immediately with constant stirring until all crystals are dissolved.
2. Pour into molds and cool to room temperature.
3. Carte D'Or Gulaman sets without refrigeration. Serve chilled for best results.

Yield
10 servings (270g gulaman mix + 1L water)
1 serving = 100ml
Benefits
1. Quick and simple to prepare, it's perfect for busy kitchens.
2. High yield mix - excellent for cost and portion control.
3. Cost effective - high profit potential, quick to prepare versus scratch-made desserts.
4. Dissolves easily, sets quickly.
Storage
Store in a cool dry place.