Seabass Saltimbocca with Potato Gnocchi
Saltimbocca means 'jump in your mouth', and the flavours in this dish do exactly that. This version is made with seabass and delicately sliced parma ham in a tasty tomato-based sauce, served with buttery gnocchi and showered with parmesan.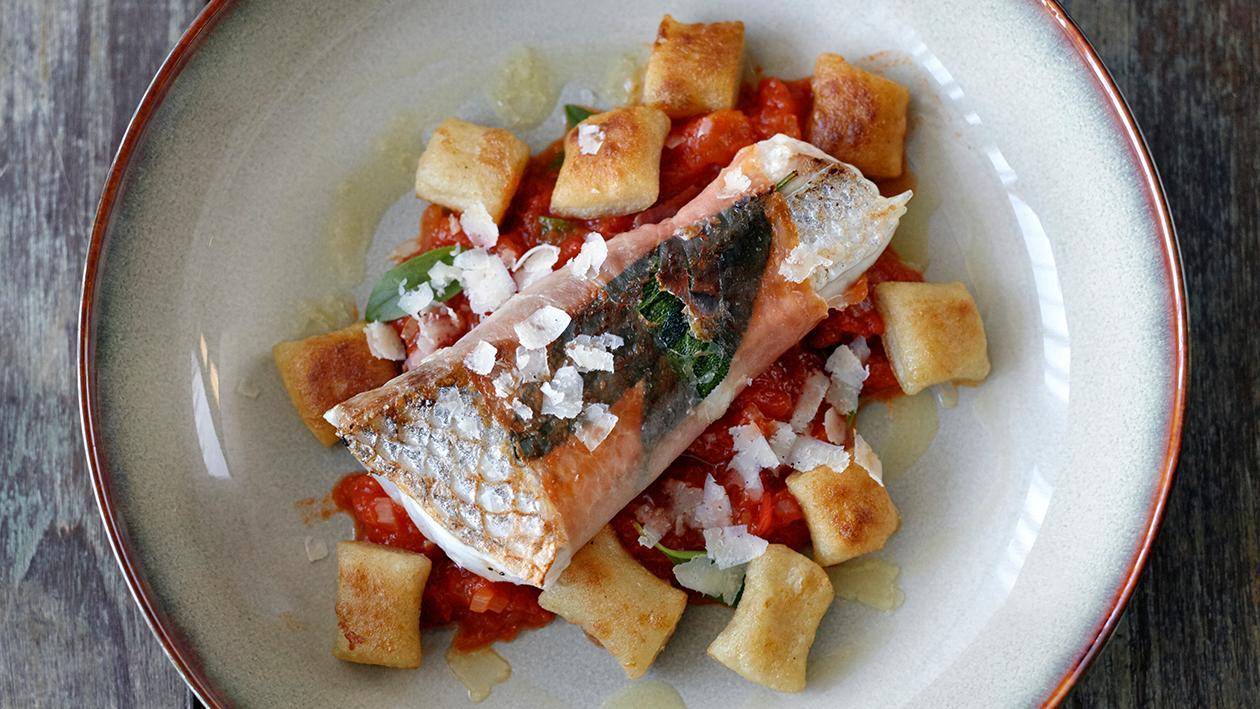 Ingredients
Fish
Parma Ham (thin slices)

10 pc
Sauce
Shallots, finely chopped

80 g

Garlic Cloves, finely chopped

2 pc

Knorr Napoli Tomato Sauce 750g

300 ml
Potato Gnocchi
Preparation
Fish

Divide the seabass in 10 pieces of 120 gram.
Season the filets with salt and pepper.
Roll the filet together with the sage leaves in the Parma ham.
Fry the "saltimbocca's" in a shallow pan in a little olive oil.
Take the fish out of the pan and let it rest on a warm place.

Sauce

Fry the chopped shallots and garlic in the same pan as the fish.
Add the Knorr Napoli Tomato Sauce.
Let the sauce simmer for 10 minutes.
Add the basil just before serving.

Potato Gnocchi

Make a dough by mixing the cooled down mashed potato, egg, egg yolk and flour.
Knead until dough becomes stiff.
Roll into long cylinders approximately 1 cm thick.
Cut the cylinders in gnocchi shapes of 1 cm.
Blanch the gnocchi.
Dry them on paper.
Fry the gnocchi in clarified butter until golden.

Plating

Finish the tomato sauce by adding basil.
Spoon the sauce into the center of the plate.
Put the seabass saltimbocca on top.
Place the gnocchi's around.
Finish with grated parmesan cheese.