As the Philippine government declares Code Red Sublevel 2 due to the coronavirus (COVID-19), restaurants are taking it hard. While food establishments are allowed to operate (limited to deliveries in Luzon), businesses must double their efforts in assuring customers that they are taking all precautionary measures to ensure the cleanliness of their food and kitchen. This includes good front of house (FOH) and back of house (BOH) practices.
To keep your customers free from worries, here are low-cost measures commonly practiced by local restaurants to keep your area neat and virus-free.


It's all about hygiene
According to the World Health Organization (WHO), food safety starts with you -- the food handler. One of the main ways of spreading the virus is through interaction with contaminated surfaces which are commonly touched such as desks, tables, keyboards and phones. Hence, it is important to wipe these areas with disinfectants.
Wash your hands thoroughly
The most basic preventive measure is to wash your hands regularly and thoroughly with soap and water. Doing so kills the viruses that may be on your hands.
Alcohol and sanitizers are important
Place a bottle of hand sanitizer or alcohol rub in prominent areas in the kitchen area. This way, the staff can keep their hands germ-free while still being on the move.
Sanitize your workplace
Aside from having a sanitizing bucket and alcohol rub solution ready on hand, it is a must to keep your work stations clean before, during, and after every use. Food handlers should sanitize their area right after work is done to keep germs from inhabiting its surroundings.
Protect your utensils
Treat your utensils as gold. Don't let them lying around everywhere. Instead, keep them covered in containers or sealed in bags to avoid stray particles from falling onto the utensils.
Keep your customers informed
There are many ways to communicate with your customers -- newsletters, mobile messages, app notifications and social media platforms. Simple post updates and announcements go a long way. Tell your customers what you're doing to keep your establishment virus-free. Share tips on how they can do their part as a responsible consumer.
As for your store, you can place posters and signages about the precautionary measures your staff go through -- temperature check prior to entering the premises, usual sanitation protocol in preparation for operations and strict implementation of hygienic procedures.

Provide masks for staff
FOH and BOH staff are required to wear spit guard face masks throughout the day as it becomes their shield from the virus. Moreover, it keeps your food safe from possible contamination as well. In the event that the chef or kitchen staff is not feeling well, they are required to take a leave from work to avoid other food handlers from getting sick.
Health comes first
If an employee is not feeling well, he or she must notify your direct supervisor about your condition. This is to secure their health and safety and to prevent transmission to other staff.
"Fit to work" policy
If a staff member is absent because of a contagious illness such as a flu or colds, he must present a letter of recommendation or a medical confirming he is fit to work prior to acceptance for work.
Keep a record of treatments
A nurse on duty must keep track of all treatment of minor cuts, burns, etc. conducted on a staff member for medical history purposes.

Taking Charge in the Kitchen: BOH Practices to Reassure Diners
Just like any theater performance, your backstage is just as important as your front stage. Although a lot of the behind-the-scenes action happens in your kitchen, which is out of sight, this doesn't mean your customers are not thinking about them. Given the current situation, it is common for diners to be meticulous with their food and have questions such as, "Is the restaurant's kitchen just as clean as mine? Did the chef wash his hands before chopping this dish? Did the dishwasher thoroughly wash the chopping board for preparation?"
So how can you reassure your customers that your BOH is just as clean as the FOH? Here are some helpful tips:
Apply personal hygiene standards
It's imperative to go back to the basics when it comes to hygiene. Here are some fundamental ways that your kitchen staff should adhere to:
Maintaining a clean uniform to be worn during work hours
Wearing a hair net, disposable gloves and a full apron for different prep stations
Wearing non-slip, covered shoes for ease of movement
Wearing a plastic chef mask to avoid any droplets from getting in contact with food
Keeping hair neat and fingernails short
Washing hands thoroughly and regularly with soap and alcohol rub 
Safe food sourcing and preparation
For any food establishment, the ingredients you use in every dish will make or break your credibility. That's why it is a top priority to source your ingredients from credible suppliers that provide top notch quality. A second factor would be cooking and storing at the right temperature. Raw food must be cooked at a suitably high temperature and stored at an appropriate cool temperature.
A general rule for raw meat is that they should never be prepared or stored together. When dealing with frozen food, it is recommended to cook thawed food within two (2) hours. Also, another rule of thumb is to never refreeze.
Cooking of food
Time is gold when it comes to cooking food. Once you prepare your ingredients, it should never be left unattended on the kitchen counter at room temperature with maximum exposure to germs and bacteria. Cook food right away.
Washing vegetables
When washing vegetables, it is best to use a vegetable washer or sanitiser as advised by the Hazard Analysis Critical Control Point (HACCP) standards. 
To ensure the highest quality of standards by HACCP are met, it is highly essential for employees to work in a clean and safe workplace.
While some practices mentioned above are specifically meant for the coronavirus situation, most of these steps are and should be already part of your restaurant's SOPs. If not, now is the best time to start performing these practices and maintain doing it as a routine not only to gain your customer's trust but also to ensure that you provide quality and guaranteed safety in your products and services.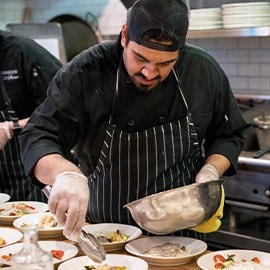 Food Safety, Culinary Techniques and More!
Register now to access UFS Academy courses and learn new techniques, cuisines and tips from expert chefs!
Sign Up Now