P100 Giftaway Universal eGift® Voucher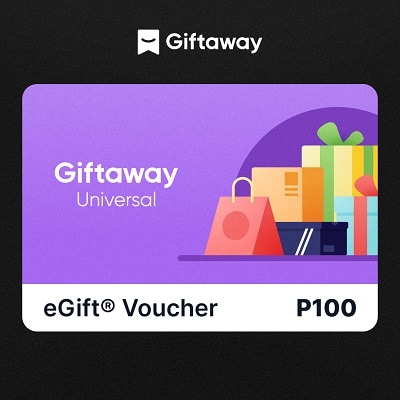 P100 Giftaway Universal eGift® Voucher
Packaging
List Price (Vat Inclusive)
Quantity
Added to cart: P100 Giftaway Universal eGift® Voucher
Please select your city, followed by your distributor
Your preferred distributor
Additional distributors
Your preferred distributor
Additional distributors
Please select a distributor
Packaging
List Price (Vat Inclusive)
Quantity
*Retail price: this price is just an indication of a possible resale price of your selected trade partner, included for indicative reference purposes only. Your actual purchase price is subject to the agreement between you and your selected trade partner, and could thus be lower or higher.
Added to cart: P100 Giftaway Universal eGift® Voucher
P100 Giftaway Universal eGift® Voucher
Redeem an eGift from 400+ brands nationwide like GCash, SM, Philippine Airlines, Klook, and more!
The eGift is for one-time use only. If the total value of eGift is not used up, there will be no cash change given. If the purchase goes beyond the eGift amount, the recipient is to pay for the difference. To see all the participating stores, visit this link Giftaway Universal.
eGift is a registered trademark of Giftaway.
Per DOH-FDA-CFRR Permit No. 1782 s. 2022
Article number:

CP0032587

•
Full product information
Key product information
Description
● The recipient is responsible for the safekeeping of the eGift.
● The eGift may not be valid for use on certain promotional items/services and it cannot be exchanged for cash.
● Some stores or merchants may change depending on availability and based on the value of the eGift.
● Strictly applicable to the participating merchants only excluding digital wallets.
● The Universal eGift may be subject to additional terms and conditions imposed by each merchant. Such terms and conditions may limit the use of the eGift, such as restrictions on using the eGift for certain products, services, or promotions.
● Giftaway reserves the right to modify, suspend, or terminate these terms and conditions, or any aspect of the eGift and its function at any time, without prior notice, in its sole discretion.