Module 11: High Volume Production Cooking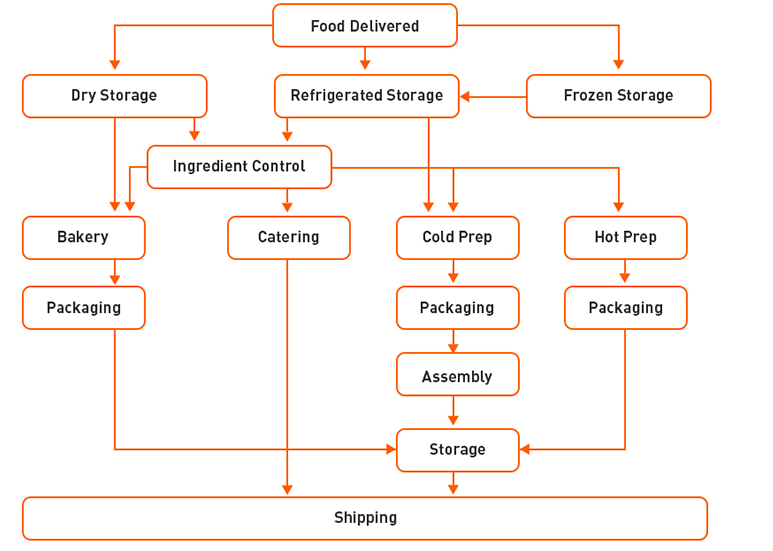 Maintenance for the central kitchen and equipment is important and an ongoing task. Preventive maintenance plans for the facilities need to be included in the operating budget.
Typical equipment required in a central kitchen include:
The central kitchen affects the way your outlets' kitchens are run. Let's examine the different areas that are affected.
1. Equipment and facilities
Because most of the cooking is done in the central kitchen, the outlet kitchens change their operations in a few ways:
Less outlet kitchen space is needed.
More basic cooking equipment required.
Lesser storage space needed.
Lower flexibility to adapt the menu according to customers' requests.
2. Standard recipes vs standard operating procedures (SOPs)
Instead of standard recipes, have your outlet staff know the SOPs to preparing a dish. This is because there is less cooking involved and the focus is on reheating or preparing the dish to be served.



3. Ordering
The Periodic Automatic Replenishment (PAR) stock system is used to identify the minimal amount of food available in order to get through the busiest service. Once stock levels reach the pre-identified minimum quantity, new stocks should be indented.
Here's how to go about doing this:
Have a larger stock buffer for more popular dishes.
A simple formula for determining quantity is:
(Number of diners ÷ number of main courses) x buffers (usually 1.5 to 2).
Kitchen reorders once PAR stock is lower than this quantity.
4. Service ratio
An outlet with a central kitchen generally sees a higher turnover and increased capacity for multiple seating. You will need to consider:
Hiring a large number of waitstaff.
Requiring less skilled staff to produce the same quantity of food.

Congratulations, you've completed the 4 Ways Central Kitchens Influence Outlet Operations topic!
Pick a related topic from the High Volume Production Cooking module, or go back to the Chefmanship Academy modules page.