With so many food choices available in today's market, consumers are always looking for new tastes, food trends and flavours to excite their hungry palates. As such, restaurants constantly need to reinvent their menus to keep loyal patrons interested and attract new diners. Dips usually take a back seat when it comes to meals, but these extra components are so versatile, they can be essential to modernising a dish in brilliant and creative ways.
Here are 6 reasons why you should start innovating your dips
Dips are affordable and easy to produce
One easy way for restaurants to upgrade their food without spending so much or overhauling their existing cuisine is by making dips. With just a few simple ingredients, you can easily create a huge variety of flavours to complement your dishes.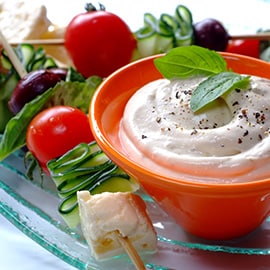 Creative dips make salads more enticing
Who says salads must taste bland? Health-conscious diners still want a flavourful meal even when they're eating greens and salads – dressings and dips can do just that! Learning how to use an ingredient to its full potential in creating the perfect dip can help you uncover a range of tastes for health-conscious consumers.
Dips create a visual impact
It is often said that you eat with your eyes before the food reaches your mouth, so plating and presentation are aspects that can't be overlooked. Make colourful dips like guacamole, beet hummus and nacho cheese, because their vibrant colours make any dish so much more visually appealing.
Dips add texture to a dish
If you want to add more texture to an entrée without using too many ingredients, pair it with a dip. Salsa dips are big on the crunch, remoulades are creamy with light chunks, while a thick ranch dip can add a smooth touch to crispy food like fried chicken fingers.
With dips, you can experiment with exotic ingredients
Cheddar jalapeño, honey mustard, barbecue, garlic lime – play around with these popular flavours and make your own special add-ons, or infuse exotic ingredients into your dips to entice your diners. You could try serving fried chicken with yuzu dip, or bread with muhammara, maybe even french fries with Bombay ketchup! Simply pair your exotic dip with a well-loved classic dish so your diners won't get overly intimidated to try your new dips!
Dips allow diners to customise their meals
Some diners may just want a hint of sourness or a touch of heat in their food, while others are hankering for a strong garlic-mayo combination. By providing them with a whole range of your in-house special dips, you are encouraging your diners to be adventurous with their food, while valuing their personal taste. Since they get to refine the food to their individual preferences, it ultimately leads to greater satisfaction.