This hearty feast is an easy cooking recipe that's perfect for 2, and gets its inspiration from popular German sausage dishes. As a twist, prepare it with a teriyaki demi-glace sauce for that Asian touch that complements its meaty flavours.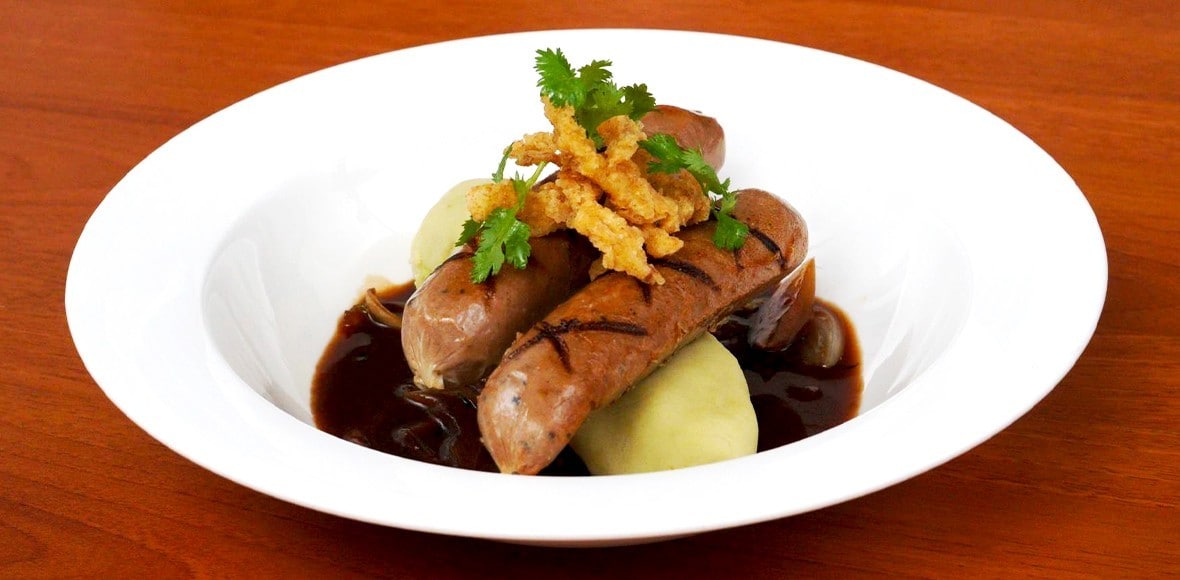 Ingredients
Sausage
300g bockwurst sausage 
150g onions, sliced        
5g thyme   
1g bay leaf                    
3g salt 
2g black pepper 
Mashed Potato 
750ml water                        
250g Knorr Mashed Potato 
10g salt 
5g wasabi powder 
25g edamame                   
Demi-Glace 
100g Knorr Demi Glace     
1L water 
Teriyaki (can also be replaced with Knorr Teriyaki Sauce)   
60ml brown sugar 
60ml water 
120ml soy sauce 
60g sugar
Fried Onion
50g onion, sliced         
50g all-purpose flour                 
3g salt                           
1g black pepper 
15g chicken eggs
Garnish
Black and white seame seeds
Togarashi pepper
Preparation
Sausage
Heat oil in a pan and sear sausages.
Set aside.
Chef's tip: When pressed for time, you can cut your sausages in half and cut a crisscross pattern on the skin side so that it cooks faster.
Mashed Potato

Boil water, then add Knorr Mashed Potato Flakes, salt and wasabi powder.
Whisk until smooth.
In a separate pot, boil the edamame and mash together with the mashed potatoes.
Nutritional tip: You can substitute regular potatoes for sweet potatoes as a healthier option.
Demi-Glace
Mix the Knorr Demi Glace and water together.
Heat until you get the desired consistency for your sauce.
Teriyaki 
Mix all ingredients together. 
Bring to a boil until sugar is dissolved and the mixture thickens.
Chef's tip: If your sauce is too thick, add water. If your sauce is too watery, add a mix of corn starch and water to thicken it.
Teriyaki Demi-Glace
Using the same pan, sweat onion, thyme, bay leaf, salt and pepper until onions are translucent. 
Pour in the demi-glace sauce and finish it off with the teriyaki sauce.
Fried Onion 
Mix the seasonings into the flour. 
Coat onions in eggs and seasoned flour. 
Fry at 180°C until golden brown. 
Plating 

Put the mashed potato in the middle of the plate, then place the sausages on top. 
Pour teriyaki demi-glace around the mash and sausages.
Garnish with fried onions, black and white sesame seeds and togarashi pepper.