Showcase the perfect way to a beef steak meal for 2 with this Mexican-inspired dish that's made even better with Asian elements of tamarind and coconut. And let's not forget the healthy food additions: quinoa and kale!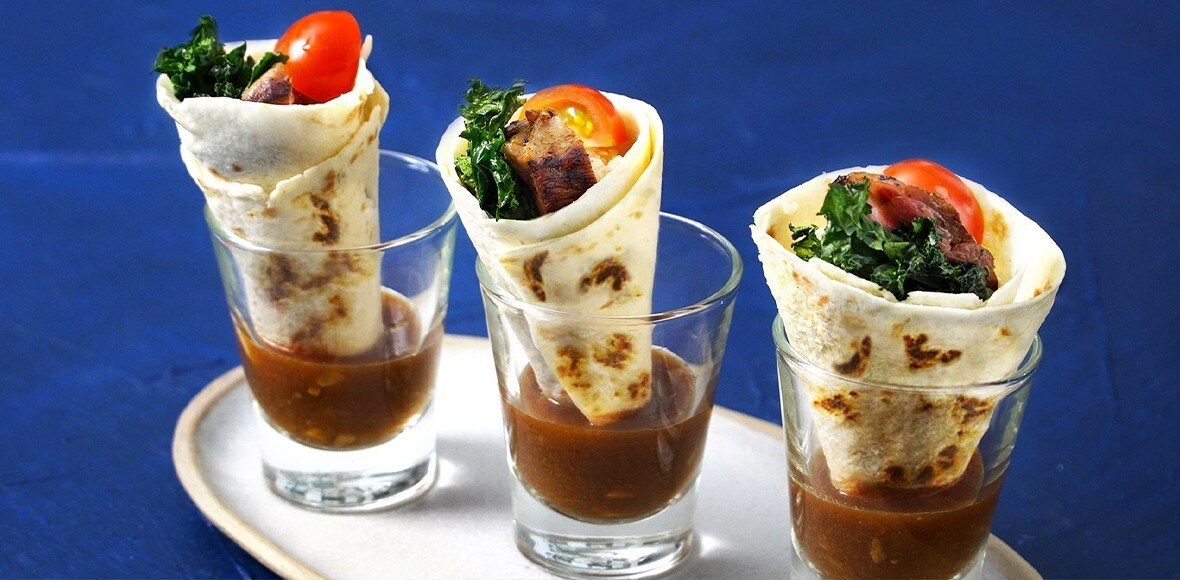 Ingredients
Steak 
Tortillas
3 medium tortillas, cut in half
Flank Steak Marinade
15ml soy sauce 
15ml vegetable oil 
6g ginger, chopped
2 cloves garlic, chopped 
5g sugar 
5ml rice vinegar
Demi-Glace Tamarind Sauce
30g butter 
5g garlic, chopped 
10g onion, chopped 
15ml tamarind juice 
3g brown sugar 
1g salt 
2 tbsp Knorr Demi Glace, diluted in 500 ml water 
Coconut Quinoa
200g quinoa, rinsed and cleaned
200ml coconut milk 
3g Knorr Chicken Powder 
400ml water 
2 tbsp vegetable oil 
Kale Chips
200g kale 
30ml olive oil
1g salt 
Preparation
Flank Steak
Mix all the marinade ingredients together, then add the flank steak and coat evenly. Let sit at room temperature for about 30 minutes. 
Grill steak until cooked to desired doneness, then let it rest for 10 minutes. 
Sliced steak thinly against grain. 
Demi-Glace Tamarind Sauce
Heat butter, then sauté garlic, onions and tamarind juice until fragrant. 
Add the Knorr Demi-Glace solution, bring to a boil and simmer for 2 minutes. 
Coconut Quinoa
Rinse the quinoa in a strainer under cold water until the water runs clear. 
Place the quinoa in a large saucepan, then mix in the coconut milk, water, Knorr Chicken Powder and salt.  
Bring to a boil over medium-high heat, then let it simmer for about 15-20 minutes (or until the outer casings on the quinoa have popped and become translucent). 
Kale Chips 
Preheat the oven to 135°C. 
Remove the centre stem from the kale leaves, cut into 4 cm pieces and toss with olive oil and salt. 
Place on a baking tray and bake until crisp for a total of about 20 minutes. 
Turn the leaves halfway through. 
Plating 

Pour the demi-glace tamarind sauce into a shot glass. 
Roll the tortilla into a cone and fill it with the flank steak and kale chips. 
Place the roll in the shot glass, and garnish with a cherry tomato slice.