Learning how to cook laksa the right way opens so many new avenues for Singaporean cuisine. For example, this dish blends together 2 awesome hawker favourites: creamy salted egg and spicy laksa! The molten surprise guests get when they cut into the mashed potato is a creative take on Singapore food that is both picture-perfect and delicious to boot!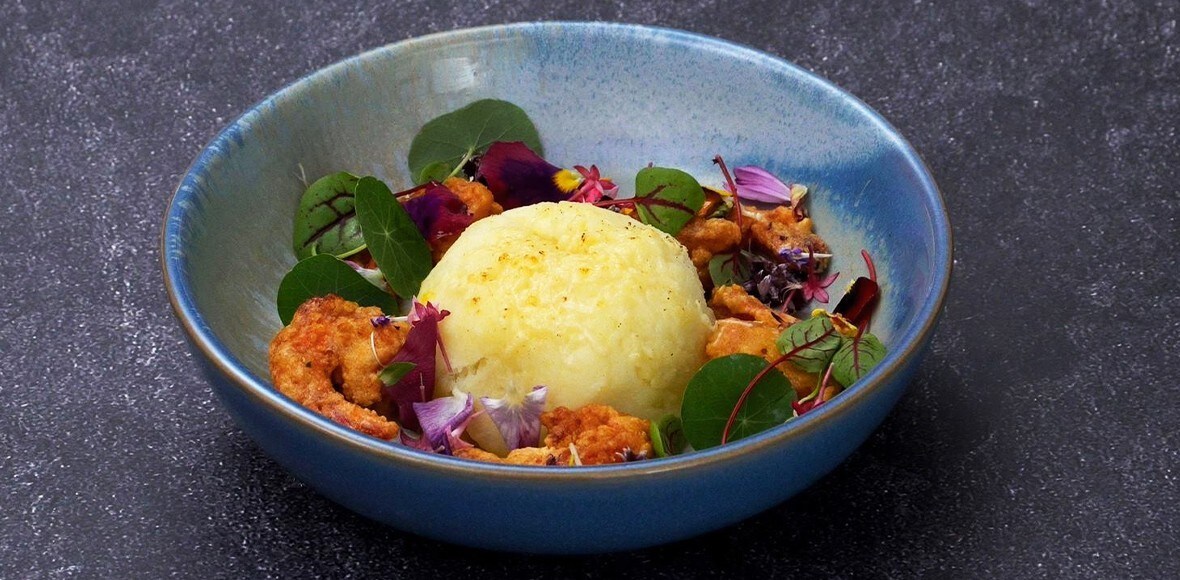 Ingredients
Mashed Potato Lava
250g Knorr Mashed Potato Flakes
7g salt 
900ml water 
400ml milk
50g grated parmesan 
Laksa Paste
30ml oil 
20g shallots 
4 pcs red chilli 
10g dried chilli 
2 pcs of lemongrass 
10g turmeric
5g shrimp paste 
10g dried shrimp 
Laksa Broth
250ml coconut milk 
15g Knorr Chicken Powder, diluted in 250 ml water 
15ml fish sauce 
2g Knorr Lime Powder, diluted in water
8 sheets of gelatine 
Salted Egg Prawn
150g medium prawns
1 egg white 
50g rice flour 
2.5g Knorr Chicken Powder 
Oil for frying 
Sauce
10ml corn oil 
25g unsalted butter 
17g Knorr Golden Salted Egg Power 
5g red chilli, sliced thin 
3g curry leaves 
Preparation 
Mashed Potato Lava 
Heat water and salt until boiling, then add milk and Knorr Mashed Potato Flakes. Mix well then set aside. 
Laksa Paste 
Add all the ingredients into the food processor and blend into a paste. 
Laksa Soup
Heat the vegetable oil in a large wok or heavy pan over medium. 
Add laksa paste and stir until fragrant. Lower the heat, then let it cook for about 3–4 minutes more. 
Add the coconut milk and bring to the boil. Lower the heat and let it simmer for around 10 minutes to infuse flavour. 
Add the chicken stock and let it simmer for 10 minutes. Then, add fish sauce and Knorr Lime Powder to taste. 
Soak the gelatine in cold water, then add to the laksa soup. Mix well, then let it cool before storing it in the freezer to let it set. 
Spoon the mashed potato into a mold, then fill the center with the laksa that was previously set. Cover the laksa with more mashed potato.
Salted Egg Prawns  
Season the prawns with Knorr Chicken Powder, then add egg white. 
Coat the prawn with rice flour, then deep fry until crisp and golden brown. 
Place the cooked prawn on paper towels until it's time to assemble the dish. 
Heat the oil in a small wok, add the butter and stir until melted. Add the curry leaves and the red chillies, then add the Knorr Golden Salted Egg Powder. 
Toss the prawns in the sauce. 
Plating 

Remove the mashed potato from the mold, then put in the serving bowl. 
Sprinkle with parmesan cheese, and then bake it at 180°C for about 5 minutes. 
Plate the potato dome with salted egg prawn on the side, then garnish.