Mastering how to cook salmon will give you an edge, especially if you can create a tasty, creamy, zesty sauce that highlights the flavourful fish! Try out this recipe for 2 that uses Japanese yuzu flavours for that subtle sweet-sour taste. Don't forget to pair the fish with a medley of vegetables!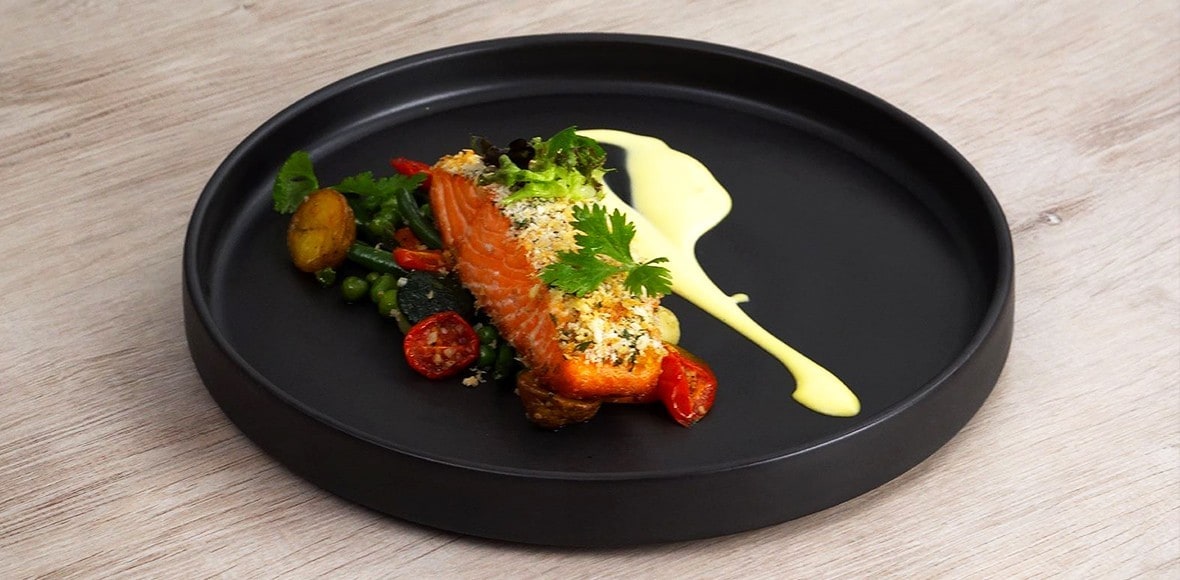 Ingredients
Crust
140g salmon          
1g mustard             
12g cilantro           
12g parsley             
50g breadcrumbs    
2g salt                      
1g pepper                
Hollandaise 
100g Knorr Hollandaise Sauce      
50ml water                             
50ml butter                             
3g salt                                    
0.5g Knorr Lime Powder    
5g yuzu
Garnish 
5g roasted tomatoes        
5g wilted spinach           
5g carrot    
20g fingerling potatoes    
15g zucchini  
3g salsa  
Salsa 
5g tomato, diced    
5g cucumber, diced    
2g cilantro, chopped       
2g shallot, sliced          
0.5g tobiko                 
1g lime juice
Preparation
Breadcrumb Mixture 
Chop parsley and cilantro finely and combine with breadcrumbs. 
Season with salt and pepper, then put the mixture on top of the salmon fillet. 
Crusted Salmon 
Sear the salmon, skin side down to make the skin crisp. 
Broil in oven afterwards until the crust is a golden-brown colour.
Hollandaise Sauce 
Melt butter in a pan, then add Knorr Hollandaise Sauce and salt. 
Pour in cold water and whisk until evenly combined. 
Let it simmer for 1 minute, then add in some yuzu juice. Keep the sauce warm. 
Roast Tomatoes 
Season cherry tomatoes with salt and pepper then bake it at 160°C for 30 minutes. 
Roast Potatoes
Heat pan, then cut the fingerling potatoes in half, and season with salt and pepper.
Sear one side, then let it cook in the oven for 40 minutes until fork tender.
Sautéd Vegetables
Heat oil in a pan, then add garlic. Toss in the zucchini, potatoes and spinach, then season with salt and pepper. 
Sauté until tender, then add in the roasted tomatoes and chopped parsley.
Plating 

Put vegetables in the middle of the plate, then place crusted salmon on top. 
Pour the hollandaise sauce around the plate, and garnish the salmon with edible flowers and chopped parsley.