Meet the expert chefs who help make Unilever Food Solutions your source for every day inspiration. With advice and knowledge gained from many years of experience, our award-winning team helps us create the perfect balance of great tasting and nutritious food served up to consistently high standards.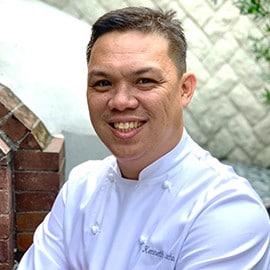 Kenneth Cacho
30 years in the food service industry
Chef Kenneth's love for food definitely shines from his vast and rich experience, wherein he has been cooking up many great dishes for over three decades. After graduating in 1991 at De La Salle – Emilio Aguinaldo College with a degree in BSBA Management, he immediately entered the food industry as a chef in The Palm Garden Gourmet Restaurant and Le Souffle Restaurant and Wine Bar.
Not only did he leave customers satisfied in these restaurants, Chef Kenneth also shows great promise in various fields based on his background in being a senior sous chef in The Mandarin Oriental Manila and Chef de Cuisine at RMS Queen Mary 2. His achievements of winning gold in various competition, such as Philippine Culinary Cup 2017 and 2019 and FHA Singapore further highlights his culinary expertise.
Many people would already agree that Chef Kenneth is a great chef, but he doesn't limit himself to simply cooking. Chef Kenneth definitely stands out with his strong reputation in business management and training skills. He has opened his own successful food businesses like Los Indios Bravos Boracay and Steampunk Boracay as well as helped others develop their culinary skills in the International School for Culinary Arts and Hotel Management Pampanga. Unilever Food Solutions is happy to have Chef Kenneth onboard our Culinary Team as a Country Executive Chef in 2019.
Chef Kenneth's passion for cooking is also captured even after work in his social channels where he shares and experiments different kinds of cuisine and cooking methods. His creative twists and business acumen inspires food operators and Filipinos to discover new unique flavors when cooking.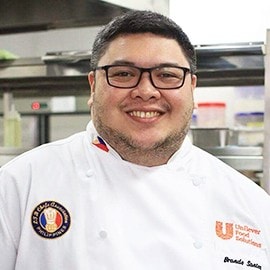 Brando Santos
24 years in the food service industry
With over 2 decades of experience under his belt, Chef Brando started his culinary journey at the Center for Culinary Arts, Manila. After working for various established restaurants, he became the Executive Chef of St. Luke's Medical Center in Global City.
Having been in the industry for 15 years, Chef Brando's impressive culinary career started when he took courses in CCA after finishing his Bachelor's Degree in Biology and Physics at the University of Santo Tomas. He went on to work for various restaurants in Manila, eventually becoming the Executive Chef of St. Luke's Medical Center in Global City, where he led the team that revolutionised the hospital's still nutritious yet more gourmet menu.
He is also highly lauded as part of the team that won back to back championships in the Philippine Culinary Cup in 2013 and 2014, and is a certified assessor and culinary competition judge by the World Association of Chefs Societies.
In 2015, Chef Brando was an a wonderful addition to our culinary team in Unilever Food Solutions and leads today as one of our senior sous chef. He constantly brings to the UFS Culinary Team his incredible expertise and talents in the creative process of creating new dishes, especially when it comes with culinary applications with HORECA. As a previous Chef Instructor for CCA Manila and Global Academy, he is also deeply passionate about teaching and paying it forward to the next generation of young culinary professionals.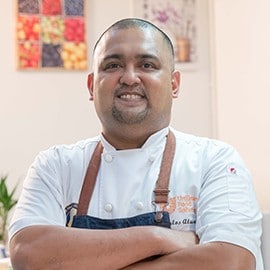 Carlos "Pipo" Aluning
14 years in the food service industry
Chef Pipo, as he is fondly called in his kitchens, earned his degree in Hotel, Restaurant, and Institution Management at DLSU-College of St. Benilde. As one of the youngest sous chefs in Sofitel Philippine Plaza, he helped deliver large banquets including two openings of the renowned Spiral Buffet.
As a student, Chef Pipo was introduced to the industry working as a barista for Seattle's Best Coffee. This experience kick-started his journey as he switched from engineering to the culinary arts. He became an apprentice at the Sofitel Philippine Plaza after graduating and eventually worked his way up to becoming the youngest sous chef in the team responsible for large banquets and the two openings of the renowned Spiral Buffet. He also ventured into teaching, becoming a part-time culinary instructor at DLSU-CSB. Through his experiences and expertise in teaching people and managing kitchens, he is now a senior sous chef in Unilever Food Solutions that works closely with different food chains and marketing campaigns.
His strong culinary training, complemented by a rich and diverse food heritage from both sides of his family, is a valued addition to the combined expertise of the Unilever Food Solutions chef team.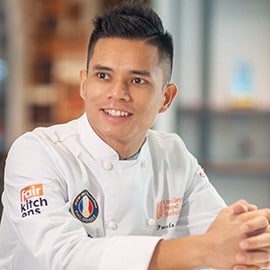 Paulo Sia
19 years in the food service industry
Chef Paulo earned his culinary degree at the Center for Culinary Arts, Manila. He has experience in both restaurants and hotels, working for C2 Bar and Restaurant before moving on to Linden Suites Hotel. He also set up and managed the Multinational Catering Services as the chef-patron.
Chef Paulo's diverse culinary background comes from having worked with varied food establishments like C2 Bar and Restaurants, Linden Suites, and Multinational Catering Services. He was also trained at the Majestic Hotel in Singapore for modern Chinese cuisine. In 2003, Chef Paulo entered Unilever Food Solutions as a chef consultant for hotels and restaurants. His experience in various food industries and passion to continuously innovate has led him to become our senior sous chef that deals with culinary requirements and ideation projects with top food chains.
He values visual art and movement, and thus believes in constantly reinventing food presentations to keep up with market trends. Chef Paolo lends his multi-disciplinary skills as part of the roster of expert chefs at Unilever Food Solutions, helping our partner operators serve delicious, nutritious, and profitable meals to their diners.
Anna Santella
7 years in the food service industry
Chef Anna is an honours graduate from La Salle–College of Saint Benilde School of Hotel, Restaurant and Institution Management. She worked in both local and international restaurants before joining Unilever as a Culinary Specialist. Her enthusiasm makes her a breath of fresh air to our solid culinary team.
Don't let her age fool you – Chef Anna's zeal for food and impressive work ethic has helped her build her uniquely fresh and exciting take on the culinary arts. An honours graduate from De La Salle-College of Saint Benilde's School of Hotel, Restaurant and Institution Management, her first stint was as a pastry cook at The Greenbrier in West Virginia, USA. There, she worked under the famed Chef Jean Francois Suteau, a recipient of the US Chocolate Masters award in 2013. She also broadened her experience by working in the hotel's other kitchens, such as the main kitchen and the banquet kitchen. Upon her return to the Philippines, she worked as a commis chef for the cold kitchen of Paul Boulangerie and Patisserie's flagship branch in The Fort.
She started in Unilever Food Solutions as a Culinary Specialist, assisting the culinary team in meeting the needs of the HoReCa and Chain accounts, as well as running the famed Chefmanship Academy. Along with UFS Chefs Joanne Limoanco-Gendrano and Carlos Aluning, she joined the Philippine Culinary Cup's Dream Team Challenge in 2015, where her team nabbed the bronze. Today, she is the Customer Development Executive that is responsible for providing training and support to the UFS Sales Team through the implementation and creation of various 24/7 easy access online learning modules.
With Chef Anna's passion for exploring new flavours and culinary experiences, she doesn't see food just as sustenance, but as a learning experience and a tool for building relationships. You can expect her to add zest and exuberance to an already great culinary team.