Those numbers have only grown since 2018, and modern food trends reflect that! More and more Americans are viewing food as medicine, and they're searching for the perfect marriage of healthy fuel and fantastic flavor.

Cassidee Dabney, chef of Blackberry Farm in Tennessee, says she uses mindful eating as her mantra. While she creates innovative dishes and updates her menu, her goal is "food to fuel the mind, body and spirit."ii In addition, chefs are trying more to consider which professional cleaning products are present in their kitchens, and are opting for nontoxic solutions like Seventh Generation Professional All-Purpose Cleaner.
Let's talk about the big 10 modern food trends that are going to excite and inspire consumers next year.
Fermented foods
CBD-infused food and drinks
Diverse whole grain options
Sustainable seafood
Hyper-regional cuisine
Hormone-free, organic meats
Keto considerations
Plant-based food
Environmentally-friendly dining and professional cleaning products
High-quality convenience
Fermented Foods
As consumers shift their preferences towards immunity-boosting and health-promoting foods, fermented foods are still on the list of their favorites!
In 2018, the popularity of fermented foods increased by 149%iii and consumers still can't get enough of kimchi, Kombucha and sauerkrauts.
Whole Foods says 2021 will be the year of probiotics and mushrooms. They also predict that new alcoholic Kombucha drinks will sweep the nation.iv
Consumers are looking for fermented foods that contribute beneficial enzymes to the intestinal flora, such as:
Miso
Tempeh
Kefir
Beer
Yogurt
You can always use fermented sauces or bases, like in this Stir Fried Shrimp with a fermented shrimp paste, or experiment with fermented creations of your own design.  
CBD-Infused Foods & Drinks
CBD-infused foods and drinks have rapidly gained popularity over the past few years. While the idea has been gaining momentum since 2019, laws have continued to change, and it is now easier than ever before to actually get CBD-infused foods on the menu.
Consumers are intrigued by the potential pain and anxiety relief of CBD infusions. Of course, it is essential to incorporate the proper food safety practices with CBD, so how can you incorporate it into a safe dining experience?
Here are a few of the CBD-infused foods and drinks that consumers are loving right now.
Gin
Hummus
Ice cream
Lattes
Mocktails
Chocolate
Cookies
Candies
As for food safety practices, Andrea Drummer, co-owner of Elevation Cooperative, a high-end dinner party caterer, gets her cannabis from an organic farmer. In a four-course meal, she limits cannabis usage to 25-30 milligrams. She recommends starting with as little as 10 milligrams, and checking in with how the consumer is feeling.
Some chefs prefer leaving the CBD at the table in pipettes filled with 15 milligrams. They allow their guests to drop it onto their food and into their drinks as they so choose.v
CBD adds an earthy, herbal taste to foods. Some chefs like to instill the oils with fruity flavors. As long as you do your research on food safety practices you can safely utilize this modern food trend.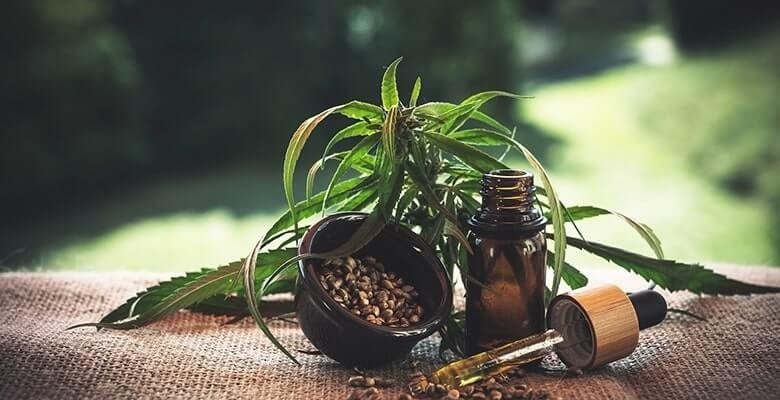 Diverse Whole Grain Options
Many consumers still appreciate a hot, soft piece of bread. They're also broadening their horizons to incorporate more healthful and whole grain options than ever before.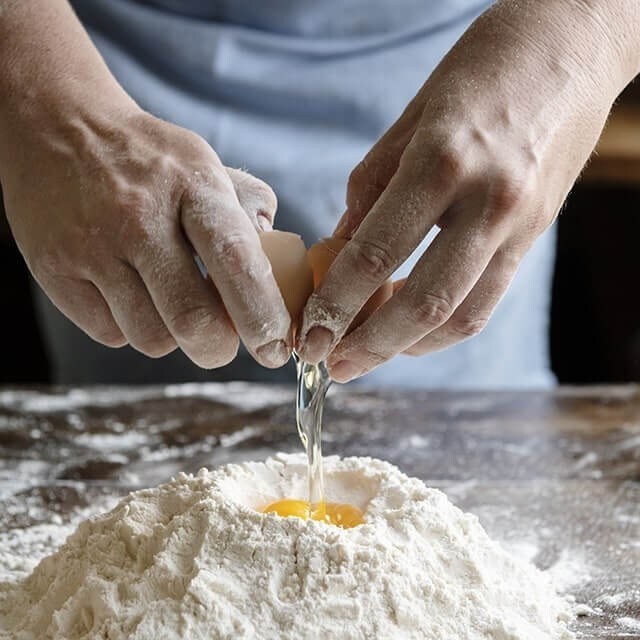 Real sourdoughs
Antique grains
Heritage wheats
Local, organic, and GMO-free breads and cereals
Artisan bread
Ciabatta
Asian breads
Middle Eastern breads
Flatbread
Focaccia
The tradition lives on – we're still drooling over fresh bread made in-house! There are more options than ever, and health-minded consumers might be eager to see gluten-free bread, ancient grains and more on the menu.
Sustainable Seafood
Andrew Camellini, the chef of NoHo Hospitality and Rye Street Tavern in Baltimore, recommends: "I see a trend of more chefs searching out sustainable fish and seafood options – let's get our guests willing to try other options besides salmon and shrimp!vi
For the last few years, chefs are sourcing more seafood locally, knowing you can actually get higher-quality fish nearby rather than importing it. Together, we maintain an awareness of environmental impact by serving up different species!
Fish-free "fish" dishes have also become more popular with guests who prefer plant-based ingredients, and offering these dishes provide another opportunity to conserve wildlife.
These Baja Beer Battered Fish Tacos call for shark (dogfish) fillets, which is a fun way to break out of the salmon and shrimp bubble!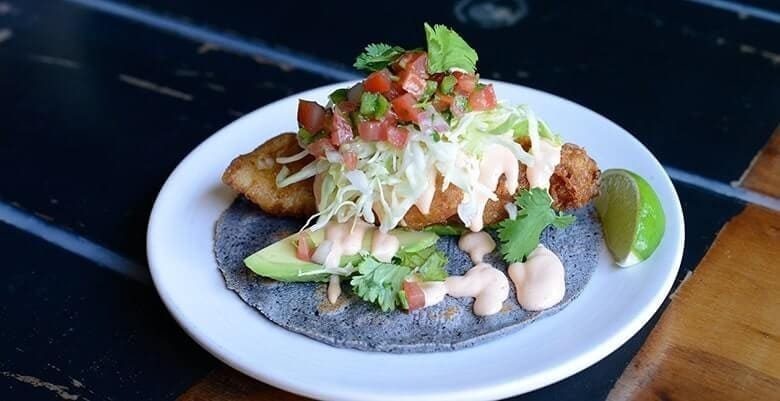 Hyper-Regional Cuisine
Some of the 2019 culinary trends will still be alive and thriving in 2021.
Chefs aren't just cooking up a "classic dish from Germany" anymore – they're differentiating recipes from Brandenburg versus Bavaria, and the consumers love it!
Guests enjoy feeling a part of various cultures, especially if they find a particular culture in their own genealogy. Creating delicious hyper-regionalized recipes and describing them in detail on the menu gives our guests a chance to learn more than ever before.vii
Side note: Hyperlocal cuisine is also still vastly popular. Many consumers prefer the freshness of real foods grown or raised right around their homes.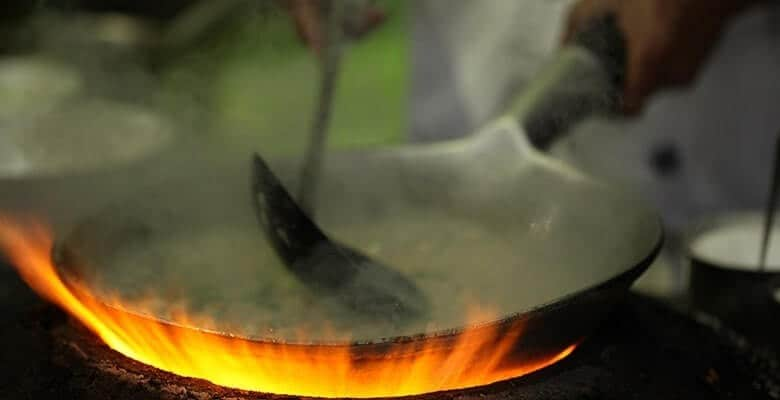 Hormone-Free, Organic Meats
Many customers are aware of the benefits of all things natural – nontoxic professional cleaning products, organic fruits and vegetables, and hormone-free meats.
Organic, grass-fed, grass-finished, hormone-free… consumers are calling for a change in the meat industry. They are ready and willing to pay more for meat that comes from healthy animals.
When a chef can put "100% grass-fed and grass-finished" on the menu, they are going to make some health-conscious individuals very happy!
It can be challenging to acquire organic meat, when it only takes up 1.4% of the meat market, and organic poultry can be even more difficult to find. Fortunately, most consumers understand the cost will be higher and are willing to pay the difference.viii
Side note: Red meat has gained popularity over the past couple of years, due to trending diets like paleo, keto and high protein.
Keto Considerations
Consumers consistently care about our food safety practices and that we're serving up delicious cuisine, but their diets are always evolving.
Good news: It appears that the keto diet isn't going anywhere – billions of people follow the ketogenic diet, and those numbers are predicted to increase each year until at least 2024.ix
Here are some ways to accommodate more keto dietary restrictions—
Using chocolate with low sugar and high cocoa content (for example, >72% dark chocolate)
Putting options on the menu with about 75% calories from fat, 20% from protein and only 5% from carbohydrates
Providing meat or seafood dishes served with veggies and salad (no grains)
Utilizing egg and omelet variations, which are also keto-friendlyx
To make matters even simpler, you could tweak your menu just slightly to offer keto versions of your usual hits. For example, the keto version of this Pan Seared Cod with Purple Kale recipe would be almost the same – just hold the beans and rice!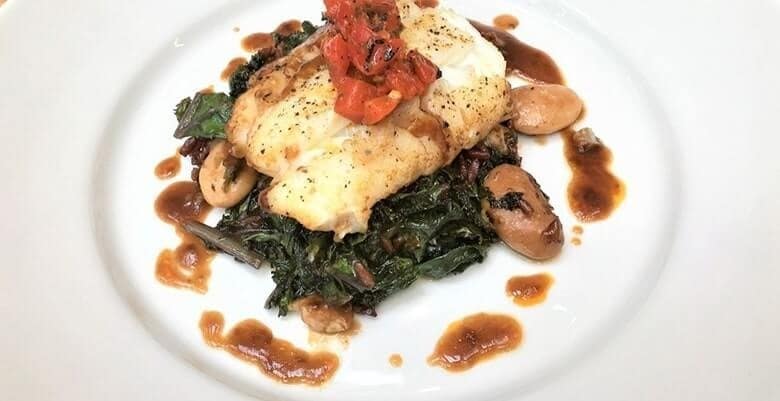 Plant-Based Food
On the flip side of the keto diet is the ever-growing plant-based fad. Consumers want to see menus full of colorful plant-based proteins, healthy bowls and specialty veggie-burger blends!
Meatless meat dishes and snacks have also become popular. It's a good time to try out meat alternatives made from fruit and veggies (like mushrooms, pea protein, and soy protein) and flavor them with sweet and savory spices, from chili to cacao.
One of the biggest plant-based food fads is the humble chickpea. No, the chickpea's run is not done! In 2021 we can expect to see:
Chickpea tofu
Chickpea chips
Chickpea flour
Chickpea cereal
Of course, we can always appeal to health-conscious consumers by bumping up the vegetable ratio in our dishes, especially if they're organically-grown, foraged or sustainable vegetables!
An excellent meat-free dish featuring the favored chickpea would be a Middle Eastern Chickpea and Swiss Chard Bowl with Delicata Squash, Pomegranate and Pistachio.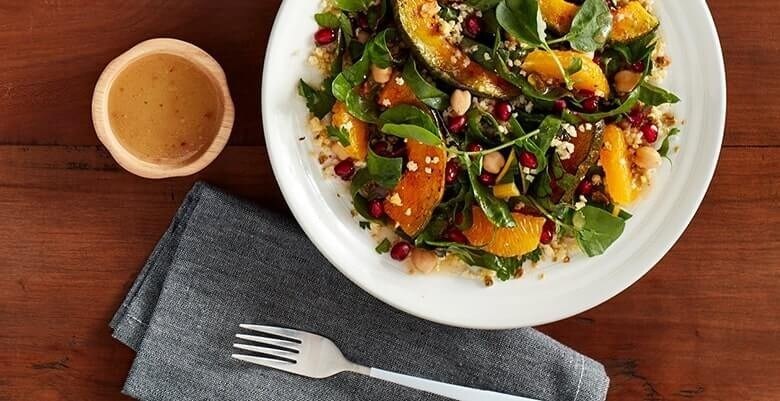 Customers also appreciate knowing plant-based, biodegradable professional cleaning products like Seventh Generation Professional are used in the places they eat.
Environmentally-Friendly Dining & Professional Cleaning Products
Consumers care more than ever that we're doing a little extra for our planet. They're interested in how we're disposing of our food to our food safety practices and which professional cleaning products we're using.
Some of the things that Samantha Kincaid and Jon Nodler, chefs and owners of Cadence in Philadelphia, recommend:
Reducing waste
Using biodegradable, professional cleaning products whenever possible
Composting
Using eco-friendly packagingxi
What professional cleaning products do you like to use in your kitchen? Seventh Generation Professional products are gaining popularity because they're not just environmentally friendly – they truly work.
Upcycling is another modern food trend that's absolutely soaring, with an industry worth $46.7 billion.xii Making food from ingredients that would have otherwise been thrown out both salvages waste and protects the environment. Upcycling includes creating snacks, drinks, sauces and more from unused food.
For example, Pulp Pantry creates chips using vegetable juice pulp, and Scraps Frozen Food upcycles broccoli leaves, bruised basil leaves and imperfect-looking peppers to make sauces for their pizzas.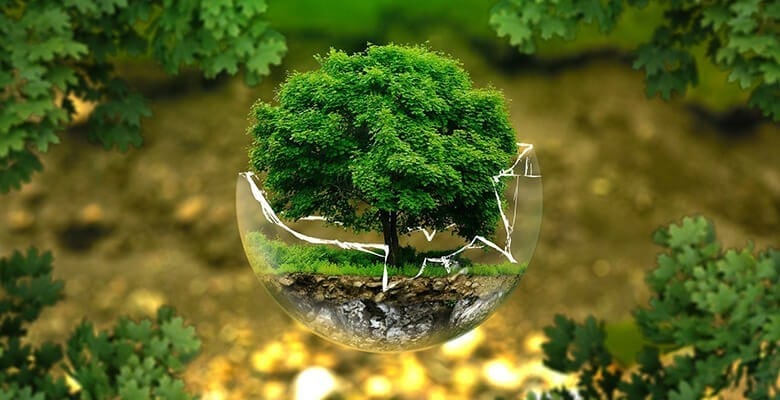 High-Quality Convenience is King!
High-Quality Convenience Modern Food Trend

About this Trend

Other Notes

Fast-casual food chains

Fast-casual chains have been booming over the past two years, and they will continue to grow through 2021. These are chains that go above and beyond fast food but still offer a quick, easy and affordable dining experience.

Examples of fast-casual chains include Panera Bread, Chipotle Mexican Grill, Wingstop and Five Guys.

Food delivery service

Food delivery services will still run rampant, with consumers ordering from local restaurants so they can enjoy their cuisine from the comfort of home. In fact, 74% of millennials prefer food delivery service to going into the restaurant. Amongst COVID and quarantine, even more consumers have entered the food delivery world and many have learned to prefer it.

Having food delivery setup with GrubHub, DoorDash, UberEats (or conducting your personal delivery service) is a safeguard against future quarantines or other complications. Rumor has it that drones will be out delivering food in the near future, too!

 

Self-ordering kiosks

Self-ordering kiosks speed up lines and free up employees. The great thing about these kiosks is they don't aim to replace employees, but to aid them. These kiosks make it easier to track exactly what the customer orders, because they can customize it at the kiosk and the chefs can read the orders with less room for human error.

Innovative self-serving kiosks are even utilizing facial recognition technology, so regulars need only walk up to the kiosk to place their regular order!xiii

 
Catering to Conscious Consumers
At the end of the day, the American consumer is more conscious now – more conscious about what they are putting into their bodies, and more conscious about the impact their food and professional cleaning products have on the environment.
As long as we're remaining conscious with them, we will be able to update our menus and practices to accommodate their needs and preferences. By bringing in something like a Seventh Generation Professional cleaner and a few new plant-based recipes, we can make all the difference in our customers' happiness and our own successes.
Simply taking the time to read up on modern food trends shows that you care for your customers, take your food safety practice seriously, and serve your community well!