In the last couple of years, the popularity of food delivery services has skyrocketed, locally and internationally. Clearly, the growing number of food establishments that are slowly veering towards popular third-party delivery apps began as a trend but is now here to stay.
According to Forbes, research conducted in 2018, showed the industry generates an estimated gross revenue of $82 billion. Based on a 14% growth rate, these returns are set to double by 2025.
Thanks to the patronage of consumers who prefer food delivery over dining out, food businesses are getting equal opportunities to make a profit. But this wasn't always the case. The option to provide delivery services is nothing new. What changed was the technology. Where older methods entailed having someone stationed by the phone to receive and dispatch orders, computerized systems have eliminated this. You also do away with having to worry about staffing delivery personnel and procuring vehicles when food delivery platforms take on this task.

Partnering with a Delivery Platform
Although many Pinoys are slowly integrating these platforms into their businesses, there is still some reluctance from those who do not realize its benefits. Some food business owners think of it more as an expense than a profitable tool to take advantage of.

By using a third-party delivery app like GrabFood:
Your business gets to enjoy the convenience of having a delivery service minus the large overhead costs.
Platforms for food delivery are user-friendly. Very little training is needed to go into using it, which is excellent, especially if you aren't a big industry brand.
One of the best food business ideas is to promote your up-and-coming burger joint, ihaw-ihaw shop, or Mom-and-Pop bakeshop by joining these digital food marketplaces.
It's the perfect venue to launch your business, even if you only have a small kitchen. Just make sure you have the necessary permits, and you're easily on your way to becoming a merchant partner.
Get better consumer reach. Online delivery services often allow consumers to expand their search options. This means more customers get to taste items on your menu.
Need to update your marketing strategy? Customer data you receive allows you to analyze habits, trends, and patterns.
Check out the competition's menu or reviews and use the info to improve what you have to offer.
These are just some of the benefits of utilizing delivery apps to make your business run smoother. To sweeten the deal, food delivery app GrabFood was kind enough to share with Unilever Food Solutions some of their best promotional tips to help get you going.
5 Easy Tips to Promoting Your Business on GrabFood
So, you've already passed the application process, and you are now on your way to serving up your dishes to hungry customers. But before you can start selling, here are some tips to grow your consumer following.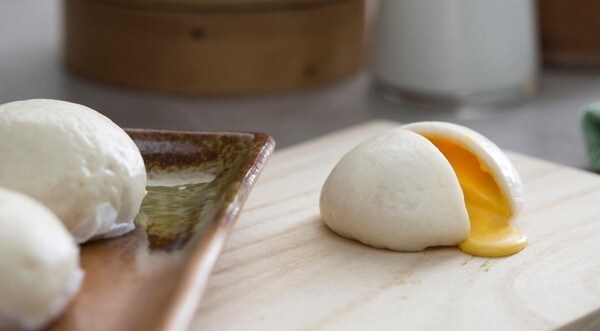 1. Create the right food delivery menu
Nothing makes customers more upset than receiving their food delivery unpalatable and 30 minutes late. After all, no one wants to eat cold rice, soggy chicken, or wilted greens in their burger. To avoid causing customer disappointment, offer dishes that transport well, like these Salted Egg Custard Buns.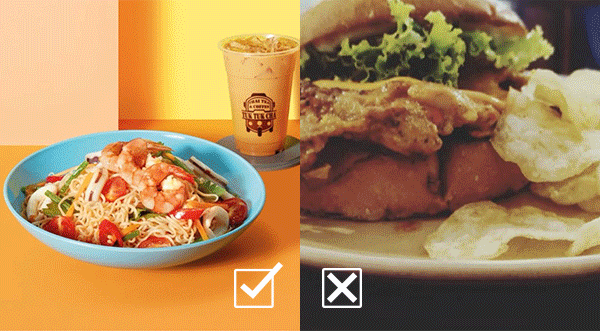 2. Select appetizing photos 
Get the attention of customers who are scanning the food delivery app by using photographs of food that's well lit. For best results, opt for simple backgrounds to focus on the dishes you have to offer. Professional editing is okay if the images stay true to what customers will be getting.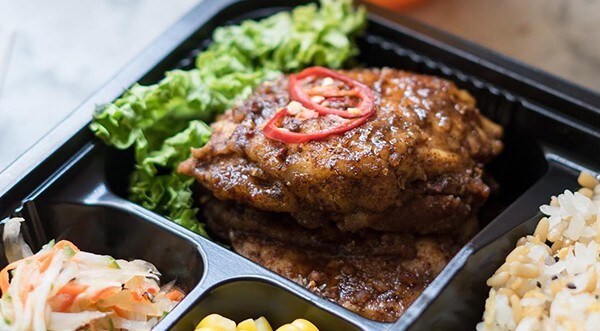 3. Use the right food packaging
Just like menu photos, first impressions are important, so it's vital that your food is packaged in easy to open and leak-proof containers. Premium quality packaging ensures food appearance and taste are maintained as it travels from your restaurant kitchen to the consumer's table. Don't forget to include your logo on the serviettes, and packaging is a simple and effective way to promote your brand.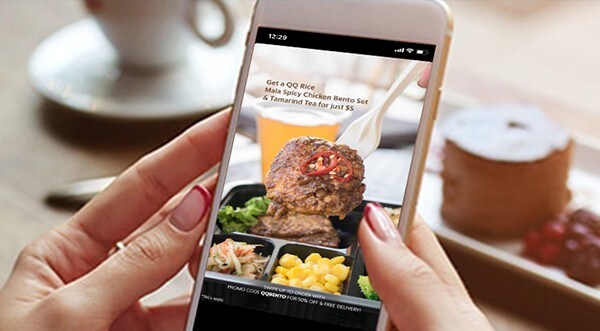 4. Partner with a food delivery service
Raise your promotional game by teaming up with a food delivery partner. Offering discounts and free delivery through food transport services is a great way to raise your exposure. GrabFood, Asia's leading name in the business, has seen a lot of success and revenue increase in many restaurants that have participated in these promotional campaigns.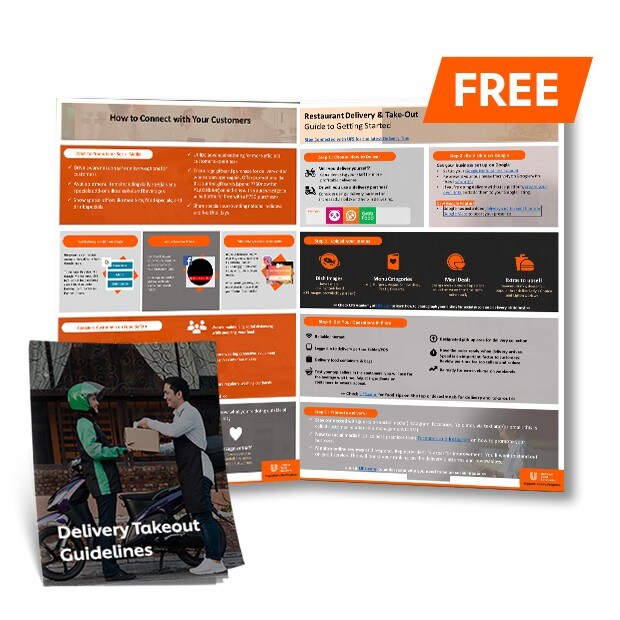 Get a FREE Food Delivery Guide for your restaurant!
As always, Unilever Food Solutions aims to help restaurant owners and chefs with any questions or challenges they may face while running the business. With these tips, you're ready to figure out how to price your dishes for dine-in, takeaway, and delivery. Learn more about how to Get Started in Food Delivery with our Free Downloadable eBook below!
Download Now

5. Efficiency encourages repeat customers 
Getting the word out about your business can be done through many channels. The best way is to have satisfied customers endorse the food and service you provide. Of course, having a kitchen that is well organized makes food prep a breeze and ensures prompt turnover to delivery riders. Efficient food deliveries encourage repeat orders and word-of-mouth marketing. To further facilitate faster service without sacrificing flavor, accompany your prep time with Unilever Food Solutions products like the versatile Knorr Demi Glace Brown Sauce Mix.
A New Food Delivery Era
Developing your business and creating a loyal following requires hard work. To help grow your business, there are simple things you can implement to make it easier. When it comes to food, producing products with a consistent flavor and appearance is vital. Similarly, customers expect efficient preparation of their orders. With Unilever Food Solutions' products, the prep time of orders becomes so much faster.

You don't need to worry about sacrificing food quality because, with Unilever Food Solutions, you can expect only the best results. But don't forget it's not only about how amazing your menu is. Having the right food packaging keeps contents fresh and secure when transported through the help of a food delivery business partner like GrabFood. Whether you are just starting or have been an industry player for some time now, keeping up with current business practices and food service innovations allows you to remain competitive. With food trends pointing towards the digital arena, there is much to benefit from online food delivery applications.