Filipino diners' food preferences are shifting from delicious meals to nutritious (but still delicious!) food selections. This trend is evident in the rise in popularity of salad-centric restaurants, vegetarian and vegan eateries, and diet meal plans. These days, many consumers are also choosing to have their healthy food delivered at home or to the office instead of eating out. Take advantage of this movement by learning how to increase food delivery sales from healthy menu items.
First, go through your preferred online food delivery app. Look at what other businesses are already offering and close the gap with innovative healthy offerings. During the rainy months, you might even want to focus on soups delivery. Or why not create a seasonal menu featuring local fruits and veggies? Here are some nutritious recipes to add to help boost restaurant delivery sales.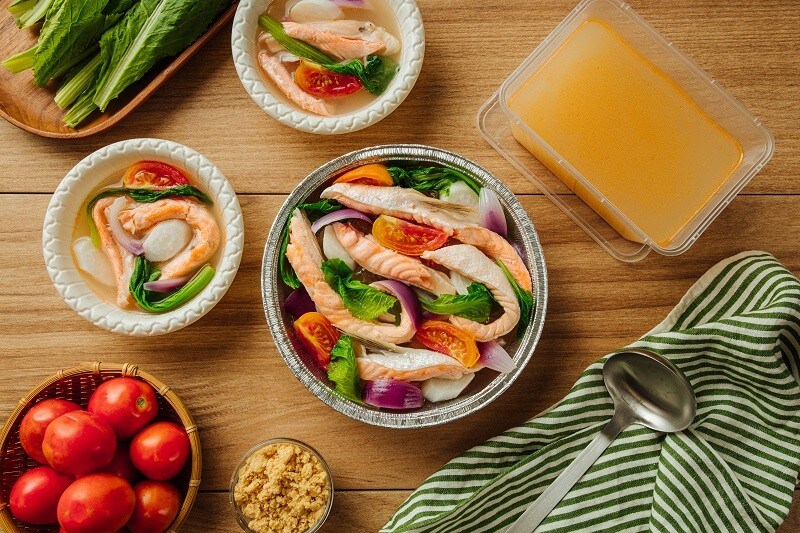 Soup can be a reliable source of vitamin C. Take the ubiquitous sinigang na salmon belly, for example. Its recipe features mustard leaves, calamansi juice, and Knorr Sinigang sa Sampalok Mix – all rich in ascorbic acid. The greens also offer vitamin A, which keeps the heart, lungs, and kidneys healthy. To make the most of these ingredients, pack them in separate containers that will keep them fresh while in transport.
This sinigang also calls for miso. Aside from lending the dish a sour-salty profile, it also provides numerous vitamins and minerals, including calcium, zinc, and manganese. It's high in probiotics, too, which help improve digestion. Don't discount the benefits you can get from the salmon belly. This affordable cut of fish is a major source of omega-3 fatty acids that can help lower blood pressure. That's the good kind of fat your customers will appreciate.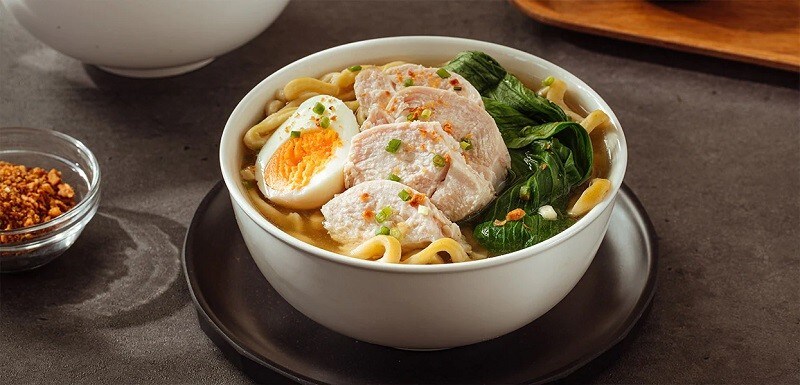 Chicken Mami (Filipino Chicken Noodle Soup)
This soothing, traditional Filipino soup helps fight fatigue and invigorate the body. Many locals turn to a bowl of chicken mami after a long day at work or school. It can also uplift spirits on a gloomy day. Make sure your broth is hearty and flavorful but still clean-tasting. You can achieve this by combining Knorr Chicken Broth Base, bone-in chicken breast pieces, onions, and garlic. Don't forget to add ginger, which can help lower cholesterol, fight infections, and ease indigestion.
For toppings, you can take the classic route and offer thick egg noodles, fried garlic, sliced green onions, some fresh bok choy, hard-boiled eggs, and a dash of Knorr Liquid Seasoning. Or, you can amp its nutrient content by adding carrot strips, shredded cabbage, tofu cubes, sliced mushrooms, and malunggay leaves. Like in the sinigang, pack these components in separate containers and let customers assemble the mami themselves.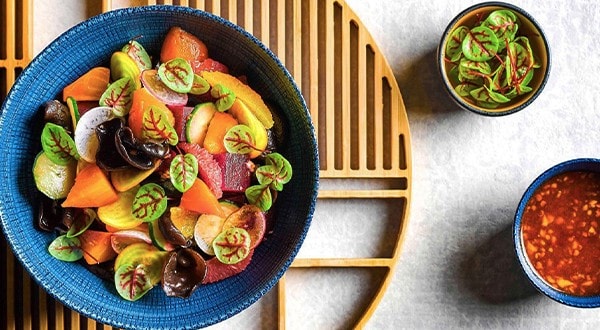 With beets, garlic, fruits, and vegetables, this dish is a delicious source of vitamins C and B6, calcium, fiber, and antioxidants. Overall, the micronutrients in this salad help lower the risk of heart disease. They also support normal nerve and muscle function and assist in maintaining the immune system. Try pairing this salad with Hellmann's Smoked Chilli Dressing.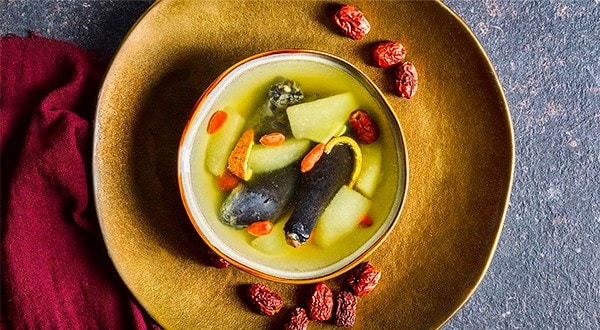 Snow Pear With Black Chicken Broth
This recipe takes a classic black chicken broth (a.k.a. the "King of all Chinese soups") and upgrades it with delicious snow pears, crunchy almonds, goji berries, and other flavorings. The ingredients in this nutritious soup contain a healthy amount of unsaturated fats (i.e. good fats), vitamins C and B5, zinc, and fiber. These micronutrients support the development of strong bones, good digestion, and the healthy functioning of the immune system. For extra protein, add The Vegetarian Butcher No Chicken Chunks.    
You should already expect customers to choose nutritious and varied options over high-fat, ultra-sweet, and processed food. Make sure you are prepared to accommodate this shift on your menu. Learn to increase food delivery sales with nutritious soups, salads, and beverages.
Description: Need more dish ideas for your restaurant? Check out our FREE downloadable eBook, Pinoy Recipes with a Twist, for more recipes and inspiration for your next dish!