When we think about sisig, the sizzling pork-face version is probably the first thing that pops into mind. It is, after all, the most popular version of sisig: the very iteration that has turned Angeles into a dining destination, and that made Anthony Bourdain swoon. There is more to sisig than pork, however. In fact, the first documented recipe of the dish in 1732 reveals a simple, sour salad made with green papaya or green guava, and vinegar. These days, sisig has grown into a showcase of different meats and ingredients.
Tracing the history of sisig
When looking at varieties of sisig, we should first look to the past. Early versions were closer to the sour salad of 1732, with no creamy components. They were similar to the Ilocano dinakdakan, or kilayin, but were made with varying main ingredients and often served cold. In a 1960s Kapampangan recipe book, there's mention of sisig paro (made with shrimp), sisig pacu (made with edible fiddlehead fern), and sisig talaba (made with fresh oyster, similar to ceviche). The unifying factor is really the souring agent, onions, and long peppers.
In the 1960s, Lucia Cunanan, a.k.a the Sisig Queen, adapted this Kapampangan staple into the model we are most familiar with. At her roadside carinderia, she grilled off-cuts of pork and tossed them together with the traditional elements of sisig, turning it into a pulutan dish paired with beer. A few years later, Aling Lucing served it on a sizzling plate after adopting the idea from another restaurant in Angeles, thus beginning another chapter in sisig's long culinary history. Today, it is Aling Lucing's recipe that has become the standard, with chefs adding their own inventive takes.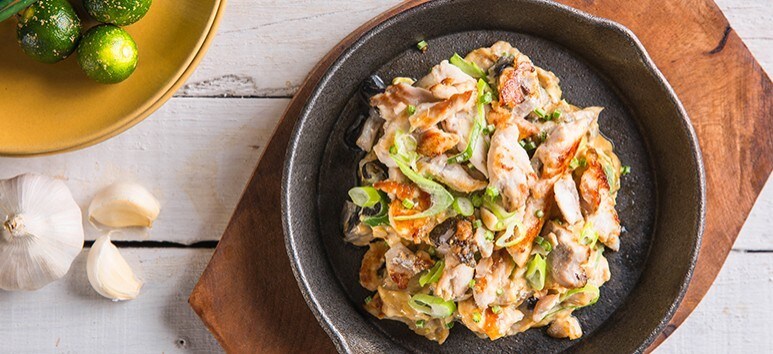 Sisig reinventions
While the sizzling plate remains common, pork isn't the only meat getting the sisig treatment nowadays. Seafood is another popular choice, with chefs turning bangus, oysters, squid and tuna into a sisig dish. There are also recipes that use tofu, corned beef, and even pork elements like bagnet or crispy pata.
Looking for a quick and cost-effective way to recreate sisig's popular texture? Try mayonnaise. It often replaces the creaminess of pig brains in more modern recipes.

Another way to put a creative spin on sisig is to introduce it to known dishes. Pork sisig has also found its way into fried rice, pancit, and carbonara. 
Do you have a killer sisig recipe?
Knorr, in partnership with LTB Chef's Association and Zomato, is out to find the best, most innovative sisig dishes out there, and yours might just be the one. The challenge: come up with your most creative sisig dish using Knorr Liquid Seasoning (a key ingredient to any standout sisig), good for 2-3 servings.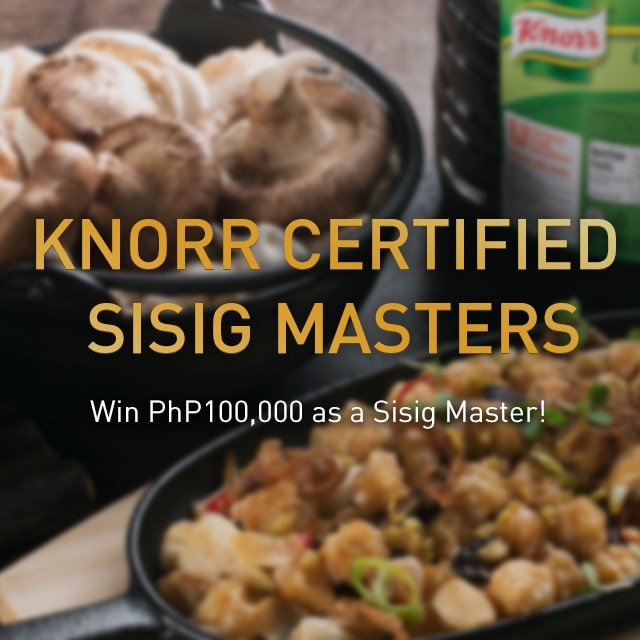 Create your unique sisig dish and register by 15 July 2018 to start your journey to become a 3-Star Certified Sisig Master. You may just win PhP100,000!

Learn how