The exact origin of Filipino-style tapa is unclear. In Spain, tapas are appetisers that can be any kind of food – not necessarily meats – eaten cold or hot with bread and wine. Mexican tapas are known as botanas, and are similar to Spanish tapas. Our definition of tapa – salt-cured strips of beef – may have been based on the ancient practice of preserving meat by adding salt and drying them under the sun, a process that older Filipinos learned from the Spaniards when they colonised the country.
Over time, the process of making tapa has sped up and this delicacy has since taken on a wide array of flavours, depending on personal preference and creativity when experimenting new flavours. Now, we enjoy it best as tapsilog, a breakfast meal complete with rice and sunny side up egg. Take a cue from these best tapsilog offerings in Manila and learn to make your very own version of this well-loved favourite.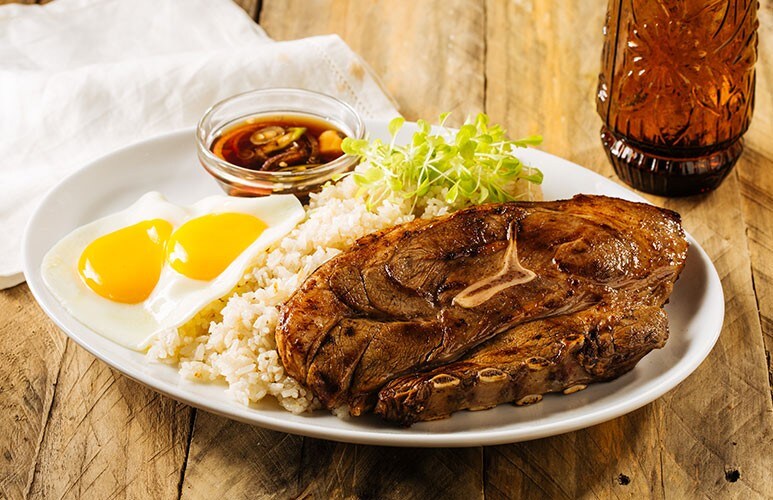 Rufo's "Famous Tapa"
Rufo's draws in a lot of diners because it's a reliable go-to tapahan for people working the graveyard shift or looking for a decent post-party hangover cure. Their signature "Famous Tapa" uses tender Batangas beef cooked in a special, sweet-sticky sauce.

Tapa King's "Tapa Queen"
Oddly enough, the best-selling dish in this tapa-centric restaurant isn't the "King", but the "Tapa Queen". The sweet and spicy meat found in this dish fits the flavour profile that most Pinoys love.

Recovery Food's "Tapa de Morning"
"Tapa de Morning" is the restaurant's take on the classic tapa, a topping-style rice bowl filled with a slightly sweet, almost bulgogi-like meat on top of a bed of either white or brown rice. It is then topped with scrambled or fried egg. RF's Sinamak Vinegar with Refreshing Green Mango and Onion side mix is the ultimate add-on.

Pancake House's "Beef Tapa"
This chunky tapa delivers more bite than the finely sliced offerings in other restaurants. Saucy with a distinctly home-cooked taste, their recipe is slightly sweet and closely resembles another Filipino classic, bistek. It also comes with a fresh green mango, onion and tomato salad. Simply can't get enough of it? Good news, they now sell their tapa mix for diners who wish to recreate it at home.

Razon's Tapsilog
After their famous Guagua halo-halo, Razon's second bestseller is their tapsilog. It looks nothing out of the ordinary but the cultured tapa is well-seasoned with a unique marinade that makes this dish a foodie favourite.

Max's Tapsilog
Max's may be known best for their classic fried chicken, but this proudly Pinoy restaurant also serves exceptional tapsilog. Max's Tapsilog is served with two sunny side up eggs and traditional sun-dried tapa that is perfectly marinated such that diners get that perfect blend of sweetness and saltiness in every bite.
Sinangag Station's Tapsilog
Among the various affordable Filipino meals offered by Sinangag Station, their tapsilog is the top favourite. It's available 24/7, so diners can satisfy their cured beef, egg and fried rice cravings even at ungodly hours.


This article originally appeared on Spot.ph.
*Modifications have been made by the Unilever Content Marketing editors.