There are several key issues that need to be addressed when you set up a delivery model from scratch, this includes pricing and cost management, new menus, website requirements, communicating with customers, staff management plus extra food safety and hygiene measures.
"These innovations which need to be supported by all is what will hopefully see us through it," says Australia-based Executive Chef John McFadden, who started work with Middle Eastern restaurant group Al Aseel in Sydney in the middle of the crisis.
"From home delivery, food packages to procedures, it's those who are going to great lengths to work around the current challenges (who will get through). Once it's all over it will be interesting to see who survives and what their business model will be looking into the future. But I'm proud to see the industry doing as much as it can under these trying times."
Before you sign up to a delivery platform, make sure you have done your sums and know it is a viable option, or even if it covers costs.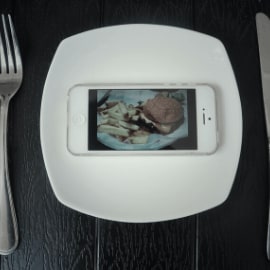 Menu Tips
Keep It Simple: Your full menu doesn't have to be your delivery menu. A compact delivery menu means easier operations, less money spent on ingredient inventory, and quicker turn-out time back of house.
Bring on the food specials: Communicate them to diners on social media using hashtags to drum up extra business and excitement about your offerings. Make sure to post with photos to get the cravings going.
Consider family-style meals. Think beverage, appetizer, salad, main course and dessert. Meals that serve the whole family makes it easier for serving, and it's less packaging waste for you.
Complete the meal: Suggest meal pairings, including milkshakes and desserts to boost check prices.
Don't forget add-ons and extras. Offer avocado, additional sides or extra protein, cheese, sauce, etc. These are quick and easy ways to boost check averages with low food costs.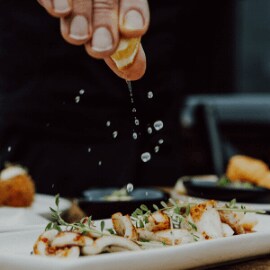 Food Quality Tips
Think about the dishes you are offering: Do they reheat well? Will the quality be compromised during a bumpy car/motorbike ride? Adapt your menu to include these considerations.
Offer "heat-at-home" dishes: Like lasagne and provide heating instructions. These dishes can be delivered earlier in the day and reheated later which means less stress on your kitchen during busy mealtimes. Ensure that your meals are in line with the latest regulations.
Let fried items breathe: Use vented lids (or poke holes in your lids) to prevent trapping moisture inside the containers resulting in soggy dishes.
Pack pasta just under al dente: This prevents it from getting mushy and overcooked.
Keep sauces separate: For meals that are paired with dressings and sauces, pack them separately on the side.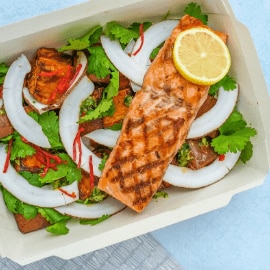 Packaging Tips
Ask if your delivery platform supplies any packaging. Otherwise, buy yourself the right packaging which must include:
Choosing the right material: Decide what type of disposable food packaging will ensure your food is delivered in the same condition as you would serve it to someone who is dining at your restaurant. Put liquids, such as sauces, in separate containers to add later.
Size matters: Select the right size packaging for your style of food. To make sure your presentation is on point, you may need to compartmentalize or deliver in separate containers.
Reinforce: A little bit of extra (recyclable) packaging to support your food goes a long way.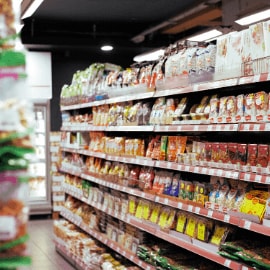 Supply Chain Tips
Your ordering will need to adapt as produce supplies may become affected, so adjust what you need to have delivered first, then check what they are delivering and when.

Delivery: Stock up on delivery packaging.
Shelf-stable Products: Order convenience and shelf-stable products which are readily available and are a minimal hygiene risk.
Contactless Delivery: Ensure produce deliveries are no-contact with clear instructions on where deliveries need to be placed.
Safe Handling: This should include reducing person-to-person contact and more rigorous hand washing and produce washing after delivery.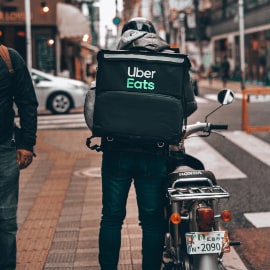 Drivers & Pick Up Tips
Some adjustments may need to be made to efficiently and safely handle home delivery systems. Try these suggestions:

Label Packaging: Properly seal all packaging and bags using tape or stickers.

Waiting Areas: Create a waiting area for riders/drivers inside the restaurant where they can wait a safe distance away from each other. Also, create a waiting area for other riders/drivers outside the restaurant – riders/drivers should stay a safe distance away from other riders and staff while waiting outside even if there is no dedicated waiting area.

Pick Up Areas: Create pick-up areas, as far from food preparation as possible, which means no direct contact between riders and restaurant staff will be required to pick up an order. Make sure that only 1 order at a time is collected from a pick-up area.

TIP: Have soap and water or hand sanitizing gel available to riders/drivers and customers whenever possible.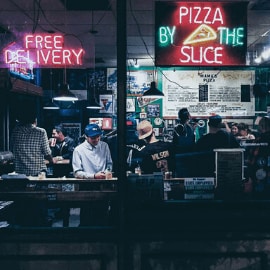 Self-Delivery Tips
For areas that are not well covered by existing delivery platforms, venues have the option of using their own underutilized staff as delivery drivers, using their own vehicles, if available.
Zero Contact Delivery: Ensure the safety of your delivery staff and the recipients by using Zero Contact Delivery. This involves placing the order at the front door before moving back to a safe distance for both your delivery person and the recipient. Then contact the recipient by phone/message to let them know their order has arrived and wait to ensure they have collected it before departing.
Deliver Nearby:
Restrict your own deliveries to surrounding suburbs as every minute on the road will mean a less appealing final meal and longer delivery delays.
Communication Tips
Communication is key to ensure customers know about your Food Delivery options and trust them! Increase communications externally through the following ways:
Share your safety protocol to build diner trust. 
Post your promotions to drive orders. 
Communicate your specials to increase orders. 
Send a note with delivery to build customer loyalty. 
Engage with your fans on social media to increase awareness
Also kindly revise the last line to: Looking to start food delivery? Check out our Food Delivery articles to help you get started and see what options are right for your business.