Everyone has their own way of cooking  fried chicken, so much so that almost every restaurant all over the country has its version of this beloved dish. It's the top choice of most kids and a regular go-to for adults, proving why fried chicken is one of the most bankable items on every food business menu. But perfecting this recipe and getting that crispy fried chicken skin with juicy and tasty insides is not always the easiest task.
The culinary secret that most chefs rely on? Brining a chicken first before coating and frying. While brining basics call for salt and pepper to add extra moisture, using 1kg tub as a brining solution will intensify the flavor and help you achieve a meaty and flavorful dish overall.
The Best Type of Brine
The process of soaking meat, in this case, chicken, in a salt bath for 24 hours is called brining. An underrated method, brining helps infuse flavors into every fiber and, at the same time, retain the moisture.
Numerous types of brine can work well when making fried chicken. Instead of using salt and pepper brine, use Knorr Chicken Powder instead. Knorr Chicken Powder is the go-to ingredient for brining chicken which deepens the flavor of fried chicken. Our resident expert, Chef Pau, can attest to this. He happily shares his failproof flavor-packed fried chicken recipe using Knorr Chicken Powder. Chef Pau's recipe has been tried and tested for almost 20 years now and is loved by many. Compared to the standard salt and pepper seasoning added to the bath, the use of Knorr Chicken Powder enhances the umami goodness of the chicken without adding too many ingredients. The result is a meaty and flavorful chicken.
In fact, using Knorr Chicken Powder in brining is already an industry go-to for many professional chefs. In a test conducted with chefs from different backgrounds, we asked over a hundred chefs from different backgrounds to make two versions of fried chicken, one brined in only salt and pepper and the other in Knorr Chicken Powder solution. A whopping 88% of the chefs said that brining chicken with 1kg tub resulted in meaty and flavorful chicken when compared to just brining it with salt and pepper. The chicken powder helped bring out the umami flavor of the chicken and flavored it all the way to the bone. They noted that the richness and depth of the flavor was something that salt and pepper alone could achieve.
Even more so, around 78% of the chefs agreed that Knorr Chicken Powder is preferred over the basic brining solution containing only salt and pepper for seasoning. 94% of the chefs were so convinced by the result that they would definitely buy Knorr Chicken Powder after the experience. 
Source: Knorr Chicken Powder Product Testing with Kantar, 2021
In comparison, the brine where our surveyed chefs and food business owners only used salt and pepper as its main flavoring had a tendency to only have a one dimensional flavor profile. The salt seasons the chicken from the surface in, but it is still not as flavorful and effective as the chef-trusted chicken powder. The latter was really able to enhance the natural umami and meaty flavors of the dish, which is exactly what operators would like to have in their authentic fried chicken menu.
One simple step can transform your fried chicken creation from ordinary to lip-smacking. Our recommended brine here features only three ingredients you most likely already have: 1kg tub, white sugar, and water. It's that easy! But the important factor here is the ratio of ingredients. This is crucial to achieving the most effective brine to moisten, tenderize, and flavor your chicken. 
Chef's Tips and Tricks for Brining a Chicken 
Chef Brando Santos, Senior Sous Chef of Unilever Food Solutions, shares his steps for brining a chicken easily. The first step is to get a large container that can fit an entire chicken. It is suggested to use a container made out of stainless steel to ensure that the brining process remains unhampered. Glass bowls or other food-grade plastic containers may also be used. Just make sure that they are leak-proof and follow the recommended size.
His biggest tip? Use 1kg tub brine. Chef Brando and 82% of chefs from the previous survey say that brining chicken with Knorr Chicken Powder adds more flavors from within. The taste is more concentrated and gives the umami punch that diners look for.
Chefs note how Knorr Chicken Powder brine enhances the fatty and meaty note of the chicken, without making it too salty. The complexity of flavor is also a characteristic that they appreciate when it comes to Knorr Chicken Powder brine. Overall, 86% say that Knorr Chicken Powder makes their fried chicken more delicious, with deep umami and meaty taste. A great trick to keep your customers coming back for more fried chicken. 
Now, you can replicate Chef Pau's next-level fried chicken. It includes a reliable method for brining chicken, as well as specific instructions for preparing the fried chicken batter and breading. You may also read the step-by-step guide on how Chef Pau cooks his ultimate fried chicken below. Enjoy! 
The Ultimate Southern Style Fried Chicken 
Step 1: Make the Knorr Chicken Powder Brine
Ingredients
70 g Knorr Chicken Powder
25 g white sugar
1000 mL water
Procedure
Combine all the ingredients in a pot and place over medium flame. Stir until the mixture comes to a boil. Lower the flame and simmer for 1 minute. Transfer brine to a container and let cool at once, either through an ice bath or stirring. Once it's cooled down, put your chicken in and leave it in the fridge overnight for best results!
One of the fried chicken ingredients most recipes fail to list down? Patience. It takes time to achieve that umami goodness to penetrate the inner meat.  Cover and place in the chiller until ready to use. You can also add different seasonings and spices, aromatics, and vegetables to make the brine's flavor profile more interesting and exciting.
CHEF'S TIP:
Use warm water for the brine. This is because warm water allows the other brine ingredients to be dissolved easily. Using cool water will only make it more difficult to ensure that all components are well incorporated. But once the flavorings are dissolved, you have to let the brine cool first before submerging the chicken. This is to prevent the meat from being pre-cooked.
Step 2: Prepare the fried chicken batter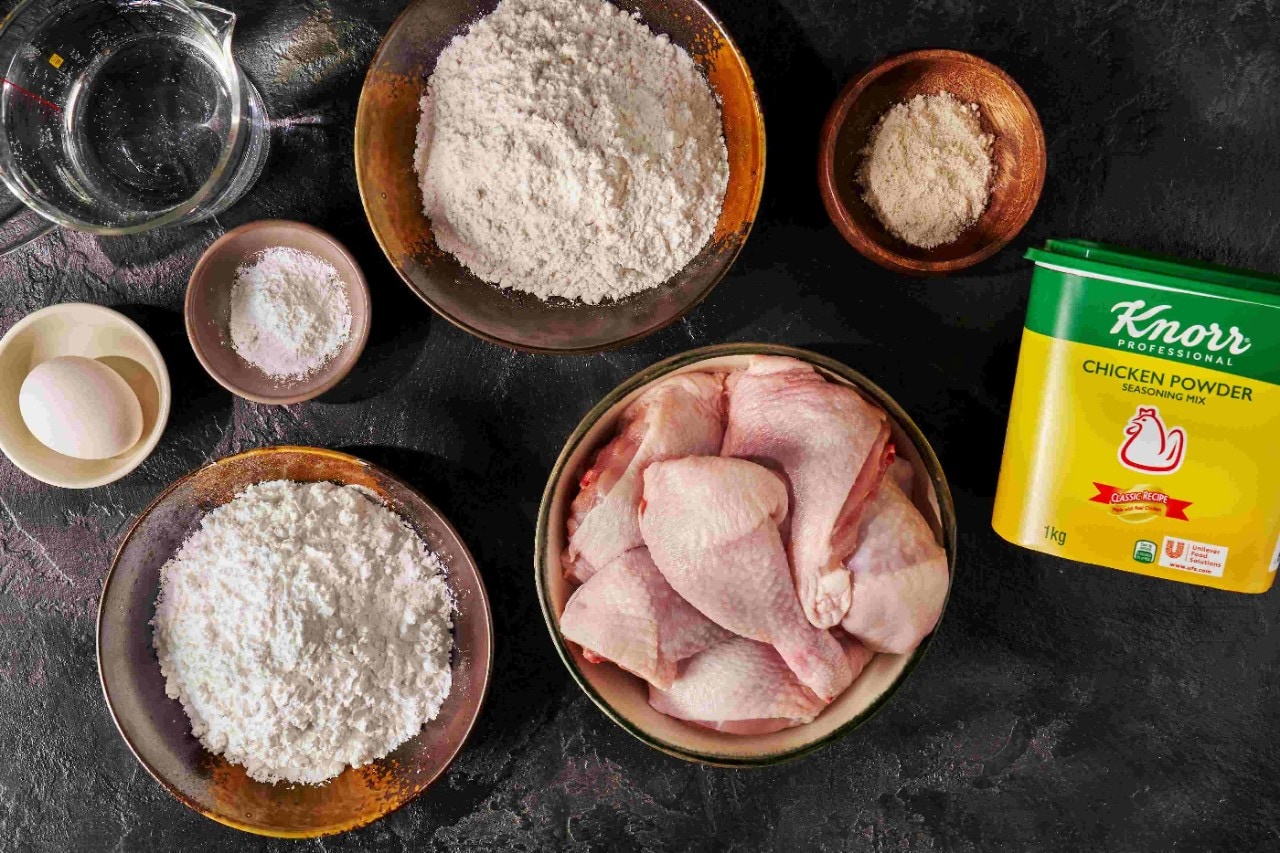 Ingredients
120 g all-purpose flour
120 g cornstarch
6 g baking powder
5 g Knorr Chicken Powder
500 mL water
Procedure
Combine all the ingredients in a mixing bowl and whisk very well until well incorporated. Transfer to a covered container, then place in the chiller until ready to use. 
Step 3: Prepare the fried chicken coating
Ingredients
240 g all-purpose flour
240 g cornstarch
12 g baking powder
10 g Knorr Chicken Powder
Procedure
Combine all the ingredients in a mixing bowl and whisk very well. Cover until ready to use.
Step 4: Cook the fried chicken 
Yield: 4 servings (150 g each)
Ingredients
1000 g whole chicken (cut into 8)
1000 ml Knorr Chicken Powder Brine
980 mL batter
480 g coating
1500 mL corn oil (for deep-frying)
Procedure
After 24 hours of brining the chicken, remove them and wash it under running water.
Place all the chicken in the batter to fully coat the parts, then dredge in the coating. Do this step twice (batter then coating) for a thicker coating on the chicken.
Preheat the oil to 150°C and fry the chicken until lightly brown. Remove the chicken and let cool for 20 minutes. Increase the oil's temperature to 200°C and add the chicken for the second fry until golden brown and cooked through. Transfer the chicken to draining racks. Serve immediately.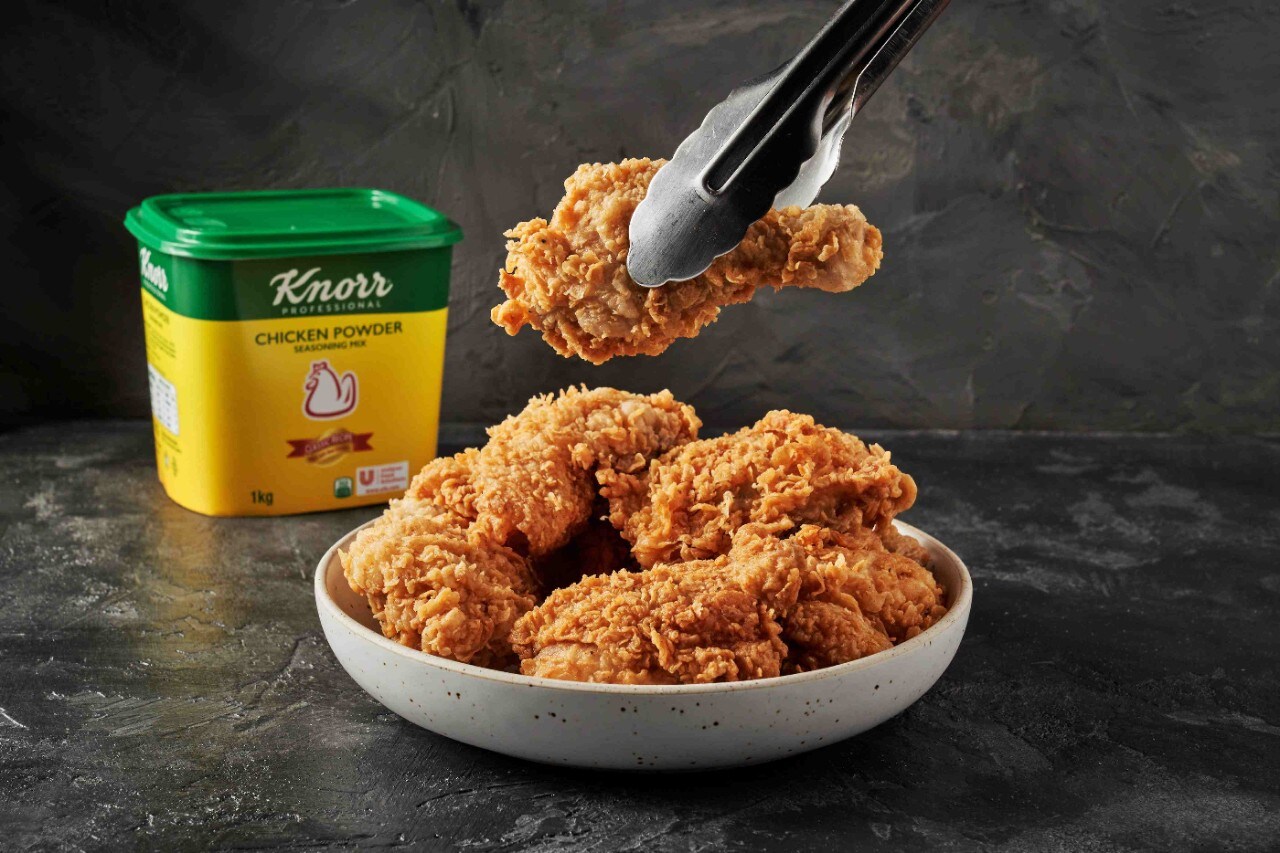 The best fried chicken is now within reach. The secret has been revealed: Brining a chicken using 1kg tub can take your dish to the next level as it makes the chicken meaty and flavorful. Armed with these tips and tricks, you're already assured of fried chicken success!
Don't forget to share this with your co-food business owners and together create your very  own best-seller using Knorr Chicken Powder!
You can also click below for a FREE copy of our chefs' winning buttermilk fried chicken recipe, complete with pro tips and food costing!