Everyone's on social media these days and if you're not there, customers will wonder why. The following social media case studies and social media tips can be a great help, but it has to be curated and tailored to your specific needs. Good social media content will connect you to your audience and show your relevance. We scanned the Filipino food service industry to find restaurants that are doing amazing things and we're sharing these social media tips and case studies of restaurants with you.
Case studies of Restaurants Who are Winning on Social Media
1. Use humor and be relatable
8Cuts Burgers by The Moment Group (@8cutsburgers)
8Cuts Burgers uses a strategy of humor and relatability to get engagement. Instead of posting endless pictures of burgers, it has created an aesthetic to match the boldness of its menu and stayed on-brand with bright orange and blue hues.
2. Be real, be honest
Sprout by Mothership (@sproutph)
Sprout uses a true and to-the-point strategy. It has found a consistent aesthetic that resonates with the niche market that is carved out for the healthy convenience store concept. Its Instagram feed highlights greens and whites reflecting freshness and cleanliness. The photos are raw, honest, and to-the-point, just like the brand personality, and their content is more focused on information rather than lifestyle.
3. Stay true to your brand personality
Twelve Ten (@twelvetenph)
Twelve Ten is owned by a young couple, Thea Rivera and Gab Bustos. Their Instagram manages to be sophisticated and irreverent at the same time, much like their approach to food. Illustrations and photos pulled from the internet keep their feed young and assert the brand personality, while the photos (often showcasing technique or their artfully plated dishes) adhere to a color palette and uncompromised aesthetic. Unlike other feeds that try hard to get engagement, Twelve Ten comes off as authentic and casual, with photos that are equally focused on people in their Twelve Ten family as they are on food, uncharacteristic of the industry but perfect for building a brand identity.
These 3 case studies should provide some inspiration to show how you can be successful in a way that fits with your brand. Ready to take on the next step? We've put together a summary of some useful social media tips for you.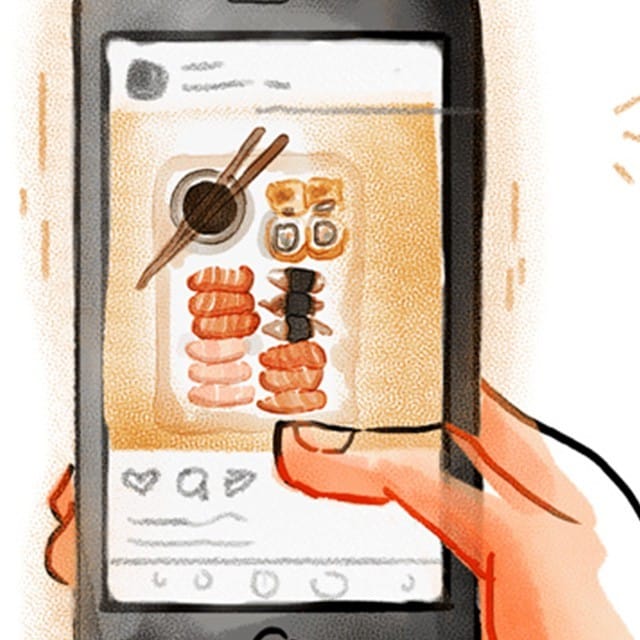 1. Ensure consistency across all your channels
It's important that key information is kept the same across different social media platforms so that diners can identify your brand immediately. Use this basic 6-point checklist as a starting point:
Display names - Keep your name consistent across all platforms so it's easy for diners to find you wherever they're looking.
Social media handles - Where possible use the same handle. If your restaurant name is taken, try adding your city name or an abbreviation of it.
Profile Photo - Social media is very visual, using the same profile photo is another way to make it easy for diners to find you.
Your Restaurant's Location - If you have multiple locations, use your flagship location. 
Your Restaurant's Website - Include where else they can find you online. While you want diners to interact with your social media spaces, you want to make it easy for them to find your website too.
About Me or Bio Section- Hone this to perfection and keep it snappy so potential customers know right away they've found the account they were looking for.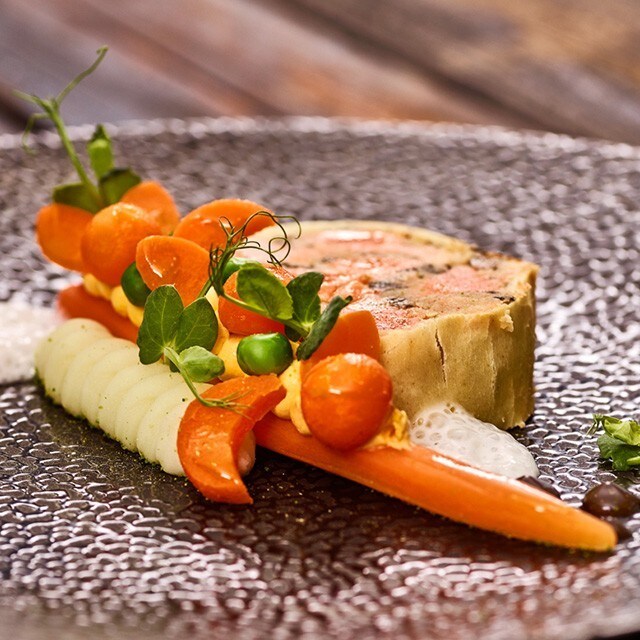 2. Make your followers hungry
What better way to drive followers to your restaurant than images and videos of food that gets them feeling hungry? Let your food be the star of your channel and always show it in its best light.
Find out more about how to take great food pictures through the Social Media Food Photography course.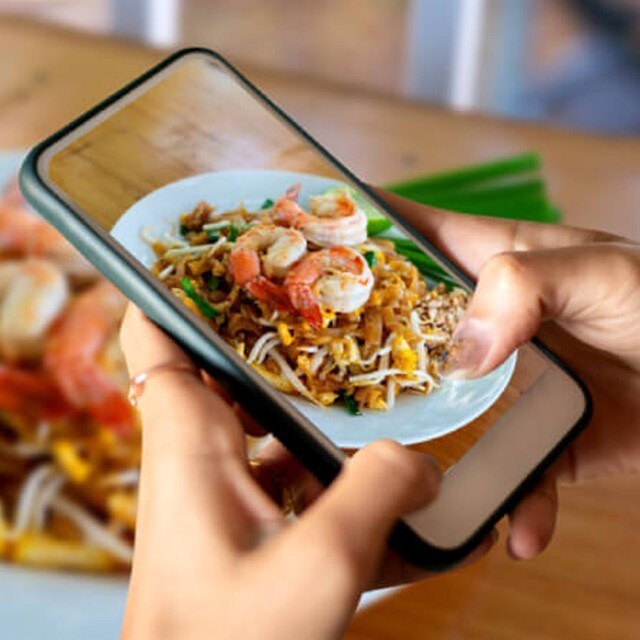 3. Mark your presence on TikTok
Learn how to promote new menu items and your restaurant on Tik Tok to get diners through the door or ordering in. Social media platforms such as Instagram and Facebook have been around for some time now, and Tik Tok is the current trend.
Ensure that your Tik Tok account is set up properly - This means ensuring that you link it to any other social media platforms that your restaurant is on and including a website if you have one.
Share cooking recipes - While you will not want to share the full recipe on social media, you can always share some snippets of the process, or even get your chefs to film simplified versions of some of the recipes.
Share what a regular day looks like in the restaurant - People tend to love stories, especially behind the scenes as it makes them feel closer to the product once they are aware of the entire process.
Visually appealing content attracts a larger audience - The main appeal of social media platforms is that they're visual, which means it's key to ensuring that you feature the food that looks good. Don't be afraid to do close-ups, and even midsections of the food to visually entice viewers to head down to your restaurant.
Engage with your audience - One way to get customers to fall in love with your brand persona is by interacting with them. This could mean replying to their comments, or even replying to their questions via another Tik Tok video.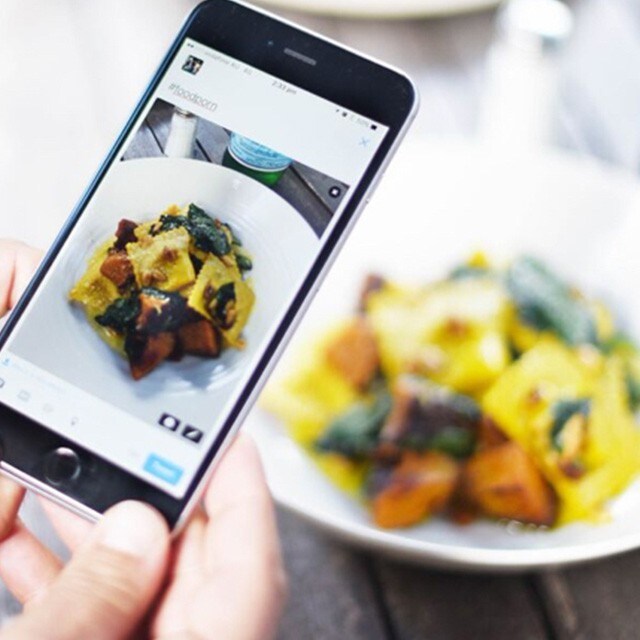 4. Post regularly
If your menu is always changing, sharing a social media menu is an easy way for customers to see what's on that day or simply to share special limited-edition dishes that create a sense of urgency. Be mindful of not spamming your followers though – 3 posts a week is a good amount to stay relevant without overdoing it.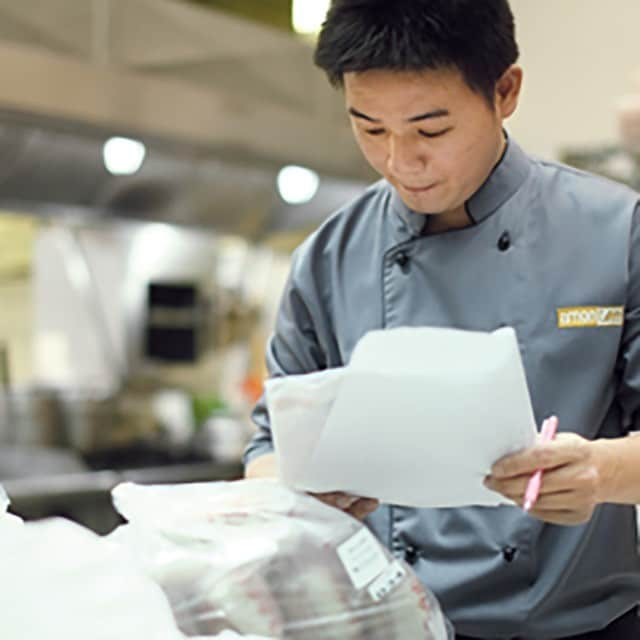 5. Feature your chefs
It's not just about the food, make it human! Feature your chefs, service staff, and Front Of House and tell their stories too. People like to put a face to a business – give them a reason to bite. Customers want to feel inspired not as though they're being advertised to. Create a balance with your content and take time to consider captions that you write for Instagram and Facebook.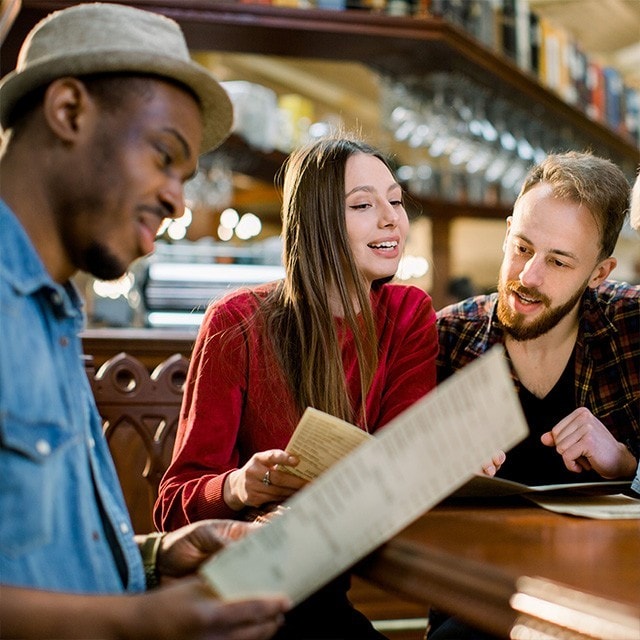 6. Build a community
Social media is all about conversations, so when a customer writes to you with a direct message, make sure you reply. Not responding could give the impression that you are too busy for them. It's important to write as the voice of the restaurant, and not as the person who is writing so that diners do not get confused about the brand's tone and manner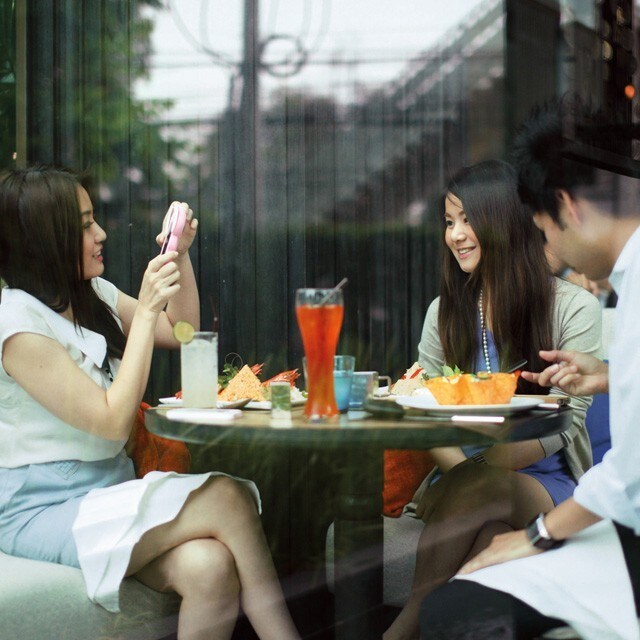 7. Make the most of User-Generated Content (UGC)
User-generated content is a great way to boost your restaurant's online presence while also becoming a valuable content source. By having customers share photos and videos of your restaurant and tagging it, their followers get to know about your brand, which could translate to potential diners. Additionally, having customers post about your restaurant gives you additional content that you can post on your social media platforms, and allows you to engage with the customer, enhancing the customer experience beyond the restaurant.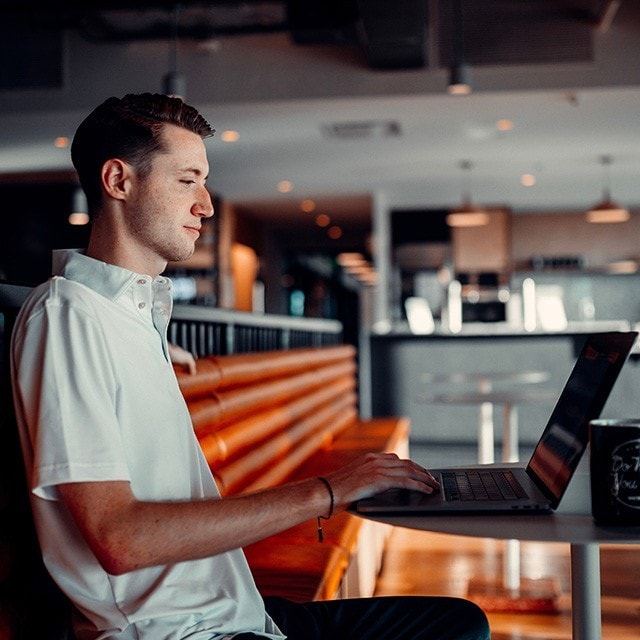 8. Use your network to your advantage
Make the most of your contacts as this can really drive additional reach and engagement:
Join groups that reflect what you offer or are interested in.
Create a Facebook fan page.
Tag and mention other restaurants and chefs in your posts.
Reshare partner content when you collaborate with another restaurant or chef.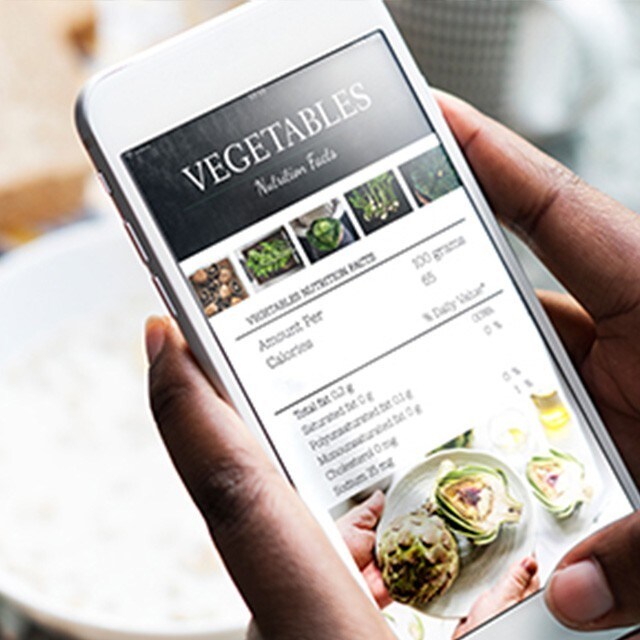 9. Track basic social media metrics
Metrics are a good way to gauge how well your content fares with your audience. These numbers provide an insight into what your followers like and dislike. Using this, you can then tailor your channels to produce content that your followers will love, and potentially reach out to more of your target audience. Some basic social media metrics you can track include:
Reach
Engagement rate
New likes and net likes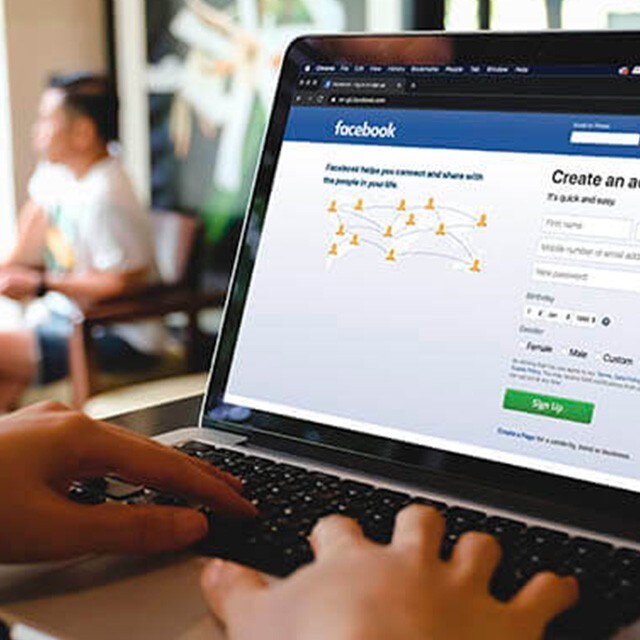 10. Consider using Facebook / Social Media ads
There's no denying that Facebook / Social Media ads help to get your restaurant out to people who may otherwise not come across your brand. It's also a great way to put your ads out to your target audience with Facebook's targeted ads. With this, you get to choose the age range, interests, and more of the audience that you want to reach out to.
Imagine you want to spread the word about a delicious new pizza topping — just posting without any paid media spending may only allow you to reach the people who are already familiar with your restaurant. Facebook ads allow you to show your ad only to people in your target age group. Make sure you choose a compelling CTA (Call to Action) for your ad to ensure you get the response you want.
Do leverage your social media as it's a great tool to increase awareness, build your brand, and even expand to a loyal customer base. Don't be afraid to ask questions to shape your content to what customers most want to see. A poll is a fun and interactive way to do this. Be careful not to fall into common mistakes such as posting too much or too little, handling interactions unprofessionally, or forgetting that it should always be a conversation. Start with these tips, and for any help you need with food product supply, reach out to Unilever Food Solutions PH.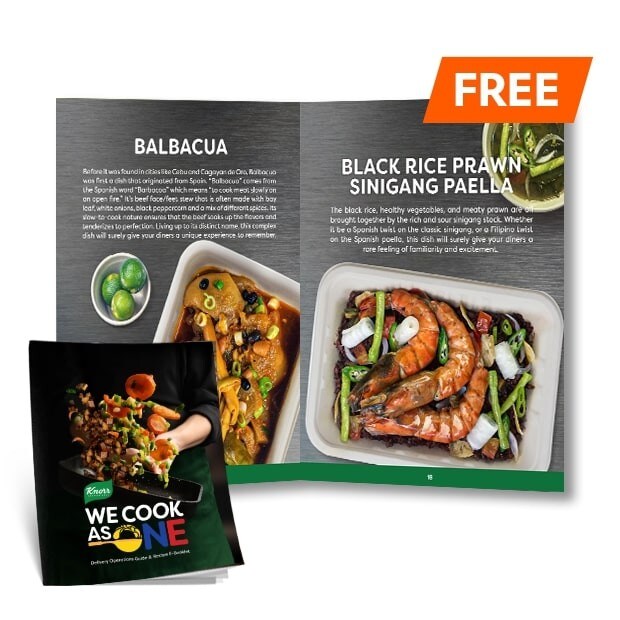 Get a FREE Online Food Delivery Guide!
Learn delivery tips from our expert chefs and Grabfood team along with 9 exciting recipes to try for your restaurant!
Download