Birria Tacos
There's a fiesta of flavors in this Mexican merienda. The braised beef chunks cooked with a variety of chilis are undeniably hot and undoubtedly savory. While it's best served in a crunchy taco shell, it can also be used in quesadillas or nachos!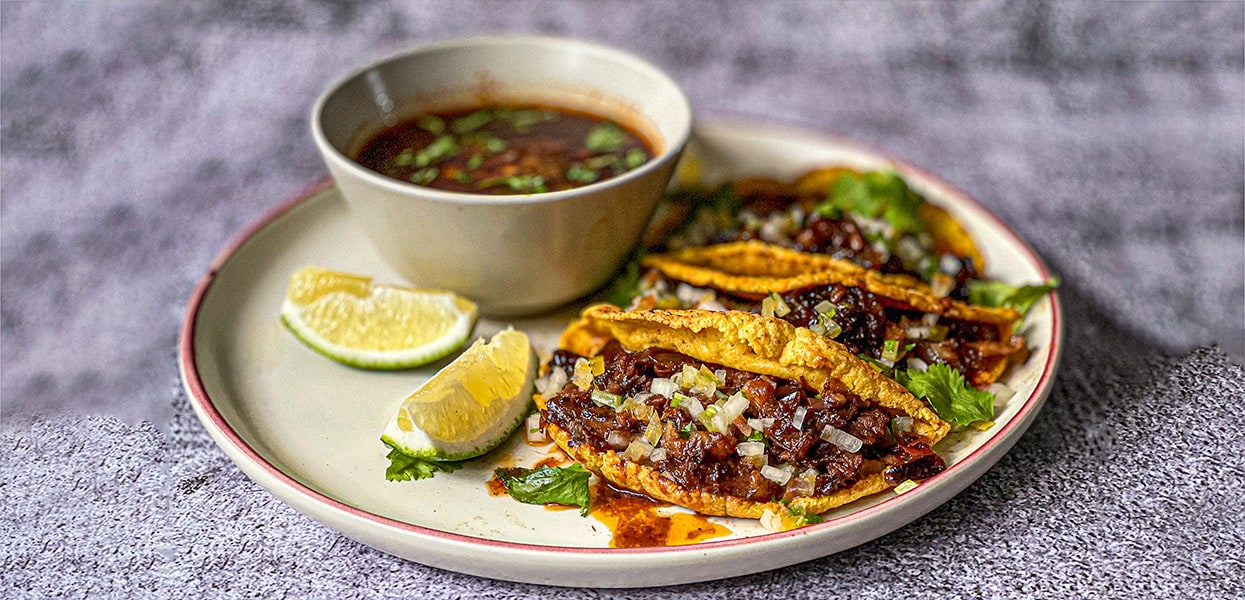 Ingredients
Tacos Assembly
Salt And Pepper, To Taste

Red Onions , quartered

240.0 g

Guajillo Chili, rehydrated

20.0 g

Ancho Chili, rehydrated

20.0 g
Preparation
Tacos Assembly

150 minutes

Season the beef short ribs and oxtail with salt and pepper.
Heat a pot with oil. Next, sear the seasoned beef on all sides. Remove from the pot and set aside.
Using the same pot, sauté the onions and garlic for 2 minutes.
Add the Knorr Beef Broth Base together with the tomato paste and sauté for a minute.
Afterwards, throw in the paprika, chili flakes, cumin, brown sugar, Knorr Liquid Seasoning and Knorr Oyster Sauce. Stir the ingredients in the pot and let it cook for 1 minute.
Toss in the guajillo chili and ancho chili as well as the water used to rehydrate them. Place the previously seared beef and stir well.
Pour the water into the pot and mix in the bay leaves. Once it starts to boil, simmer the beef until it's tender enough to be pierced by a fork.
Remove the beef short ribs and then shred or cut them into chunks. Discard the bay leaves and pour out the simmering liquid (consome) into a blender, then process until smooth.
Return the consome to a pot and add water to thin it out. Adjust seasoning.
To serve, spoon some beef onto the corn tortillas. Garnish with the chopped red onions and cilantro.
Squeeze some lime juice. Fold and dunk into portioned consome. Immediately enjoy the tacos with this spicy and savory consome dip!