Chinese Style Pancit Canton
Celebrate a beloved classic, elevated with a special touch. Let's take this noodle dish to a new height with an assortment of meaty flavors from chicken, sausage and squid balls perfectly blended together with the familiar taste of pancit canton.  
Main course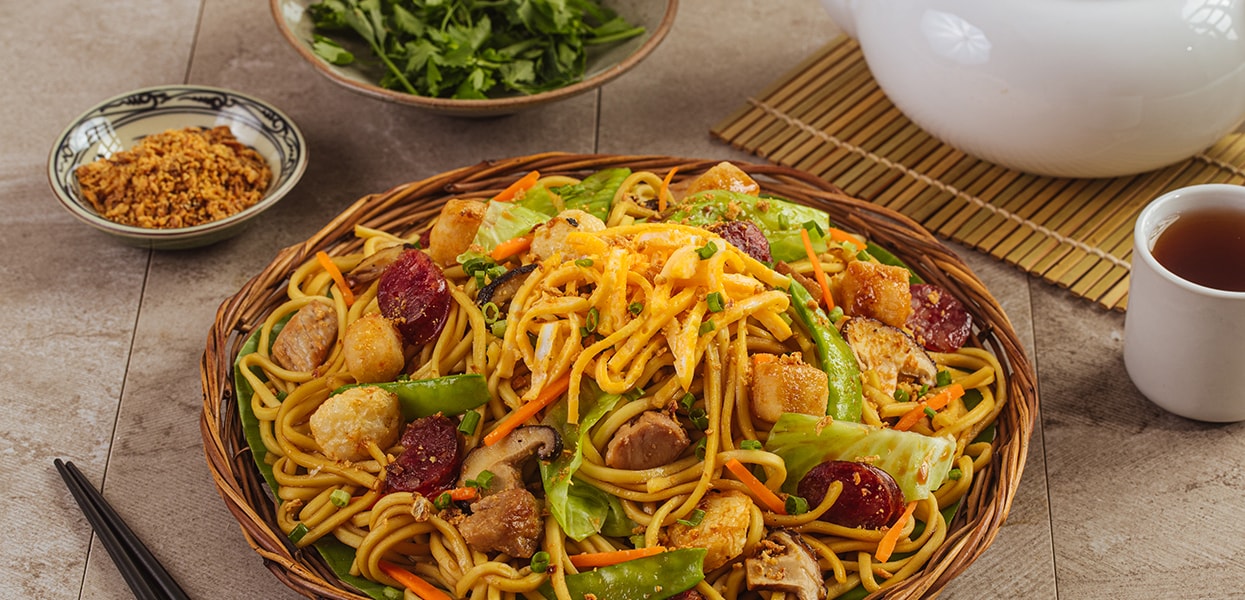 Ingredients
Cooking the Pancit Canton
White Onions, chopped

50.0 g

Chicken Thigh Fillet, cut into strips or diced

120.0 g

Chinese Sausage, sliced diagonal thin

50.0 g

Squid Balls, cut into half

120.0 g

Pork, Shoulder or Butt, (Kasim), cut into strips of 1/4" cubes

80.0 g

Carrots, julienne

100.0 g

Shitake Mushroom, sliced

100.0 g

Snow Peas, halved lengthwise

100.0 g

Pepper, ground, fresh

1.0 g

Egg Noodles, dried canton

500.0 g

Cabbage, white, sliced 1/2 thick

200.0 g

Tofu, cut 1/4 fried crispy and seasoned with Knorr Chicken Powder

80.0 g

Kinchay, leaves picked

5.0 g

Garlic, crispy chopped

5.0 g

Spring Onions, chopped omelette, , cut into cubes or strips

5.0 g
Preparation
Cooking the Pancit Canton

30 minutes

Heat oil in a wok and add the onions and garlic. Stir-fry for 1 minute before adding the pork kasim and cooking it until it turns golden.
Add the chicken and cook for 1 minute. Add the Chinese sausage and squid balls.
Stir-fry for 2 minutes, then add the carrots, shitake and Knorr Oyster Sauce. Continue letting it fry for 1 minute.
Next, pour the water, dark soy sauce, pepper and Knorr Pork Broth Base.
Bring to a boil and simmer for 3 minutes. Remove the pre-cooked vegetables and set them aside.
Add the dried egg noodles. After cooking it for 8 minutes, throw in the cabbage and snow peas.
Stir-fry over high heat until all the moisture has evaporated. Place the pre-cooked vegetables back in the wok and cook for a minute. 
Serve and garnish with egg, tofu, spring onions, and crispy garlic.