Bagnet Kare-Kare
How do you make a menu staple like kare-kare an even more in-demand dish? Give it the pleasurable crunch of bagnet! This will complement the nutty creaminess of the dish alongside the freshness of cabbage, eggplant, and beans!
Main course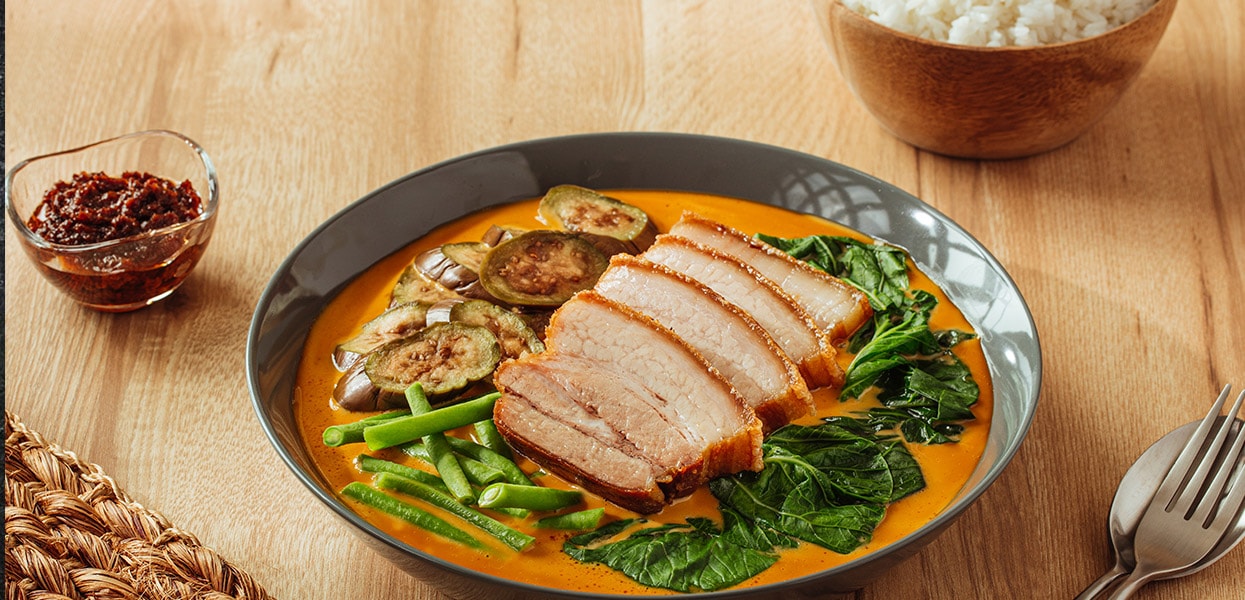 Ingredients
Bagnet Style Pork Belly
Pork belly slab, important that it has nice fat to meat ratio, has skin, 3 pcs of 500g

1500.0 g

Lemongrass, 2 pcs, bruised and tied to a knot

20.0 g

White Onion, quartered, 2pcs

40.0 g

Oil, optional, from frying other protein

60.0 ml

Vegetable Oil, for frying

1000.0 ml
Kare-Kare Sauce
Tomatoes, seeded, chopped

40.0 g

White Onion, chopped

80.0 g

1500 Ml Reserved Pork Stock, From Cooking Bagnet
Assembly (for 1 serving)
120g Bagnet Style Pork Belly, See Recipe

150g Kare-Kare Sauce, See Recipe

Blanched Mixed Vegetables, string beans, cabbage, eggplant

60.0 g
Preparation
Bagnet Style Pork Belly

90 minutes

Rinse and clean well the pork belly under running water. If it's bone-in, try to make some incisions in-between the bones.
Place everything in the pressure cooker, cover with the lid and secure by locking. Bring to a boil and when it whistles, lower the heat just to maintain the whistle and continue cooking for 30-45 min. or until the meat is very tender.
As soon as you release the steam, you may now open the lid carefully. Let it cool together w/ the stock to absorb more of the flavor. Remove the meat from the stock and place in a rack.
Reserve the strained stock.
If you have a Jaccard, you may poke the pork skin several times (optional).
Let it dry in room temperature at least 1 hour then place inside the chiller uncovered to continue the drying for another hour.
Remove the pork belly slab from the chiller in ambient temp. Meanwhile, pour oil in the deep frying pot (do not go more that 1/2 of the pot to avoid overflowing during frying) and heat the oil until it reaches 120-130ᵒC or in low to medium heat.
Blanch fry the pork slabs for 5-8 minutes. Make sure that it is completely submerged in the hot fat and forms small blisters, but not crispy yet.
Remove the fried pork from the oil and drain well. Place in a rack, skin side-up then set aside to cool down properly.
Clean the oil in the pot by straining impurities of fallen meat.
In the same frying pot of oil, apply high heat until your temperature reaches 180-220ᵒC (you can already see a smoke from your pot of oil), and submerge your pork belly slabs.
Cook for 2 to 3 min. only to avoid bitter taste and darkening. If done right, there will be big and small blisters on the belly skin.
Let it rest for 5-10 minutes before carving to achieve maximum crispiness.

Kare-Kare Sauce

30 minutes

Add oil to the pot. Sauté tomatoes, onions and garlic.
Add the reserved stock, bring to a boil then simmer for 10 min.
Option to put everything in a blender for better flavor and consistency then bring everything back to the pot.
Add now the peanut butter and brown sugar. Mix well w/ a wire whisk. Bring to a boil then simmer for another 10 min.
Adjust the color by adding annatto oil.


Assembly (for 1 serving)

5 minutes

Assemble in a shallow plate.
Serve immediately while hot. Serve with bagoong on the side.