Batchoy Ramen
Main course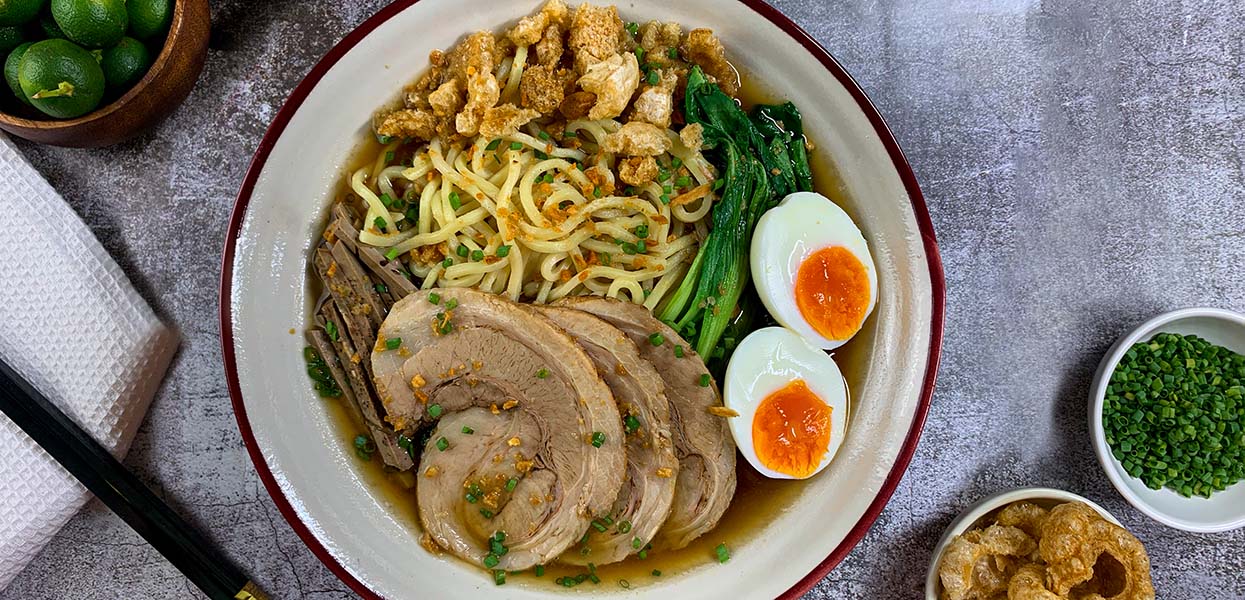 Ingredients
Pork Belly Roll
Pork Belly, skinless boneless

1000.0 g

0.5 G Black Pepper, Ground
Broth
Pork-liver, blanched in boiling water for 10 minutes

550.0 g

Onion, cut to half, charred on each side

2.0 pc

Garlic Bulb, cut to half, harred on each side

1.0 pc

Guinamos or Bagoong Alamang, washed, wrapped in a cheese cloth

80.0 g
Assembly
Garlic, chopped or fried crispy

100.0 g

Pork - Chicharon, chopped

300.0 g

Spring Onions, sliced finely

100.0 g

Bok Choy blanched and shocked in ice water

250.0 g

Egg , boiled 7 minutes

5.0 pc

Ramen Noodles, fresh or frozen

800.0 g
Preparation
Pork Belly Roll

10 minutes

Marinate the pork belly with the Knorr Liquid Seasoning, garlic, black pepper and calamansi.
Place in the fridge overnight.
Using a very hot skillet, sear the pork on all sides until lightly charred.
Remove and roll with a butchers twine and wrap in a cheese cloth.

Broth

330 minutes

In a large deep pot, place the liver, guinamos, and water.
Bring to a boil and skim off all the scum.
Add the onions, garlic, peppercorns and Knorr Beef Broth.
Place the pork belly roll and simmer for 1.5 hours.
Remove the tender pork belly and immediately roll in plastic film to keep the shape round.
Cool down the liver and the pork belly for 4 hours, slice thinly.
Slice the liver into julienne.

Assembly

5 minutes

Prepare all assembly ingredients.
Cook the ramen in boiling water and assemble immediately.
Assemble the ramen bowl with the noodles, boiled egg, bok choy, liver, sliced pork belly, garlic, spring onions, chicharon and pork belly.