BBQ Beef Ribs with Mashed Potatoes
It's said that the closer the meat is to the bone, the juicier it is! These fall-off-the-bone beef ribs are solid proof of that. Customers are guaranteed to come back for more finger-lickin' good BBQ ribs with filling mashed potatoes on the side.
Main course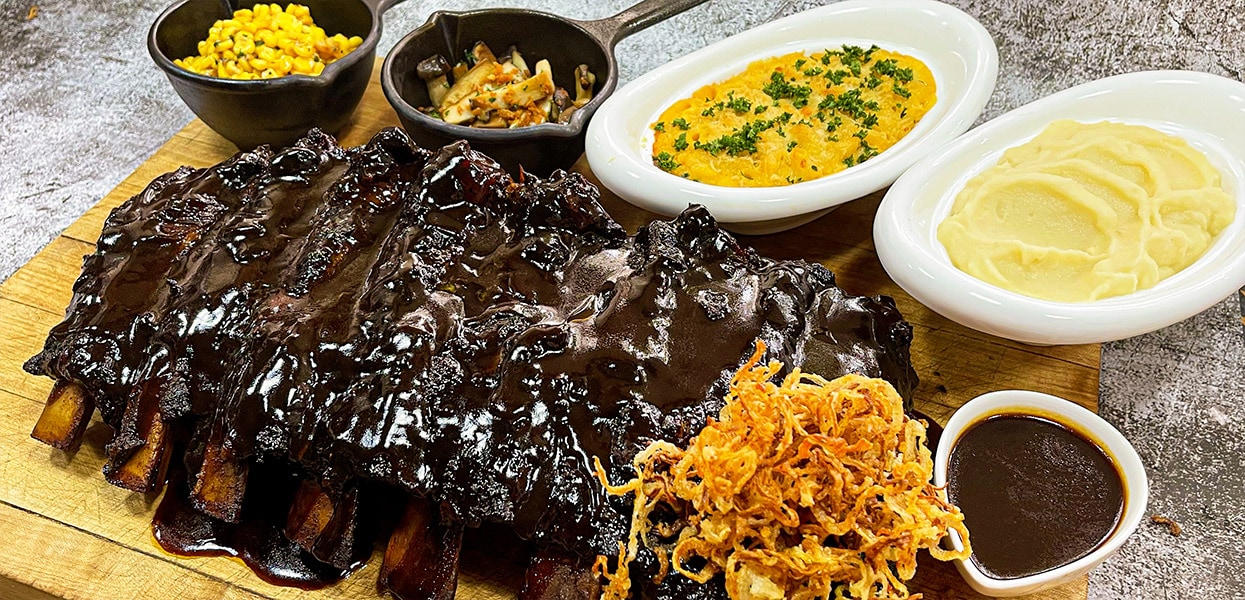 Ingredients
BBQ Sauce
Carrots, thinly sliced

50.0 g

Leeks, thinly sliced

50.0 g
Beef Short Ribs
Beef Short Ribs, rack

2000.0 g
Mashed Potatoes
Preparation
BBQ Sauce

55 minutes

Heat the vegetable oil in a pan. Sauté the garlic and onions until aromatic.
Add the rest of the vegetables as well as the cajun spice, bay leaves and star anise in the pan. Continue cooking for 10 minutes until slightly caramelized.
Next, pour in the tomato paste and cook for 2 minutes.
Throw in the remaining ingredients and bring to a boil. 
Let it simmer for 15 minutes and use this as a braising liquid.  


Beef Short Ribs

230 minutes

In a bowl, mix the following dry ingredients: Knorr Beef Seasoning Powder, paprika and pepper.
Season the beef short ribs by evenly rubbing the dry seasoning mix and the oil.
Place the short ribs in a pre-heated 220C oven and sear for 10 minutes or until it turns golden.
Once ready, transfer it to a baking pan and pour the BBQ sauce.
Cover with aluminum foil and bake in a 160C oven for 3 hours.
Check the oven every hour and add water if the sauce has reduced.
Remove the beef ribs until it's falling off the bone and blend the sauce until smooth.
Enjoy this juicy beef short ribs with the savory BBQ sauce by drizzling it all over.

Mashed Potatoes

15 minutes

Pour the water into a pot and throw in the Knorr Aromat Seasoning Powder. Mix well with a wire whisk until there are no more clumps.
Turn on the flame to high and bring to a boil at around 100C.
When it starts to boil, turn off the flame and add the milk.
Next, gradually add Knorr Potato Flakes while stirring with a spatula and continue to mix until it's well incorporated.
Add the unsalted butter and stir again. Once it looks smooth and creamy, serve these mashed potatoes alongside the BBQ Beef Ribs.