Chicken and Spinach Roulade in Mushroom Cream Sauce
Impress your customers with this flavorful work of art. Bring a typical stuffed-chicken dish to the next level by adding spinach, mushrooms, and by wrapping it in the artisan Pharma ham.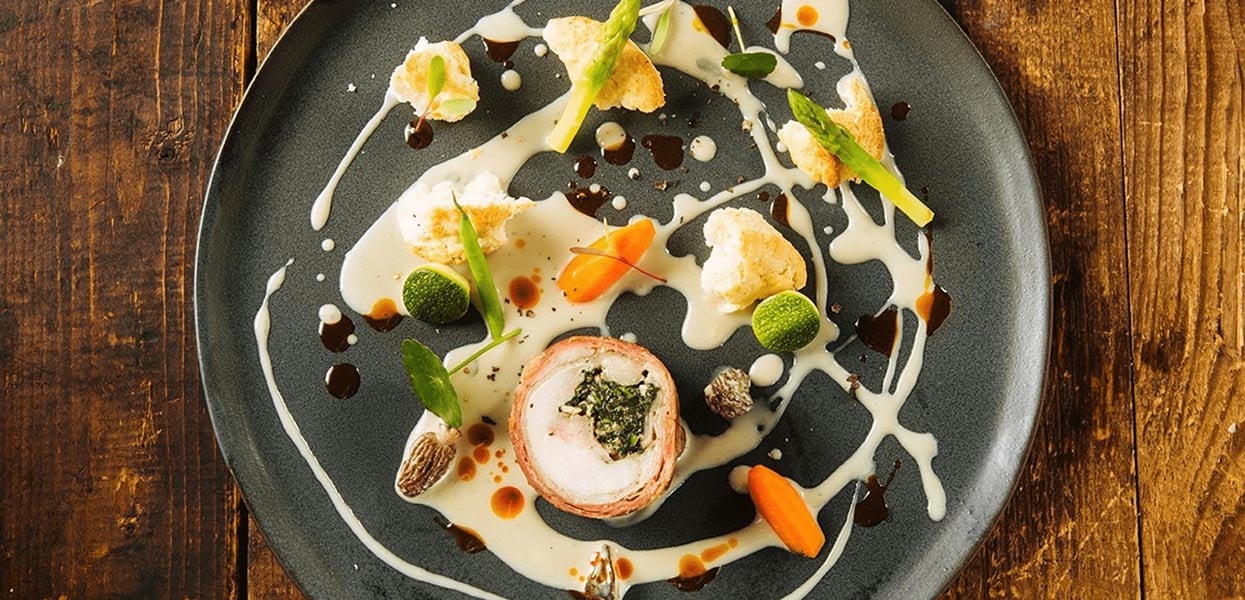 Ingredients
Chicken Preparation
Chicken Leg Quarter Fillet

1.0 kg

Blanched Spinach, chopped

240.0 g

Ham, Parma, thinly sliced

300.0 g
Sauce Preparation
White Onions, finely minced

100.0 g

Garlic Cloves, peeled and bruised

50.0 g

Fresh White Button Mushrooms, sliced into quarters

250.0 g

Shiitake Mushrooms, fresh, sliced into quarters

250.0 g

Thyme Leaves, fresh

5.0 g

Unsalted Butter, cold

60.0 g
Potato Biscuits Preparation
All Purpose Flour

420.0 g

Unsalted Butter, cold, cut into medium-sized cubes

60.0 g
Assembly
Baby Vegetablesblanched

120.0 g
Preparation
Chicken Preparation

Preheat an oven to 350F.
Season the chicken with Knorr Aromat. 
Cut some foil enough to fit each chicken fillet.
Position Parma ham on each piece of the foil.
Lay each chicken with spinach and mushrooms onto the Parma ham. 
Roll each foil to create roulades.
Bake the roulades for 15 min.

Sauce Preparation

In a heavy-bottomed straight side sauté pan, heat the olive oil.
Add unsalted butter and sweat the onions and garlic until fragrant.
Add the mushrooms and sauté until cooked-through.
Add Knorr Chicken Broth and stir well.
Add the white wine and simmer for a few minutes.
Dissolve 15g of Knorr Cream Soup Base Mix into 120ml of water. Bring to boil and simmer for 3 minutes. Add to the main mixture, stir well.
When the sauce starts to simmer, add the chicken and let it cook through.
Taste and adjust seasoning.
Add the thyme leaves.
Finish the sauce with cream.
Turn the heat off and mount the sauce with pats of cold butter.

Potato Biscuits Preparation

Preheat an oven to 450F.
In a mixing bowl, sift the flour, baking powder, salt, and baking soda together.
Add Knorr Mashed Potato Flakes.
Using a pastry blender or cutter, cut the cold butter in until the mixture resembles a coarse meal.
Fold the sour cream in, then, stir the milk in to form a dough.
Place the dough on a lightly-floured surface and knead lightly.
Pat down or roll the dough out to half an inch thickness.
Cut the biscuits into desired shapes.
Transfer these onto a baking sheet.
Bake the biscuits for 10-12 minutes.
Remove the baked biscuits from the oven and brush with melted butter.

Assembly

On a serving plate, drizzle the sauce.
Place the roulade slice in the middle.
Break the potato biscuits apart and position around the plate.
Garnish with baby vegetables.