Cipo Egg
A Capampangan favorite, featuring vegetables, quail eggs, and shrimp served in rich flavorful sauce. Deliver a great culinary experience, with minimal time and effort.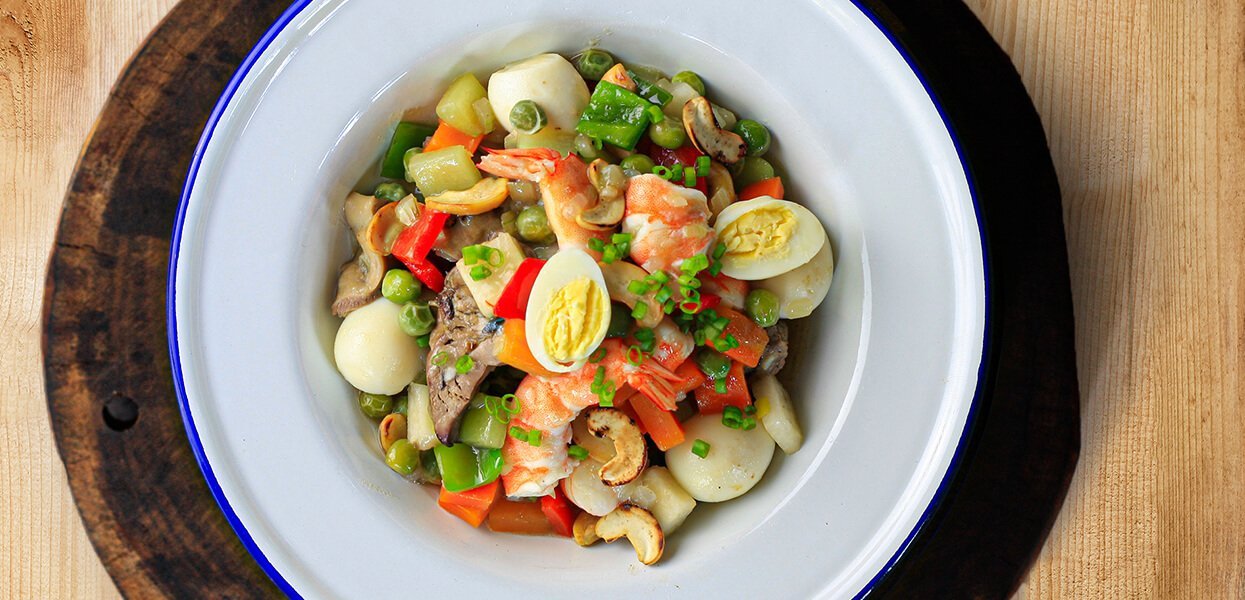 Ingredients
Cipo Egg
Calculate the cost of this dish here:
Number of servings
−
+
Price of the dish on the menu
Total cost of the ingredients
₱3.0
Ingredient label
Name
Price in ... (use your local currency)
Quantity
% Food cost of the part
Total costs
Cooking
Chicken Liver
/g
200.0 g
0%
Chicken gizzard
/g
200.0 g
0%
Onions, minced
/g
80.0 g
0%
Green Bell Pepper, small diced
/g
60.0 g
0%
Red Bell Pepper, small diced
/g
60.0 g
0%
Knorr Liquid Seasoning 3.8L
/ml
50.0 ml
0%
Ingredient name
Disclaimer: The prices shown are an indication, based on wholesalers in the market. These are subject to fluctuation due to seasonal change and supply. UFS can in no way be held responsible for any deviations from reality.
Total cost of the ingredients
Cost of one serving
Cost of ingredients (%)
Cooking
Green Bell Pepper, small diced

60.0 g

Red Bell Pepper, small diced

60.0 g
Preparation
Cooking

Bring water to a boil and add a little salt.
Once boiling add the prawns and cook for 4 minutes - shock in icewater.
Same water blanch vegetables (Jicama, Carrots, Sayote and peas in separate batches making sure to soak in ice once after cooking.
Heat a pan and add the oil.
Add the garlic and brown, add the onions and cook until translucent, stir in the peppers.
Add the cooked chicken liver and gizzard, cook for 1 minute and add the blanched vegetables.
Add the Chicken powder and season with Salt, pepper and sugar.
Add the Knorr Liquid seasoning, poached prawns and cook for about 3 minutes.
Add a little water to moisted and slowly stir in some cornstarch slurry to thicken.
Add the cashew nuts and toss.
Serve as a dish or as a siding.