Cornflake Crusted Fried Chicken Steak
Southern fried chicken made even more scrumptious! Chicken fillets that are cornflake-crusted, finished in the oven, and served with country gravy and corn spoonbread on the side.
Main course
Chicken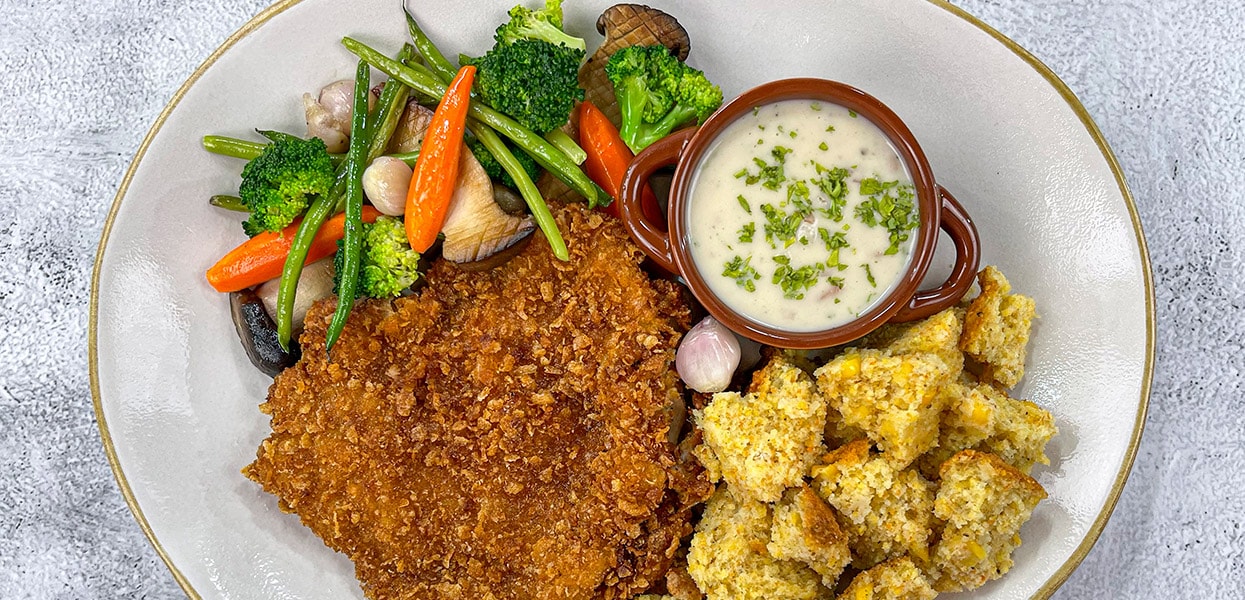 Ingredients
Chicken Preparation
Chicken Leg Quarter Fillet

180.0 g

Japanese breadcrumbs

120.0 g

Cornflakes, crumbles

120.0 g

Corn Oil, For Deep Frying
Country Gravy Preparation
Unsalted Butter, cut into cubes

30.0 g

White Onions, finely minced

100.0 g
Spoonbread Preparation and Assembly
Kosher salt (a pinch)

1.0 g

Cheddar Cheese, shredded

240.0 g

Canned Corn Kernels

240.0 g

Spring Onions, finely chopped

60.0 g

Unsalted Butter, cut into cubes

30.0 g

Red Pepper Flake, ground

1.0 g
Preparation
Chicken Preparation

Combine the breadcrumbs and the cornflakes in a bowl.
Season the chicken fillet with Knorr Aromat.
Dip the seasoned chicken in the flour, then the egg, then the breadcrumbs/cornflakes mixture.
Chill for 30 minutes.
Heat the oil up and deep fry the chicken until golden brown and cooked through.

Country Gravy Preparation

In a hot sauce pan, render the fat of the bacon.
When the bacon is golden brown, add the butter to the pan.
Add the onions and let them sweat.
Dissolve 15g of Knorr Cream Soup Base Mix into 120ml of water. Bring to boil and simmer for 3 minutes. Add to the pan and whisk well. Bring to a boil.
Add the evaporated milk.

Spoonbread Preparation and Assembly

Preheat the oven to 400F.
In a sauce pot, whisk the milk, Knorr Mashed Potato Flakes and salt together until the mixture thickens.
Stir the cheese, corn, and spring onions in.
Whisk the whipped eggs in.
Pour the mixture into a baking dish (with around 1kg capacity).
Top with the butter, pepper flakes, and the remaining cheddar cheese.
Bake for 25-30 minutes or until the center is set and the cheese is lightly browned.
Remove from oven for immediate serving.
Serve the fried chicken steak with country gravy and spoonbread on the side.