Crispy Fried Chicken with Soy Garlic
You won't need to be into Korean culture to love this dish. The soy garlic that coats the chicken adds a sweet-savory dimension to every crunchy bite. This dish can easily become a best-selling favorite for chicken lovers!
Main course
Chicken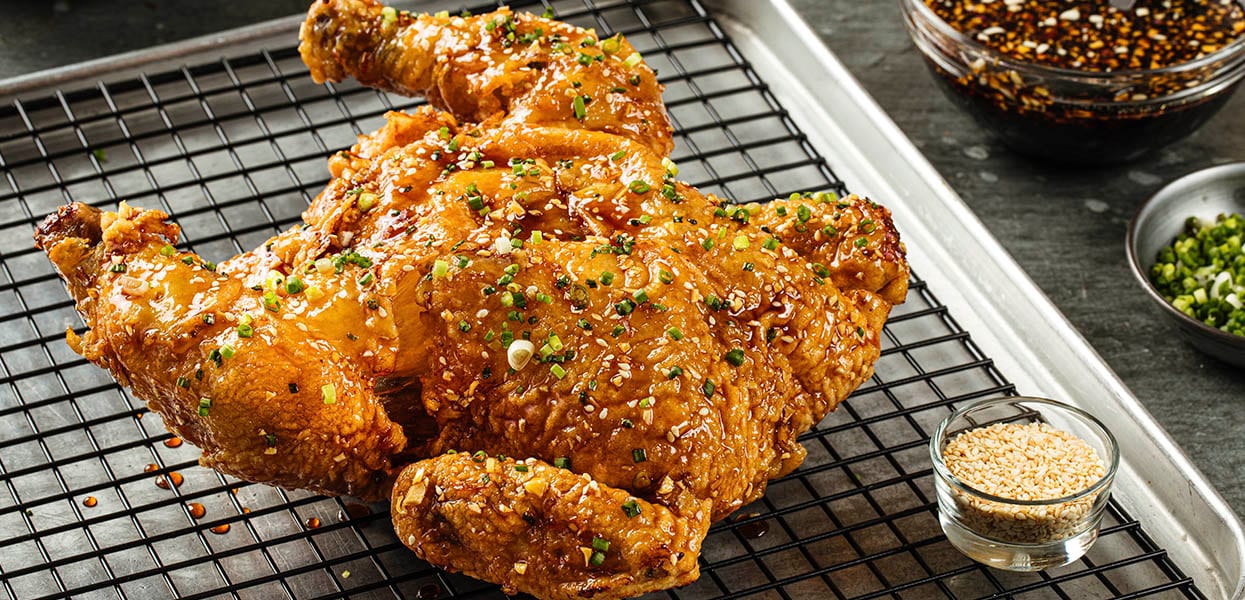 Ingredients
Batter
All Purpose Flour

100.0 g
Garlic-Soy Glaze
Marinating, Frying, and Assembly
Black Pepper, round

2.0 g

Garlic, minced, fresh

20.0 g

Chicken, whole, spatchcock

2400.0 g
Preparation
Batter

3 minutes

In a bowl mix all ingredients together until it forms to a thick paste.

Garlic-Soy Glaze

5 minutes

In a pot, mix all ingredients together and bring to a boil.
Toast the sesame seeds in a different pan and set aside.
Cool the mixture down.

Marinating, Frying, and Assembly

180 minutes

Cut the chicken in to a spatchcock.
In a bowl mix all ingredients for the marinade.
Marinate the chicken for at least 2 hours or overnight for better results.
Add the batter ingredients and mix until the thick paste begins to coat the chicken.
Leave to marinate for another 30 mins.
Heat oil to 150c and deep fry the chicken for 10-15 minutes until internal temperature reaches 175F.
Remove and set aside to cool down for 2 hours.
Increase the temperature of the oil to 190C.
Fry the chicken for the second time to color and make the batter crisp. Fry for around 5 to 10 minutes.
Drain the chicken of excess oil.
Drizzle the glaze on top and serve with toasted sesame seeds and finely slice spring onions.