Herb Butter Chicken Roast
Stuffed with a savory filling of aromatic herbs and spices, this roasted chicken is definitely an indulgent feast with its crispy skin and tender meat. When paired with mushroom gravy, the dish becomes a more flavorful standout for any celebration.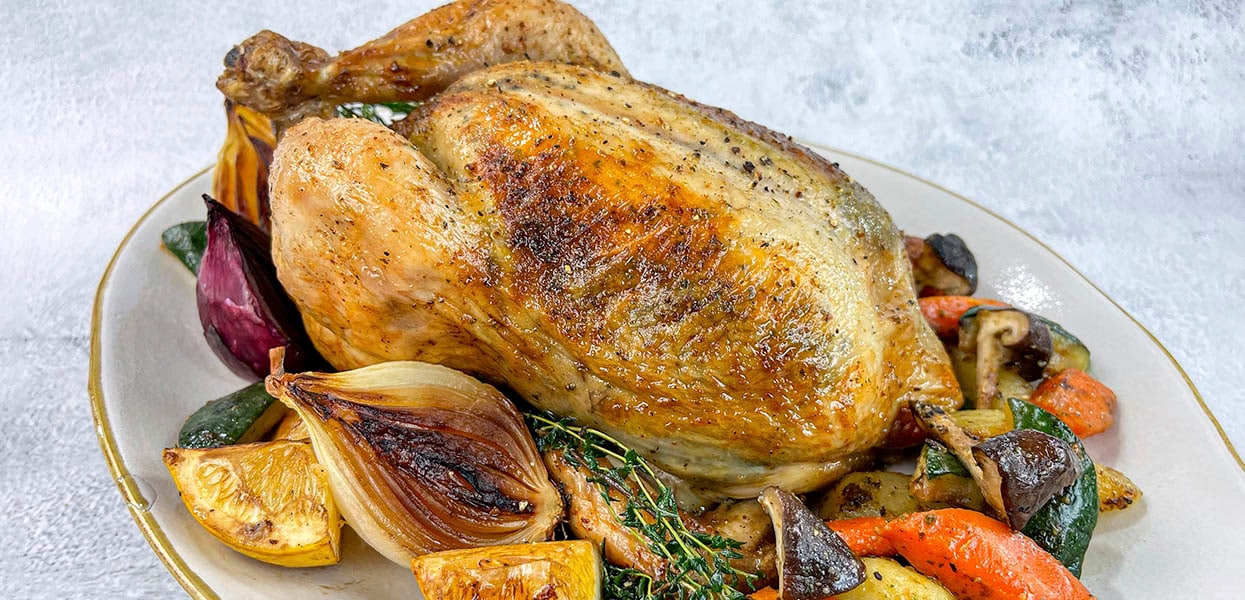 Ingredients
Chicken Preparation
Whole Chicken, 1.2kg bird

2400.0 g
Stuffed and Baked Chicken
Garlic Whole bulb, halved

4.0 pc
Mushroom Gravy Sauce
Mushroom, fresh sliced

250.0 g
Preparation
Chicken Preparation

15 minutes

Wash and pat dry the whole chicken.
Loosen the skin from the meat gently to avoid puncturing the skin.
Marinate the chicken with Knorr Liquid Seasoning and pepper for an hour or overnight to help develop the flavor and texture.

Stuffed and Baked Chicken

110 minutes

Make a paste with the butter, herbs, garlic, Knorr Chicken Powder, lemon juice and paprika. You can mix them throroughly in a large bowl or use a food processor for better results.
Stuff the chicken with the halved garlic bulbs, bay leaf and lemon then season with sea salt.
Using a piping bag fill the chicken with the herb paste under the skin and distribute evenly to cost the entire bird.
Place the stuffed chicken in a cooking rack and roast in a 180c pre-heated oven for 20 minutes. Then, lower the heat to 165c and let it cook until its internal temperature reaches 75c during the next 45 minutes to 1 hour.
Afterwards, let it rest for 15 minutes before carving.

Mushroom Gravy Sauce

15 minutes

Pour 500 ml water in the baking pan and deglaze all the caramelized drippings. Scrape and strain the sauce.
Heat up oil in a pan and add the mushrooms roast until caramelized then pour in the strained baking pan drippings.
Combine the Knorr Gravy Mix with water together in a seperate pot. Pour in mushroom stock while whisking continuously to avoid lumps.
Serve the Herb Garlic Chicken Roast with the sauce on the side while it's hot!