Holiday Chicken Galantina
Chicken Galantina is a Christmas dish loved by Filipinos for its seasoned meat stuffed with spices, pork and egg. The calamansi and black pepper enhances the savory taste, alongside a gravy sauce that serves as a rich creamy dip.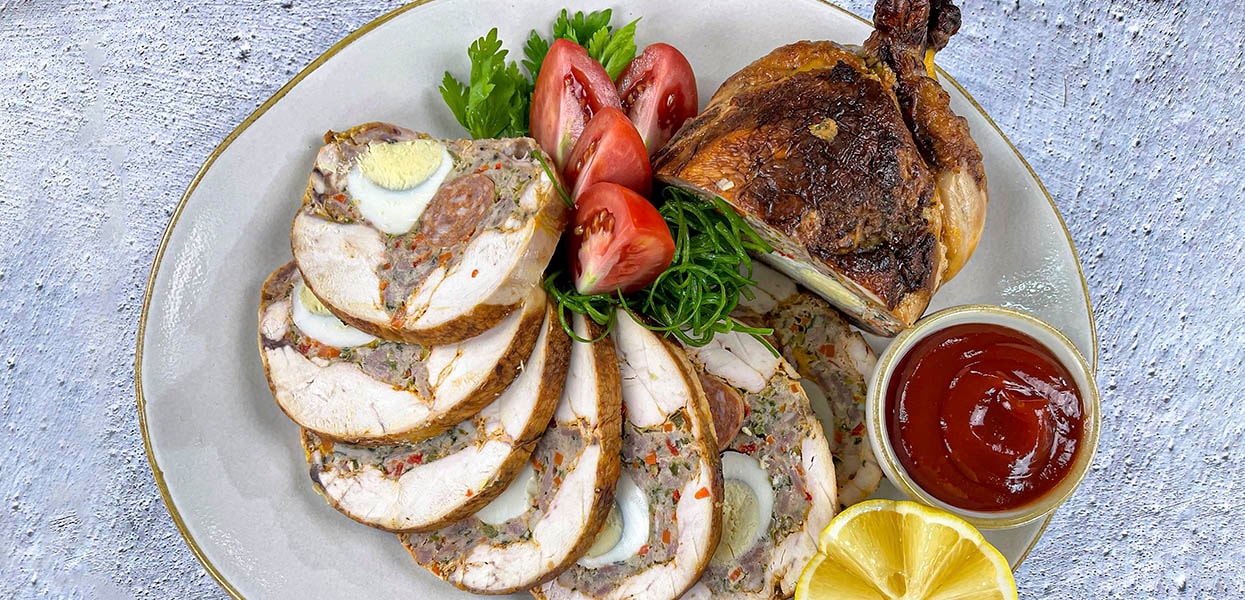 Ingredients
Marinated Chicken
Chicken-whole, deboned

120.0 g

Black Pepper, ground

1.0 g

Achoite Oil, 1:1 - heated and strained

10.0 ml
Chicken Filling
Ground Pork, 80/20 meat to fat ratio

300.0 g

Red Bell Pepper , brunoise

30.0 g

Green bell pepper, brunoise

30.0 g

Bread Crumbs, panko

50.0 g

Black Pepper, ground

1.0 g

Cheddar Cheese, sticks

60.0 g

Chorizo Bilbao, hotdog, sausage, and etc.

3.0 pc
Gravy Sauce
Preparation
Marinated Chicken

120 minutes

Combine well the Knorr Liquid Seasoning, pepper, calamansi juice and the heated achiote oil to create the marinade mixture.
Soak the whole boneless chicken into the marinade sauce overnight or for a minimum of 2 hours.

Chicken Filling

200 minutes

Combine the egg, egg yolks, breadcrumbs and corn starch together in a bowl then leave it to rest for 30 minutes.
Grab another large bowl then mix well the pork, ham, onions, celery, carrots, leeks, peppers and the egg breadcrumb mixture.
Add the parsley, sugar, pepper and Knorr Chicken Powder into the bowl as well.
Continue stirring until the mixture becomes sticky then let it sit in the chiller for 1 hour before stuffing it in the chicken.
Stuff the whole chicken with the farce and garnish with cheddar cheese, boiled eggs and chorizo.
Place the chicken in a baking tray.
Bake in a 180c pre-heated oven for 30 minutes then bring down the temperature to 165c and cook further until internal temperature of the chicken reaches 75c.
Remove it from the oven and let it cool down for 30 minutes before slicing.
For best results, chill the chicken overnight before slicing then reheat in a 180c oven.
Best served warm with gravy on the side.

Gravy Sauce

20 minutes

Prepare the Knorr Gravy Mix and follow the directions written on the packaging.
Scrape the baking pan where the chicken was cooked while adding a little water to deglaze it.
Pour the pan drippings to the gravy and bring to a boil.
Simmer for 5 minutes and strain.
Best served warm together with the chicken galantina.