Meatless Lasagna
Change up an Italian classic by switching out the beef! The savoriness comes from combining a medley of veggies and lentils that still make this dish extremely satisfying! Top it off with a buttery cheese cream layer to complement the tangy tomato sauce!
Fruits & Vegetables
Main course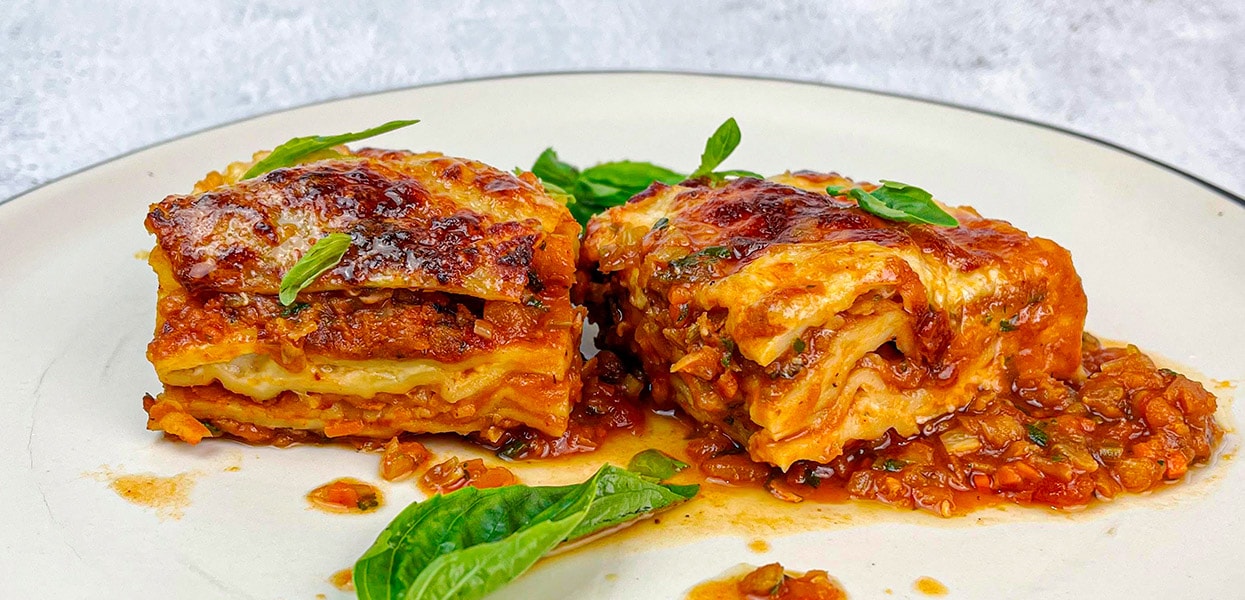 Ingredients
Meatless Meat Ragu
Tomato - crushed, in can

250.0 g

Basil, chiffonade cut

10.0 g

Olive Oilextra virgin

60.0 ml
Cheese Cream Sauce
Baking and Assembly
Pasta, lasagna, as per recipe

500.0 g

Mozzarella, grated

100.0 g

Parmesan Cheese, grated

50.0 g

Cheese, Feta, crumbled

50.0 g
Preparation
Meatless Meat Ragu

50 minutes

Heat a pan and add the olive oil.
Saute the onions until translucent and add the garlic.
Add the lentils and saute for 2 minutes.
Add the carrots, leeks, celery and tomato paste. Continue cooking for 5 minutes.
Add the crushed tomatoes, water, bayleaf, oregano and pepper.
Cook for 45 minutes until lentils are soft.
Season the stew with Knorr Aromat, Knorr Liquid Seasoning and stir in the basil.

Cheese Cream Sauce

Make cream soup base with the water (follow recipe from pack).
Stir in the cream, nutmeg and white pepper.
Remove from the heat and monter with butter.

Baking and Assembly

10 minutes

To assemble the lasagna, layer the pasta sheets with the meat sauce and cheese sauce sprinkling grated cheese in between.
Repeat procedure until lasagna reaches atleast 3 layers.
Finish off by adding the remaining grated cheese on top.
Bake for 15-20mins or until cheese melts.
Serve immediately.