Mechado Baka
Fork-tender beef brisket, tomato sauce, chunks of carrots and potatoes, and calamansi juice zest—simmered together to make a classic stew. This simple yet comforting stew has a blend of savory and tangy flavors, people will keep coming back for more!
Main course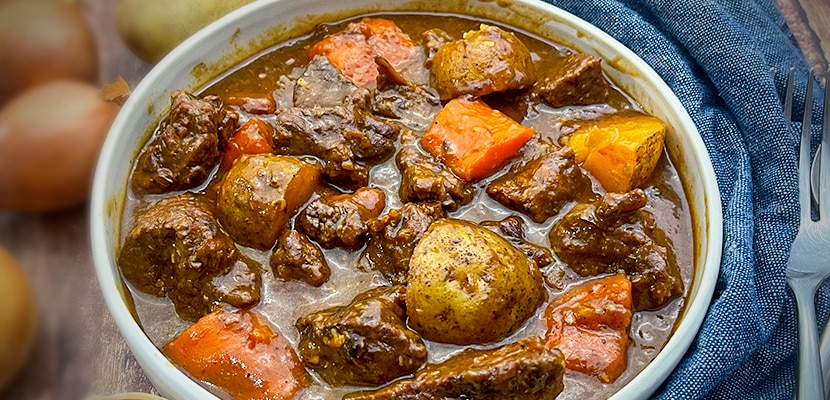 Ingredients
Marinating
Beef brisket or Beef Short Ribs with Fat Included, cut into cubes

1500.0 g
Cooking
Tomatoes, chopped

150.0 g

Water, may be adjusted depending on the size of the pressure cooker

1500.0 ml

Carrots, cut into cubes

300.0 g

Potatoes, cut into cubes

300.0 g

Spring Onions, chopped

10.0 g
Preparation
Marinating

15 minutes

In a mixing bowl, marinate the beef with Knorr Liquid Seasoning, calamansi juice, and black pepper. 
Combine very well, then cover the bowl with plastic wrap.
Let it marinate inside the chiller for 24 hours. 

Cooking

105 minutes

Preheat the pressure cooker for 10 minutes or until it turns piping hot.
Add a small amount of oil and sear all the sides of the beef. Set it aside.
Sauté the onion, garlic, tomato, and chorizo in the same pressure cooker.
Add the tomato sauce, calamansi juice, Knorr Liquid Seasoning, smoked paprika, bay leaf, black pepper, water, carrots, potatoes, and beef.
Cover the pressure cooker and let it cook. Once it whistles, simmer for 40 minutes.
Afterwards, remove the whistle and wait for it to cool down.
Open the cover and check the beef's tenderness. Let it simmer again if needed.
Transfer the beef mechado to a serving dish. Garnish with spring onion and fried garlic.
Serve the dish while it's hot.