Plant-based Cottage Pie
Serve up some English classic comfort food that will surely bring more comfort to your diners once they find out that this decadent, melt-in-your-mouth cottage pie is plant-based and veggie-packed using The Vegetarian Butcher NOMince.                                                                                                                                
Plant-based Meat
Main course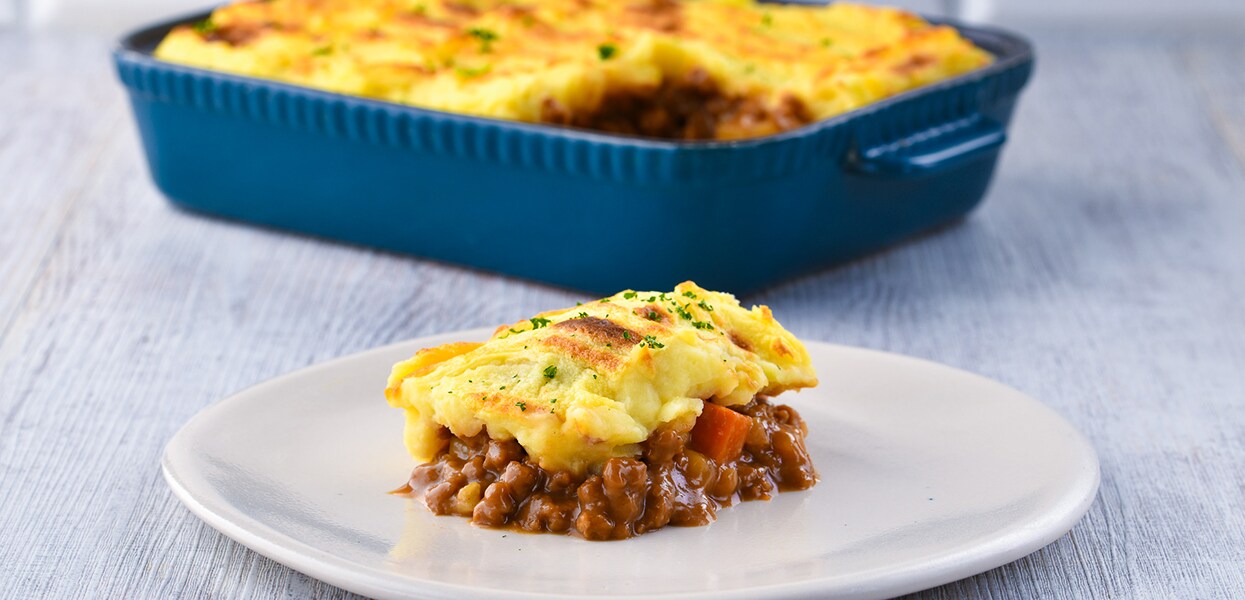 Ingredients
Stew
Carrots , jardiniere cut

200.0 g

Potatoes , jardiniere cut

200.0 g

Black Pepper , ground

1.0 g
Mashed Potatoes
Milk , full-cream

300.0 ml
Garnish
Parsley , finely chopped

5.0 g
Preparation
Stew

25 - 30 minutes

In a pan, melt the butter, add the onions and saute until translucent.
Add the garlic and saute for 30 seconds then add The Vegetarian Butcher Mince.
Cook for 3 minutes then add the Tomato paste.
Add in the Carrots and Potatoes, then pour the water and bring to a boil then add the Knorr Beef Broth Base.
Simmer for 15 minutes and add the pepper, sugar and peas, then cook for 5 minutes until sauce is thick and reduced.
Add the Knorr Liquid Seasoning.
Add the Parsley and place in individual containers 3/5 full.

Mashed Potatoes

10 minutes

Prepare the Potato Mash by boiling the Milk and water.
Add the Knorr Potato Flakes and whisk to combine, Turn off the heat and cover to leave for 5 minutes.
Add the rest of the ingredients and whip to incorporate.
Cover the stew with the Mashed Potatoes and bake in a 350F oven for 20 minutes or until top is golden.  

Garnish

Brush with butter and spinkle parsley.