Plant-based Fried Spring Roll
Typically served in a Vietnamese banquet, this makes an amazing party using The Vegetarian Butcher NOMince. Golden, satisfyingly crispy spring rolls stuffed with a bursting balance of different flavors finished off with its killer Nuoc Cham.  
Plant-based Meat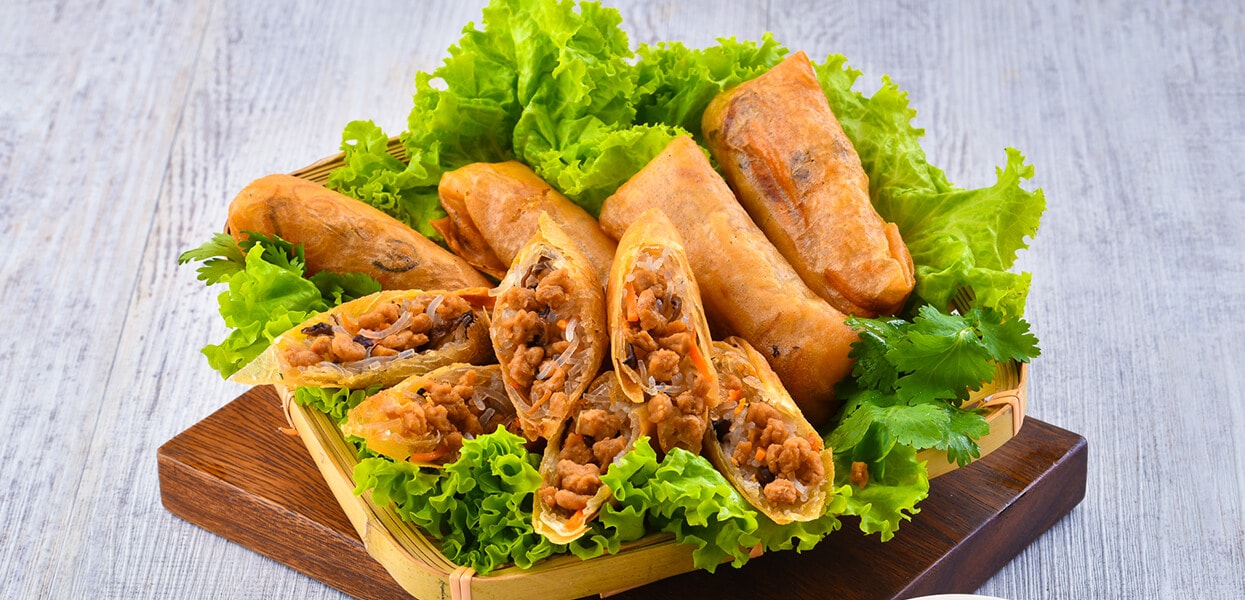 Ingredients
Spring Roll
White Onion, chopped

45.0 g

Wood Ear Mushroom, hydrated, slices, chopped

50.0 g

Shrimps, small, shelled, deveined

100.0 g

Noodles, Cellophane, thin, pre-boiled

600.0 g

Fish Sauce, Vietnamese

45.0 ml

Black Pepper, ground

2.0 g

Spring roll wrappers, small

20.0 pc
Nuoc Cham
Fish Sauce, Vietnamese

50.0 ml
Preparation
Spring Roll

15 minutes

In a wok, stir-fry the onion, The Vegetarian Butcher NoMince, mushroom and carrots.
Add the shrimps and let it cook.
Add the noodles, fish sauce, black pepper and spring onion.
Stir-fry for 45 seconds. Set aside.
Assemble the spring roll. Fill the roll with 15g of filling. Wrap tightly and seal with egg.
Deep-fry the spring roll in medium heat (approx 350F) until light brown.

Nuoc Cham

15 minutes

In a sauce pot, combine all the ingredients and warm the sauce until the sugar is melted.
Assemble the dish accompanied by the sauce. Serve.