Plant-based Mac and Cheese
Ultra cheesy and creamy.. That sounds so heavenly! Much more if they find out they can indulge with less the guilt! Give this plant-based Mac and Cheese made with The Vegetarian Butcher NOMince a go and watch your diners realize how delicious it is!   
Plant-based Meat
Main course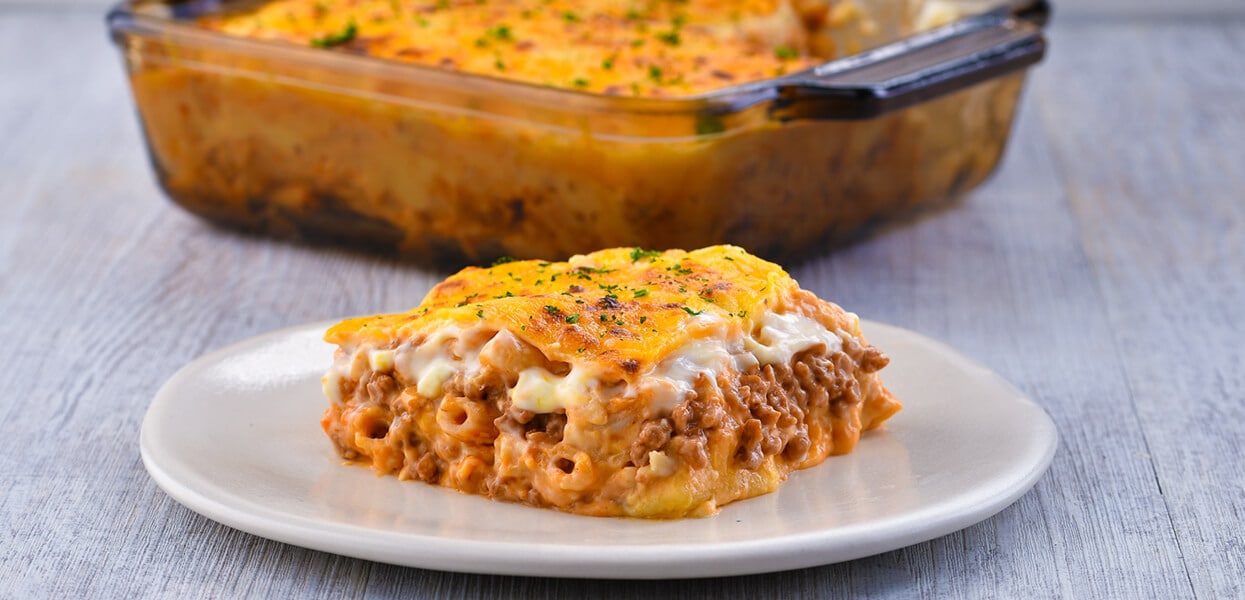 Ingredients
White Sauce Base
Water , mixed with the Knorr Cream Soup Base in a bowl at ambient temperature

350.0 ml
Sauce Base
White Onions , chopped

25.0 g

Black Pepper , ground

1.0 g
Loaded meatless Mac and Cheese Assembly
White Sauce , base

120.0 ml

Cheese, grated , assorted, red cheddar, mozarella, quikmelt

50.0 g

White Sauce , base

480.0 ml

parmesan cheese powder

10.0 g
Preparation
White Sauce Base

12 - 14 minutes

Place everything in a sauce pot and mix well.
Apply medium heat, bring to a boil and simmer for 2-3 min.
Mix well from time to time.
Set aside to cool.
Store inside the chiller until use. Apply cold during the mac and cheese assembly.  

Sauce Base

35 minutes

 Add oil to the pot and apply medium heat.
Saute onions, garlic, celery and carrots. Add dried oregano and continue to saute until fragrant.
Add the prepared The Vegetarian Butcher NoMince. Saute until well incorporated.
 Season with Knorr Aromat then add the tomato paste. Mix well.
Add water, tomato sauce and the rest of the ingredients. Mix well and bring to a boil.
Simmer for 5-10 min. in low heat.
Set aside to cool. Apply cold during the mac and cheese assembly  

Loaded meatless Mac and Cheese Assembly

35 minutes

Brush the bottom and side of the dish pan/mold with soft butter.
Add ample amount of white sauce base. Add the grated cheese and scatter evenly.
Add now the mixture of meatless sauce and pre-cooked macaroni and evenly distribute to the dish pan then add again grated cheese.
For the last top part, evenly cover it w/ the remaining white sauce base, assorted grated cheese and some parmesan cheese.
Give it a tap for everything to set. (Cover w/ foil). Cook in a pre-heated convectional oven 170°C for 15 min. then remove the foil and cook for another 15 minutes until it boils and have a nice gratinated color.
Do the same for the 2nd Rectangular Baking dish.