Roasted Ribeye Kare-Kare
How do you take Kare-kare to the next level? Pair the rich and flavorful peanut sauce with a perfectly seared ribeye steak, balanced out with a side of vegetables. Our chefs recommend using Lady's Choice Peanut Butter for a perfectly creamy sauce.
Main course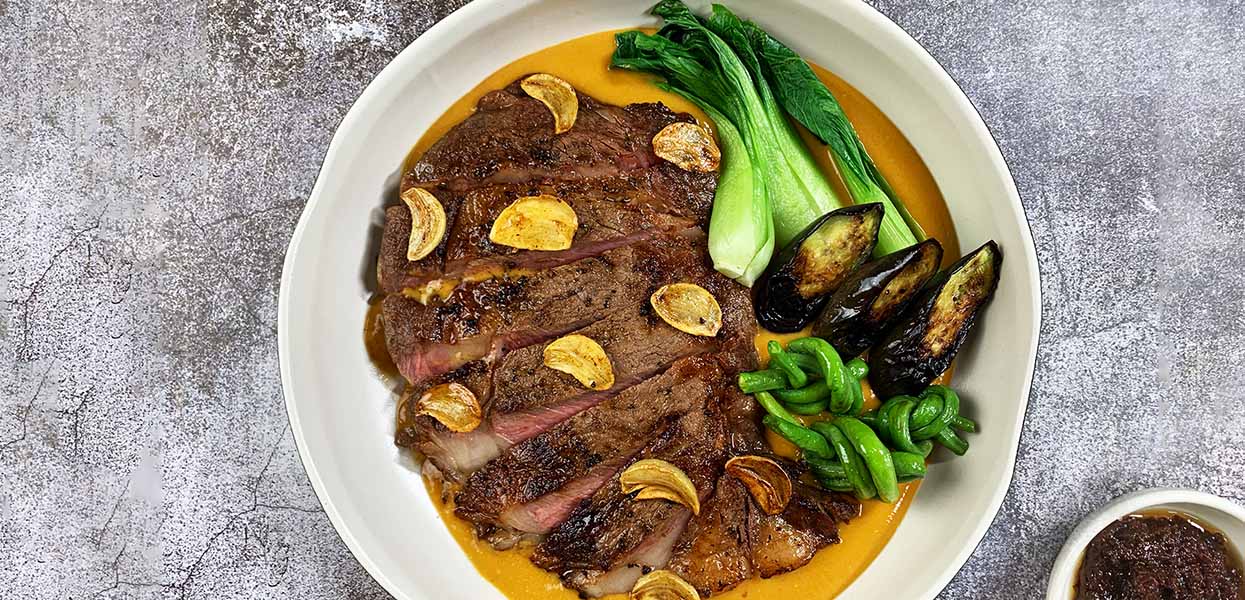 Ingredients
Ribeye Steak
Ribeye Steak, sliced 1-inch thick

1.5 kg

Black Pepper, ground

1.0 g

Garlic, peeled and cut into half lengthways

20.0 g

Lemon Grass, 2 Stalk Bottoms Only, Mashed
Kare-Kare Sauce
Tomatoes, seeded, chopped

40.0 g

White Onions, chopped

80.0 g
Assembly (for 1 serving)
Ribeye, see recipe

120.0 g

Kare-Kare Sauce, see recipe

150.0 g

Blanched Mixed Vegetables, string beans, cabbage, eggplant

80.0 g

Bagoong Alamang, cooked

15.0 g
Preparation
Ribeye Steak

15 minutes

Marinate the ribeye steak with Knorr Liquid Seasoning, Knorr Beef Seasoning Powder and ground black pepper.
In a very hot oiled skillet, sear the steaks for 2 minutes per side.
Add the lemongrass and butter.
Baste the steak until desire doneness is achieved.


Kare-Kare Sauce

45 minutes

In a sauce pot, heat annatto oil and sauté the garlic, onions and tomatoes.
Cook until dry then add the water and Knorr Beef Broth.
Bring to a boil, add Lady's Choice Peanut Butter and brown sugar.
Simmer for 15 minutes and season with salt and pepper.
Puree in a blender to achieve a smooth consistency.

Assembly (for 1 serving)

15 minutes

On a plate, arrange the vegetables and pour the sauce.
Slice the steak and arrange on top of the vegetables and sauce.
Serve bagoong alamang on the side.