Up the ante on the nourishing and humble paella by incorporating sisig elements into the recipe.
Ingredients
60ml Oil 
60g White Onions, chopped
20g Garlic, chopped
10g Green and Red Finger Chilies 
60g Spanish Chorizo, diced small
400g Rice Grain Jasponica
180g Pork Belly, cubed 
30ml Knorr Liquid Seasoning
3g Knorr Rostip
720ml Sisig Stock
3 cups water
20g Pork Broth
15ml Knorr Liquid Seasoning
5pcs Quail Egg 
1/2 Lemon, sliced
60ml Original Sisig Dressing
400g Lady's Choice Real Mayonnaise
70ml Knorr Liquid Seasoning
5g Spring Onions, chopped
Preparation
Meat
In a pan, sauté onions, garlic and mixed finger chilies in oil.
Add Spanish chorizo and sauté for a few seconds.
Add pork belly and cook until it turns golden brown.
Paella
Add rice and sauté until translucent.
Add sisig stock.
Cover with foil and simmer for 25 to 35 minutes.
1 minute before the paella is done, remove the foil then make some 5 round indention.
Crack the quail eggs in the indentions.
Cover with foil and turn off the heat.
Original Sisig Dressing Drizzle
Mix Knorr Liquid Seasoning and Lady's Choice Real Mayonnaise in a stainless bowl with a whisk until smooth and fully incorporated.
Set aside in the chiller.
Assembly
Garnish it with lemon, sisig dressing and spring onions.
Serve immediately.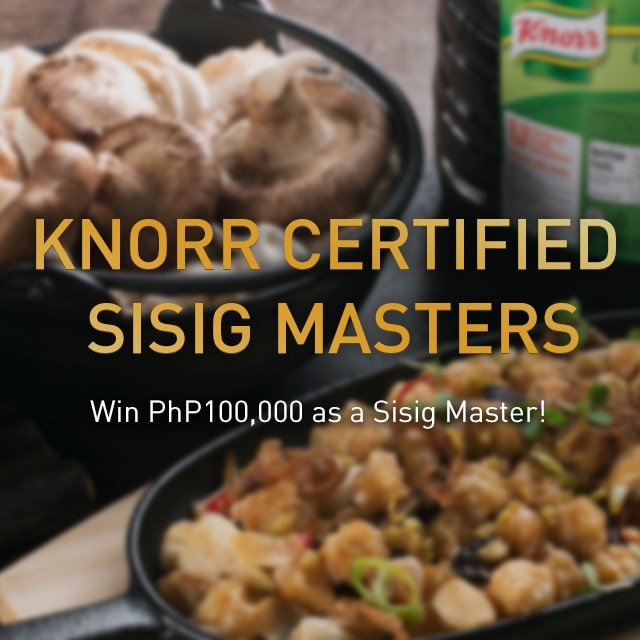 Create an innovative Sisig dish to become a 3-star Certified Sisig Master and win PhP100,000!

Sign up now