Every restaurant needs a dish on the menu that's perfect for any time of the day, from breakfast to supper. This easy-to-make Pinoy version of devilled eggs is a prime candidate for just that.
Ingredients
150g Grilled Pork Belly, finely chopped
30g Red and White Onions, finely chopped
5g Long Green Finger Chili, finely chopped
Garlic, finely chopped
40g Original Sisig Dressing
15g Knorr Liquid Seasoning 
100g Egg Yolk, boiled and removed from whites
4pcs Boiled Egg Whites, halved
Cooked Sisig Mixture 
8pcs Formed Egg 
2pcs Beaten egg 
500ml Oil 
60ml Sweet Chili Sauce, prepared
Preparation
Grilled Pork Belly
Mix everything and marinade for at least 8 hours and up to 24 hours.
Grill the marinated pork belly until cooked.

Original Sisig Dressing Drizzle

Mix Knorr Liquid Seasoning and Lady's Choice Real Mayonnaise in a stainless bowl with a whisk until smooth and fully incorporated.
Set aside in the chiller.

Sisig Filling

Mix everything in a bowl then pour into a wok/pan.
Cook quickly on high heat.
Turn off the heat and fold in the dressing and seasoning.
Add the boiled egg yolk.
Mash the egg yolk together with the sisig until it binds the mixture.

Filling and Shaping the Sisig Egg
While the mixture is warm, mould a small amount of the mixture into a ball and place into the boiled egg whites.
Put 2 egg whites together to form a whole shaped egg.
Set aside in the chiller to cool for 40 minutes to an hour.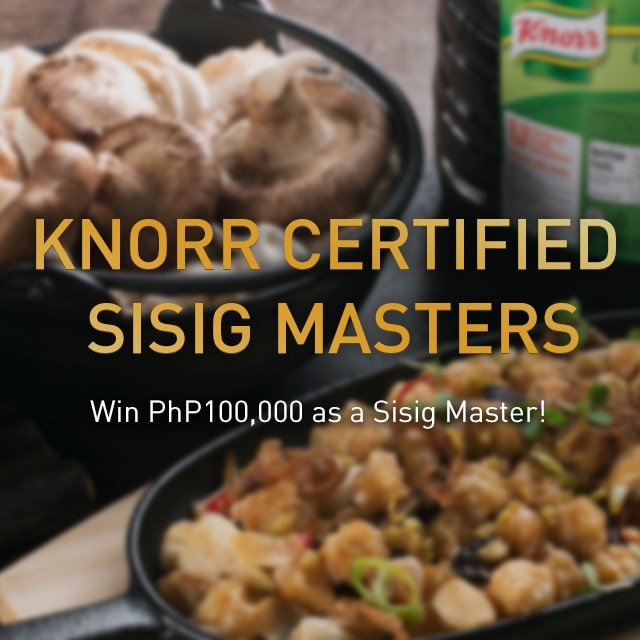 Create an innovative Sisig dish to become a 3-star Certified Sisig Master and win PhP100,000!

Sign up now