Delight your diners with a stir-fried pancit recipe interlaced with familiar sisig flavours.
Ingredients
30ml Oil 
200g Grilled Pork Belly, chopped
50g White Onions, chopped
10g Green Chili, seeded and chopped
10g Garlic, chopped
60ml Knorr Liquid Seasoning 
500ml Water 
10g Knorr Pork Broth 
250g Bihon 
30ml Oil 
30g Carrots, julienned
30g Chayote, julienned
30g Cabbage, shredded
10ml Knorr Liquid Seasoning 
Strained Sisig mixture 
Soaked Bihon 
30g Chicharon, crushed
5g Spring Onions, chopped
Preparation
Meat Mixture
In a wok, sauté chopped pork, onions, chili and garlic.
Stir-fry and season with Knorr Liquid Seasoning.
Add water and pork broth.
Bring to a boil and simmer for 3 to 5 minutes.
Strain and set aside the meat mixture.
Soak the bihon in the strained broth for 20 to 30 minutes or until it absorbs the stock.
Vegetable and Pancit
In the same wok, stir-fry carrots, chayote and cabbage in oil.
Add Knorr Liquid Seasoning.
Add the sisig mixture and soaked bihon. 
Assembly
Plate and garnish with crushed chicharon and spring onions.
Serve immediately.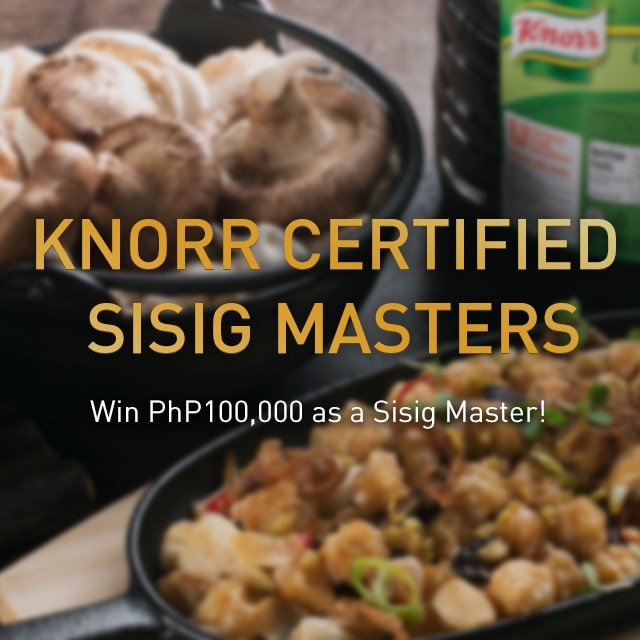 Create an innovative Sisig dish to become a 3-star Certified Sisig Master and win PhP100,000!

Sign up now