Why are salads popular as a healthy go-to? Celebrities like Gwyneth Paltrow have been talking about the benefits of having more salads in your diet. On her show, Goop, she demonstrates all the many ways a bowl can be enjoyed. But beyond their frequent exposure on media, salads owe their reputation to the rich nutritional value yet short prep time they require.
People do not need fire to enjoy the fresh greens and fruits of the dish. A handful of ingredients can be tossed together and you've got yourself a surprisingly filling dish. For those with New Year's resolutions to get fit, enjoying a salad is a great first step. Salads can also come in various combinations as well, making them viable choices for lunch or dinner. Adding protein like steak or grilled chicken allows salads to be more filling without the need for heavy starches.
For those who are looking for options that go beyond the typical Caesar or Waldorf, we've curated a list of salad recipes that can change people's perceptions of what salad should be like. After all, we live in a rice-loving country. In order for us to impress our Filipino customers, we have to present health-conscious meals in ways that can entice and satisfy them!
Fresh Choices for Lunch or Dinner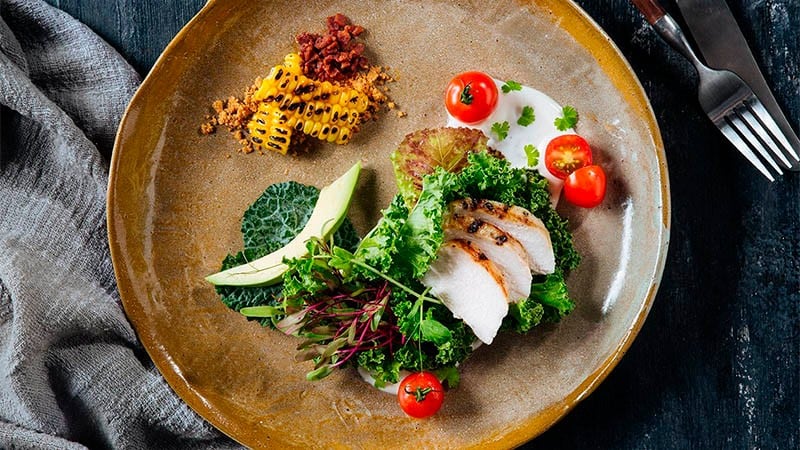 This dish can work for those who want some smokiness in their salads. This recipe uses tangy Lady's Choice Ranch Dressing for some added zing. This flavor profile enhances the grilled flavor of the chicken meat even more as it's mixed with cheese and bacon bits for savoriness. Avocado, corn, and tomato can also be thrown into the mix to provide added freshness.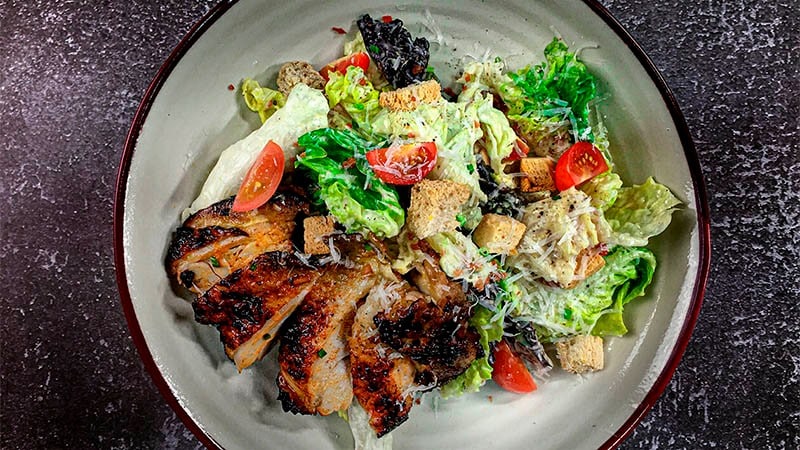 Combine the unique Visayan taste of inasal with the iconic freshness of made-from-scratch caesar salad. The tender grilled chicken pairs well with the crisp lettuce, fresh tomato, and savoriness of bacon and parmesan toppings. This could be the ideal dish for Filipinos who can't let go of their savory meals but want to opt for a healthier alternative!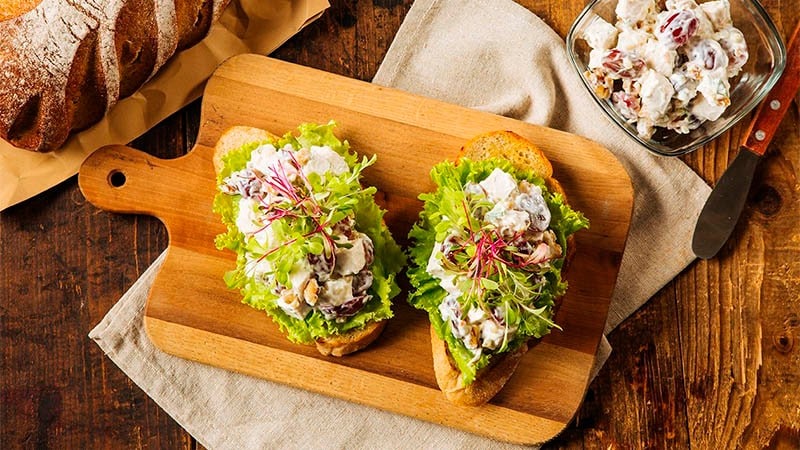 Adding fruit and vegetables to a salad bowl is a classic combination. In this recipe, the grapes add sweetness to tender chicken chunks and bring the flavors to a new dimension. For added crunch, walnuts are brought in for some earthiness and possibly some sweetness if you choose to caramelize them. All these are topped with rich Lady's Choice Real Mayonaaise and some optional microgreens.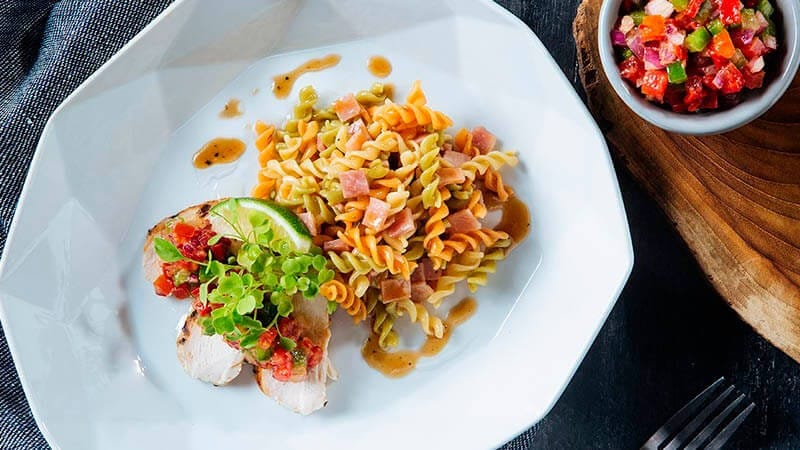 Salad doesn't always just have to have greens all the time. This pasta salad introduces cilantro and lime juice for a fresh kick. Together with the smoky taste of barbecue sauce, the fusilli noodles soak them all up for one healthy but satisfying bite. Crushed chips can even be sprinkled on top for some crunch!
5. Arugula Grape Salad
This dish features mixed greens and arugula that are made richer in flavor by lightlybrowned butter. Honey, vinegar, and canola oil further elevate the entire salad dish once they're drizzled on top. Having all these together lets you serve up a sweet-savory dish that both intrigues and delights customers.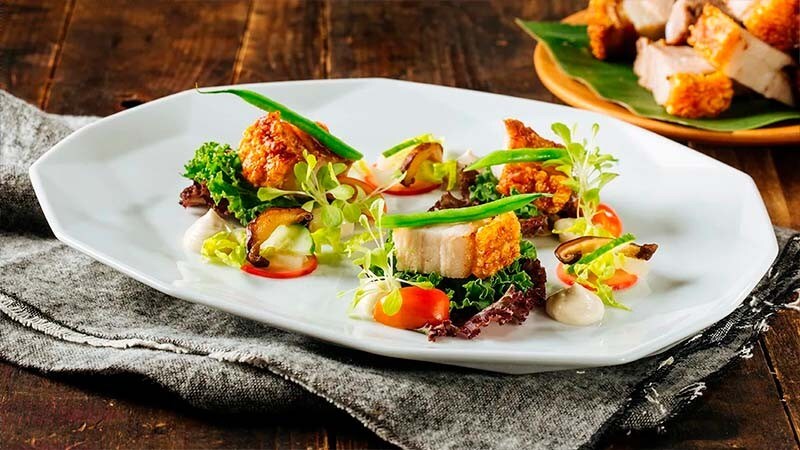 Combine the indulgence of bagnet with the citrusy profile of the lemon garlic aioli made with Lady's Choice Real Mayonnaise. The pork is first infused with flavorful broth then fried to golden-brown perfection. Each morsel is in perfect harmony with the French beans, shiitake mushrooms, baby potatoes, and mixed greens.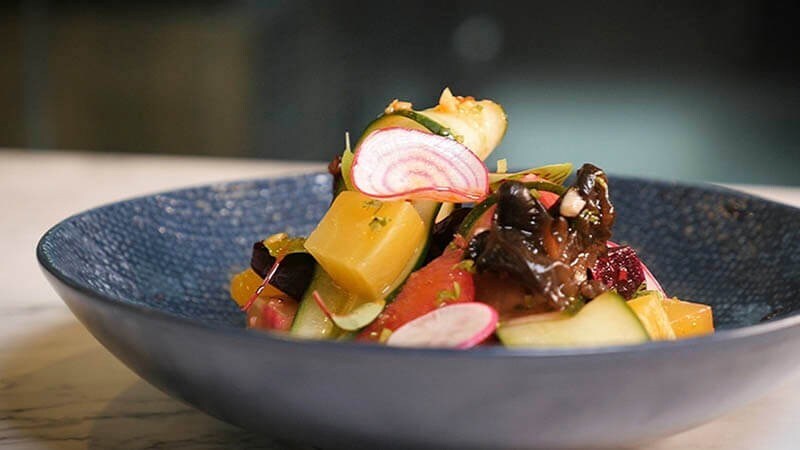 The name alone already suggests how colorful this dish will be. The combination of citrus and garlic with fungus and beetroot makes for a sweet and tangy number that varies in texture. Garnished with Swiss chard to add some sharpness, this meal can stimulate the appetite and provide a visual sensation all at once.
Harness The Freshness and Versatility of Salads
These seven recipes should give you an idea of how salads can serve as a canvas for you to experiment with various combinations of flavors and textures. Having these as your starting point can open up a world of ideas that will get customers wanting to eat your nutritious creations more and more.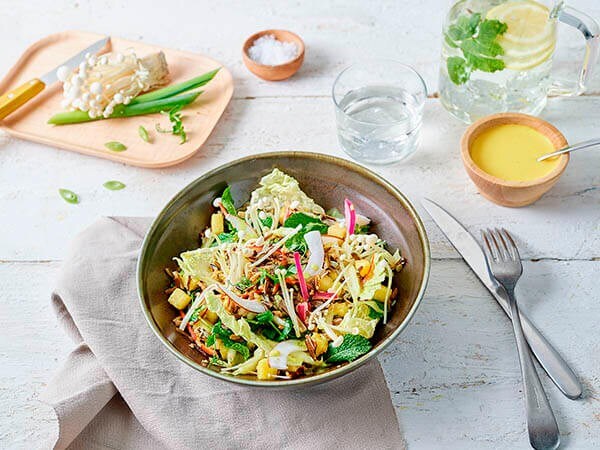 We're now seeing how salads can be incorporated into any cuisine and fit right in. From the Visayan and Ilokano elements to Western ingredients like Swiss Chard and Shiitake mushrooms, there really are no rules as to what you can toss into a salad. Because while prep surely is easy, that doesn't mean there are no opportunities for flavor complexity!
Add Richness to your Salads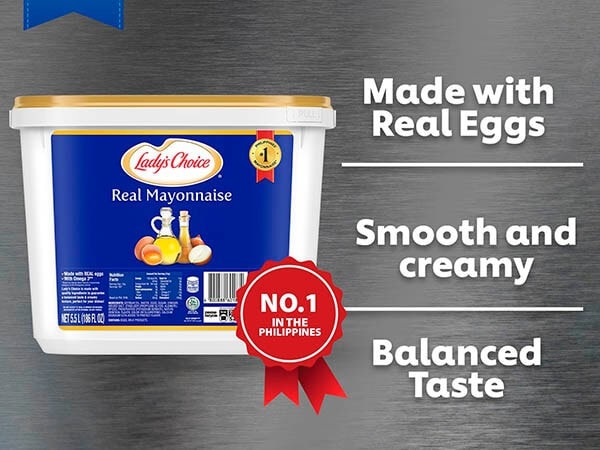 As a way to top off any salad that you make, Lady's Choice serves as the ideal ingredient for that. With a range of dressing options, you're sure to find the right finishing touch to your dishes. All made with real ingredients, they'll surely add flavor to your healthy menu items without having to sacrifice the nutritional value. As each product is available in commercial-sized SKUs, you'll also have the luxury of dishing out numerous salads without breaking the bank!
So as customers start adopting healthier diets for 2022, help them out by introducing them to salad options that won't deprive them of satisfaction. With whatever you choose to create, stock your kitchen up with reliable salad essentials from Lady's Choice.