Almost any dish that comes into contact with a salted egg yolk turns into gold, figuratively speaking, of course. When a restaurant in Singapore came out with salted egg yolk croissants, it was sold out within minutes! Another big international fast-food chain added a salted egg yolk chicken burger to their menu and now it's selling like hotcakes. Clearly, its immense popularity is undeniable, as photos of salted egg yolk-flavoured food were trending on social media this year.
Long before salted egg yolk-flavoured food became a trend, Hong Kong, China, Malaysia and Vietnam have already been using it in their cuisines. The sweet and salty flavours, along with its appetising appearance – just look at that soft golden center – contribute to its mass appeal. Filipinos have caught on to this craze and are clamouring for more salted egg yolk delicacies to reach their shores. Some local restaurants and food brands are following the trend and have started upgrading their menus to include more salted egg yolk dishes.


Learn 5 ways to use salted egg yolk and create your own original dishes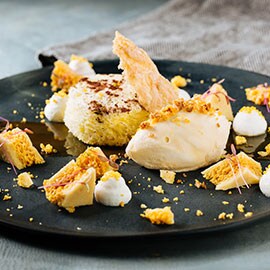 Appetisers and snacks
Anyone who has tried salted egg chips, salted egg fish skin chips, or golden salted egg popcorn will swear that they're sinfully addictive. Try making your own salted egg appetisers or give your fries, onion rings, even xiao long bao a salted egg yolk touch by creating a flavoured dipping sauce or a rich batter as a crunchy coat.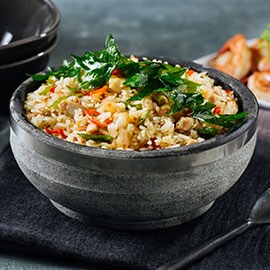 Fried rice
Enhance this staple dish by simply adding a dash of salted egg yolk instead of the usual egg.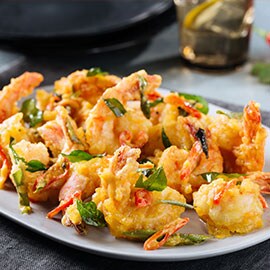 Protein
Whether you coat seafood, chicken, pork or beef in it, or use it as a breading mix for a deep-fried fix, salted egg yolk transforms almost any protein into a mind-blowingly flavourful main course.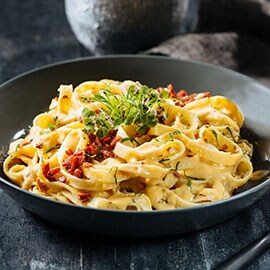 Pasta
Soon, diners will be slurping up noodles with salted egg sauce like nobody's business. Its rich, salty flavour goes extremely well with cream-based sauces and is an easy way to add some variation to your usual pasta sauce flavours.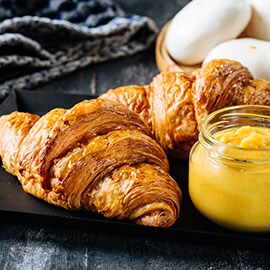 Pastries and desserts
Salted egg on bibingka and special ensaymada are all-time favourite Pinoy pastries. Add the same twist to croissants, custard buns and doughnuts, and you've found yourself a flavour jackpot. You can also try giving the good old classic chocolate lava cake a creative makeover by adding in a warm, gooey salted egg yolk filling. But why stop there? You can even invent your salted egg yolk ice cream, cookies, tarts and more! The possibilities are as endless as your creativity takes you.
There are definitely more ways you can infuse your menu with salted egg yolk. For example, you can think of including it in salad dressings, soup toppings, and even in side dishes. Adding this versatile and flavourful ingredient to any dish will almost instantly give it that mouth-watering aroma, flavour and texture that diners will keep coming back for.