Baked Prawns
Prepare this indulgent dish inspired by Prawns Thermidore. This festive recipe yet easy to recreate is enhanced with it's rich cheese sauce filling!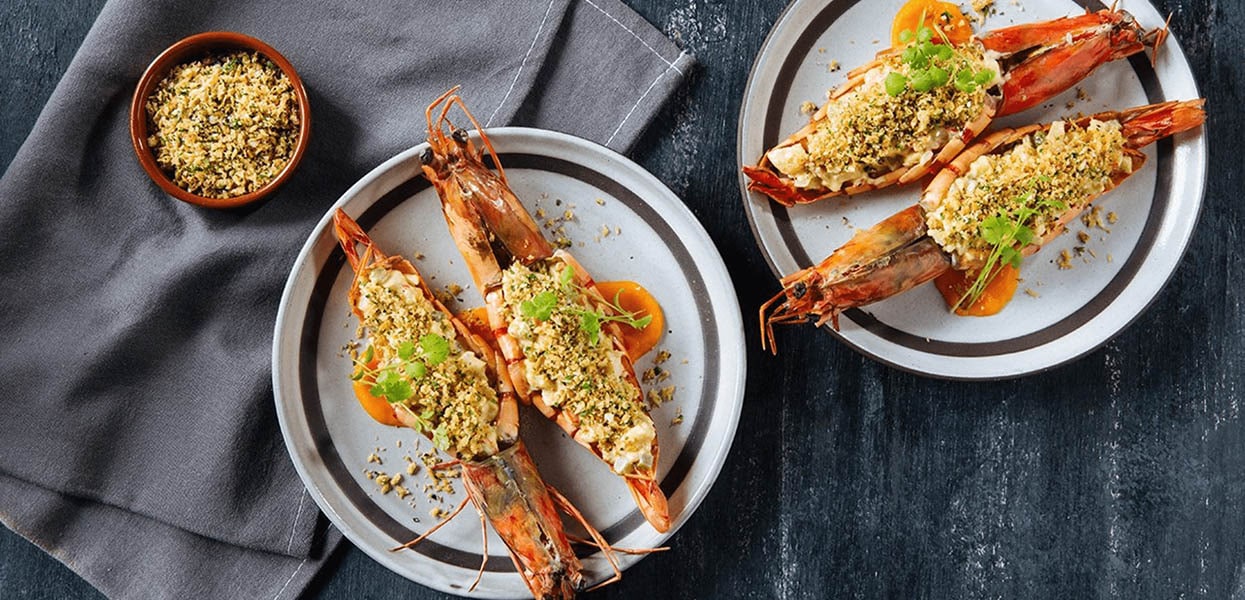 Ingredients
Prawn Preparation
Prawns, trimmed, deveined and butterflied (skin on)

125.0 g
Filling Preparation
Green bell peppers, roasted, peeled, and sliced into brunoised

20.0 g

Pimientos, brunoised

20.0 g

Japanese Bread Crumbs, toasted

50.0 g

Flat Leaf Parsley, minced

10.0 g
Assembly
Extra Virgin Olive oil

30.0 ml
Preparation
Prawn Preparation

10 minutes

Season the prawns with Knorr Aromat.
Arrange them on a sheet tray.
Steam in a combi oven for 5 minutes.
Gently remove the meat of each prawn while retaining the integrity of the remaining shell.
Slice the prawn meat into small dices and place in a clean, non-reactive bowl.

Filling Preparation

10 minutes

Make Knorr Cream Soup Base (dissolve in 120ml of water) and add the cheese to make the cheese sauce.
Combine the cheese sauce with Lady's Choice Real Mayo, bell peppers, pimientos, breadcrumbs, parsley, white onions, cayenne pepper, Knorr Shrimp Powder, brandy, and rock salt in a bowl.
Gently fold the prawn meat into the mixture.
Taste and adjust seasoning.

Assembly

15 minutes

Scoop a fully-heaped tablespoon of the mixture onto the back of the prawn shells, patting the filling with a spoon to fill out the shell evenly.
Repeat for the rest of the prawns.
Pre-heat a salamander or broiler to medium heat (or an oven to 350F).
Drizzle the prawns with extra virgin olive oil.
Bake for less than 5 minutes.
Plate and serve.