Beef Ribs with Meatballs
Learn a different and fun take on the Filipino favorite, Bulalo!
Main course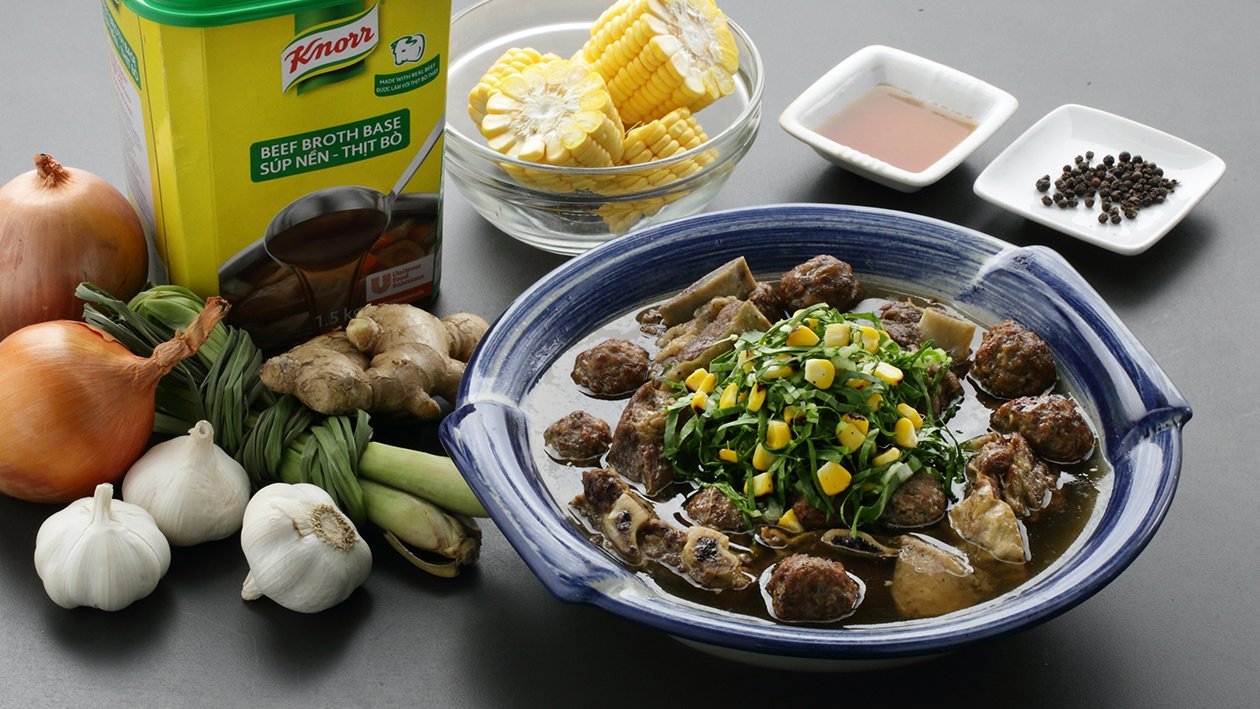 Ingredients
Beef Ribs and Broth
White Onions, peeled and sliced into quarters

150.0 g

Garlic Cloves, peeled and bruised

30.0 g

Beef short ribs, cut into 2 inch segments

1.2 kg

Lemongrass stalks, bruised

100.0 g
Beef Tendon
Meatball
White Onions, finely minced

60.0 g

Ground White Pepper

1.0 tsp
Garnish
Preparation
Beef Ribs and Broth

In a heavy bottom sauce pot, add oil.
Sweat the gingers, onions and garlic until fragrant.
Add the shortribs. Let the meat brown a bit.
Season with fish sauce. Pour in the water
Add the lemongrass stalks and the Knorr Beef Broth. Bring to a boil then turn it down to simmer. Cook for 3 hours or until beef is tender. Taste and adjust seasoning.
When the meat is already tender, strain from the broth. Remove the other vegetables from the broth as well.
Remove the excess fat from the broth. Combine the shortribs and the broth once again.

Beef Tendon

To prepare the tendons, boil in water with bay leaves, peppercorns and coriander root.
Cook in the pressure cooker for 30-35 minutes or until the tenders are cooks through and almost tender.
Cut into 2 inch segments.
Add tendons to the pot of simmering shortribs.

Meatball

Combine all the ingredients for the meatballs.
Form into 25g meatballs.
Shallow fry the meatballs until golden brown to help hold its shape before adding it to the beef broth.(The meatballs do not have to be cooked through)
Place over paper towels to absorb excess oil.
Add the meat balls to the simmering broth. Cook until the meatballs are cooked through.
To finish the soup, add the rock sugar and let it cook until it has melted.
Season with ground white pepper.

Garnish

To serve, portion the short ribs, tendon and 2 meatballs in each serving bowl.
Pour the hot soup over the meat.
Top with chiffonade of fresh pechay leaves and corn kernel.