Chicken with Creamy Mushroom Sauce and Leek Oil
Baking is a healthy option to cooking this popular lean protein. Complemented with fragrant mushroom sauce and leek oil, this version is best served up hot and juicy from the oven.
Main course
Chicken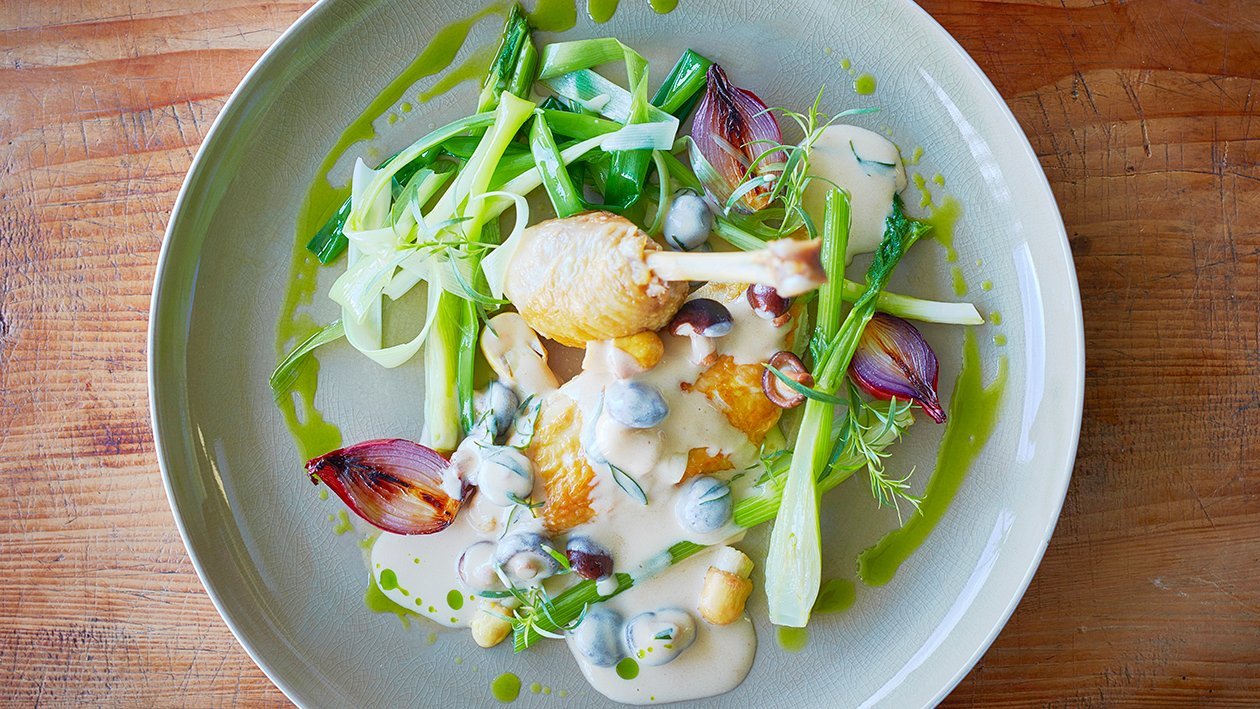 Ingredients
Chicken
Sauce
Shallots, finely chopped

80.0 g

Garlic Cloves, finely chopped

2.0 pc

Anise Mushrooms or Small White Mushrooms

250.0 g

Shiitake Mushrooms

150.0 g

Fresh Herbs – Tarragon, chopped
Leek Oil
Young Leek (green parts)

250.0 g
Vegetables
Chicken Bouillon

150.0 ml
Preparation
Chicken

Season the chickens and BBQ or roast.
Remove the legs and divide the thigh from the drumstick.
Keep the legs for the sauce/stew.
Keep the filets on the bone and bring to right level of doneness in the oven at 120 degrees Celsius.

Sauce

Fry the shallots and garlic in vegetable oil.
Deglaze with white wine and reduce until 1/4th.
Add demi-glace and crème fraiche.
Bring to boil and season.
Add the chicken leg parts.
Simmer until the leg meat comes off the bone.
Take the chicken parts out of the sauce and keep warm.
Finish the sauce with a hand blender.
Fry the mushroom and bring them into the sauce.
Season and add the chopped tarragon.

Leek Oil

Heat the oil to 60°C.
Clean and cut the green of the young leek.
Blend together and stain through a fine sieve.
Season and cool down.

Vegetables

Clean the fennel and blanch it, stew with some butter before serving.
Stew the young leek in chicken bouillon with some butter.
Half the red shallots and roast them with olive oil in a shallow pan.

Plating

Cut the chicken fillets from the bone and divide - ½ fillet per person.
Place the chicken fillet on the plate.
Put the leg part on top.
Place the prepared vegetables around the chicken.
Pour the sauce with the mushroom and tarragon over the chicken.
Garnish with the tarragon tops.