Creamy Baked Fish with Garlic Sauce
Prepare to dive into the delightful flavors of baked fish, elevated with creamy and garlic goodness. Serve up a hearty plate of fish fillets baked to mouthwatering perfection and topped with mayonnaise cheese sauce.
Main course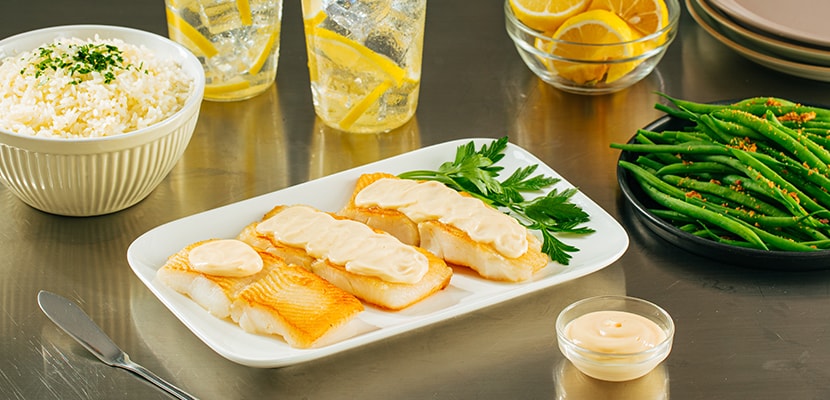 Ingredients
Sauce Preparation
Cheese, Quickmeltgrated

100.0 g
Fish Fillet Preparation & Serving
Fish Fillet(can be Tanigue, Dory, Salmon)

1000.0 g

Calamansi or Lemon, sliced or wedge
Preparation
Sauce Preparation

30 minutes

Heat a pan and add the margarine.
Add the garlic and cook for 1 minute.
Add the onions and cook for 3 minutes, then add the flour.
Cook the flour in for 1 minute, then add the milk.
Remove from heat and allow to cool down.
Add the other ingredients and incorporate thoroughly.

Fish Fillet Preparation & Serving

10 minutes

Season the fish with the ingredients.
In a pan, heat a little oil and sear both sides. Do not cook through, only colour the fish.
Preheat oven to 180*C.
Place the fish in a baking pan and top with the mayonnaise cheese sauce and bake for 12 minutes.
Serve with Lemon or Calamansi on the side, then garnish with Parsley.