Crispy Pata Three Ways
Reinvent the Crispy Pata recipe in three innovative and delicious ways!
Main course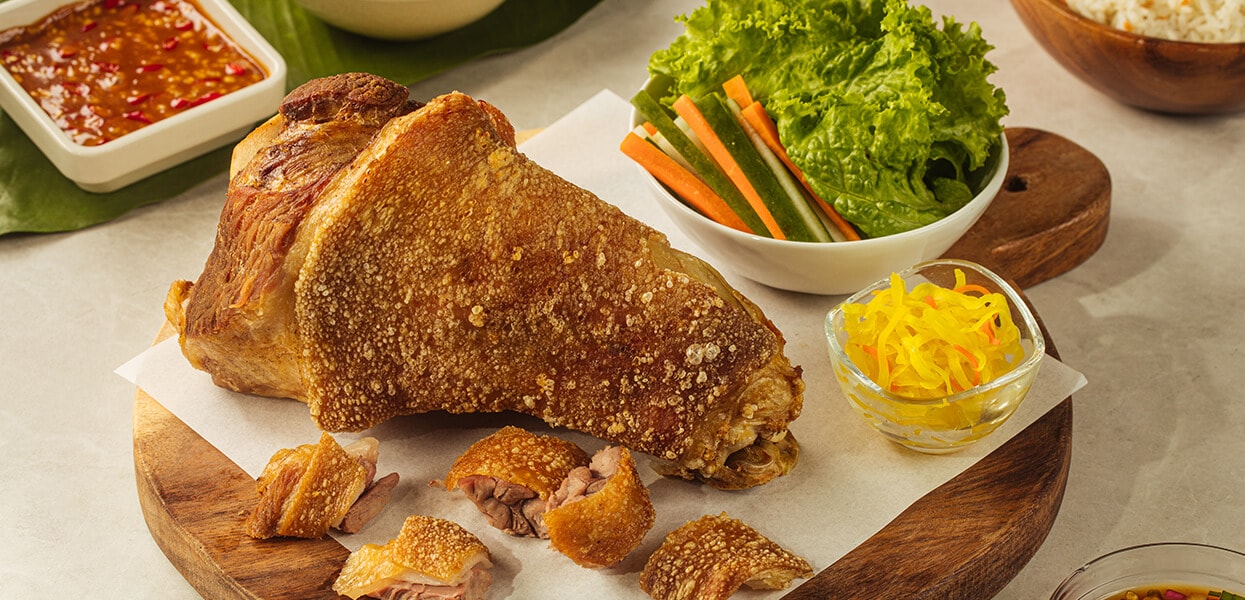 Ingredients
Pata
Ground Black Pepper

2.0 g
Peanut Sauce
Dipping Sauce
Red Onions, chopped

20.0 g

Spring Onions, finely chopped

6.0 g

Black Pepper, crushed

1.0 g
Soy Vinear Dipping Sauce
Parsley, washed and trimmed

80.0 g

Coriander Leaves, washed and trimmed

50.0 g

Garlic Cloves, peeled

100.0 g

White Wine Vinegar

60.0 ml

Red Jalapenos or Red Finger Chilies (optional)

2.0 g
Preparation
Pata

In a large sauce pot, place all of the ingredients.
Bring to a boil then simmer for 2 to 3 hours or until it is fork tender.
Strain then let it cool. Keep in the chiller until ready to cook.
Preheat the frying oil over medium heat.
To cook; heat oil to 350 degrees F. Place the crispy pata and cover the pot. Deep fry until golden brown and crispy.
Remove from the cooking pot, and place on paper towels to remove excess oil.
Transfer to a rack and let it cool.
Chop and transfer to a serving plate.


Peanut Sauce

Place all the ingredients in a food processor.Puree until smooth.
Heat the mixture before serving. Taste and adjust seasoning.
Turn off the heat, stir in the Knorr Lime Powder.

Dipping Sauce

In a mixing bowl combine all the ingredients and mix it using a whisk. Set aside.

Soy Vinear Dipping Sauce

Combine all the ingredients together in a food processor
Pulse the mixture until it forms a paste (similar to a pesto)
Taste and adjust seasoning.