Duck Crepe
This version of the classic Chinese Peking Duck dish is made with seared duck enveloped in homemade buckwheat crepe, which may also be made ahead. Chefs may experiment with the sweetness and garlicky flavour of the sauce, too.
Main course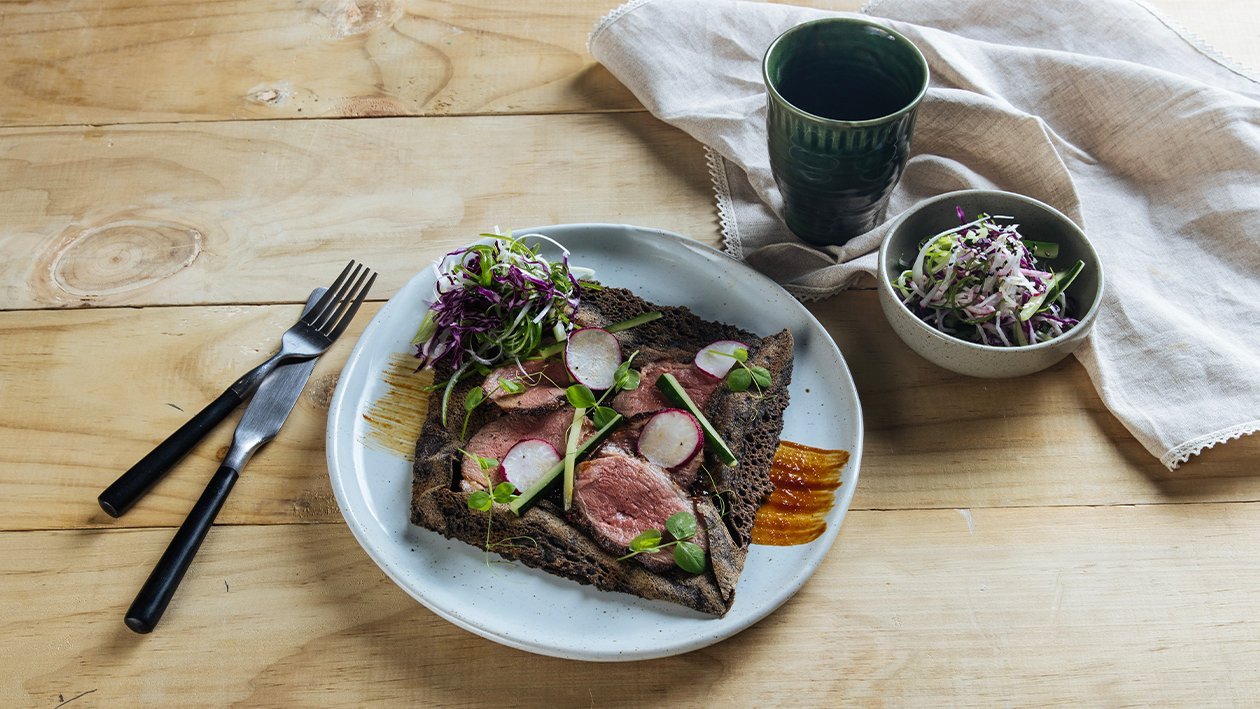 Ingredients
Buckwheat Crepe Preparation
Oriental Sauce Preparation
Peanut Oil (or Canola Oil)

10.0 ml
Duck Preparation
Duck Breast Fillet

500.0 g

Black Pepper, crushed

2.0 g
Presentation
Pickled Baby Radish

100.0 g
Preparation
Buckwheat Crepe Preparation

Combine the flour, salt, eggs, milk, butter and oil in a blender. Blend until smooth.
Let it rest in the chiller for 3-4 hours. Batter can be prepared a day before and kept in the chiller.
After the resting period, add cold water to thin out the batter. Add the water according to your desired thickness of crepe.
Heat a crepe pan. Lightly grease the pan with butter.
Pour enough batter to the pan. Swirl the pan as the batter is being poured to make a thin layer crepe. Cook the crepe on both sides.
Repeat with the rest of the remaining batter.

Oriental Sauce Preparation

Heat oil in sauce pan.
Sweat the finely minced ginger and garlic until fragrant.
Add the soybean paste and water.
Add the Knorr Rock Sugar Honey Sauce. Taste and adjust seasoning.
Add the sesame oil.

Duck Preparation

Preheat the oven to 390F.
Score the skin of the duck breast. Season with five spice powder, salt and pepper.
Place the duck breast on a non-stick pan (cold start), skin side down. Heat the pan and let the top side of the duck render until crisp.
Cook the other side of the duck for a minute.
Remove the pan from the heat. Pour out half of the excess fat (set this aside for future use).
Brush the skin side with Knorr Rock Sugar Honey Sauce.
Finish cooking the duck in the oven for 5-7 minutes.
After the required time, remove the duck from the oven. Brush once again with Knorr Rock Sugar Honey Sauce.
Remove the duck from the pan and let it rest for 5 minutes.

Presentation

Heat a crepe pan over low heat.
Place the crepe to reheat.
Spread 1.5 tablespoon of sauce onto the middle of the crepe.
Arrange 5-6 pieces of the duck slices on top.
Fold the sides of the crepe, while still exposing the middle.
Transfer the crepe on to a warm serving plate.
Thinly slice leeks into 1.5 inch segments.
Garnish the middle with leeks, seeded and julienned cucumber and pickled radish.
Serve immediately. Serve the crepe with extra oriental sauce on the side.