Fusilli with Shrimps in Tomato Cream Sauce
Get the best of both pasta worlds with a creamy tomato pasta, made with shrimps and seasoned to perfection.
Main course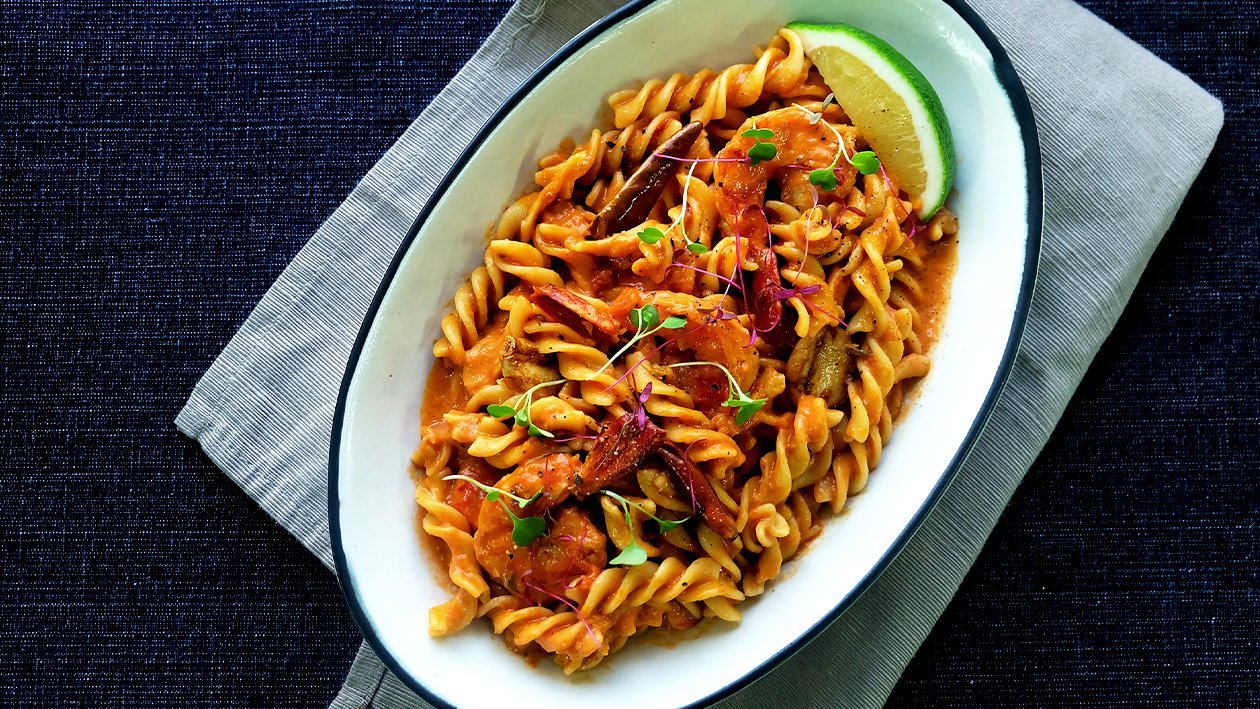 Ingredients
Cream Base
White pepper, crushed

1.0 g
Tomato Sauce
Tomatoes, small diced

144.0 g
Pasta Water
Fusilli Pasta Noodles, uncooked

160.0 g
Pasta Cooking
Dried Chilies or Chili Flakes

6.0 pc

Fresh-Cracked Black Pepper
Preparation
Cream Base

10 minutes

Place the cooking cream, water, and Knorr Concentrated Chicken Liquid Seasoning together in a sauce pot.
Let it boil and add the remaining ingredients.
Simmer for 5-8 minutes until flavors are incorporated.
Set aside for later use.

Tomato Sauce

5 minutes

Using a blender, place the diced tomatoes, pimiento and Knorr concentrated chicken liquid seasoning.
Blend until smooth and set aside for later use.

Pasta Water

5 minutes

In a pot, place water and rock salt. Boil and add pasta noodles.
Cook for 5 minutes or until al dente.

Pasta Cooking

10 minutes

In a sauté pan, heat olive oil.
Sauté garlic and dried chilies until fragrant.
Add the shrimps and deglaze with white wine.
Add prepared tomato sauce and pasta water.
Simmer until it reduces into half.
Add cream base sauce and cooked pasta.
Simmer until sauce thickens and season with cracked black pepper.
Garnish with micro greens (optional).