Kare-Kare with Bagoong Salad
Try this new take on the classic Kare-Kare dish that Filipinos love!
Main course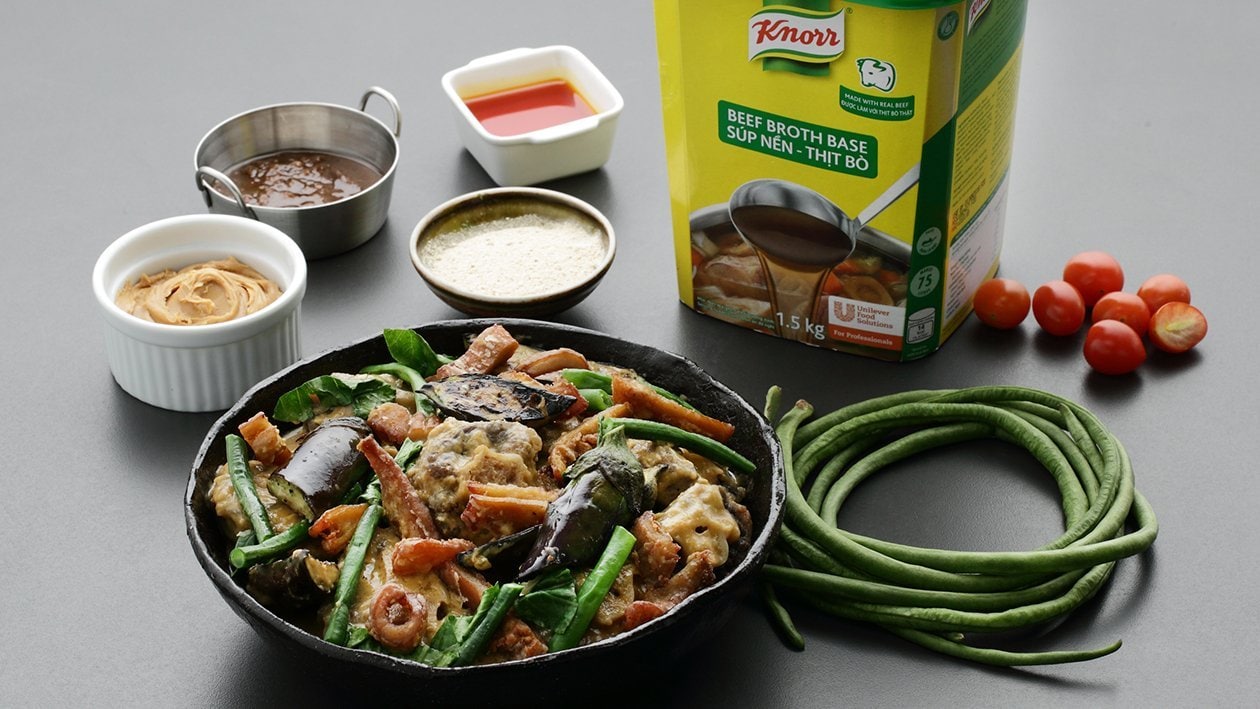 Ingredients
Ox Tail
Ginger, sliced thinly

10.0 g
Tripe
All-Purpose Flour, For Dredging
Sauce
White Onion, chopped

100.0 g

Garlic cloves, minced

20.0 g

Toasted Rice Powder (optional)

100.0 g
Bagoong
Garnish
Eggplant, grilled and peeled

2.0 pc

String Beans, sliced into 2-inch segments

200.0 g

Cherry Tomatoes, halved

100.0 g

Ox Tail In Kare Kare Sauce
Preparation
Ox Tail

Combine all things together in a stock pot. Bring the mixture onto a boil then turn it down to simmer to tenderize the meat.
Braising - 2 to 3 hours.
Pressure cooker - 40 minutes
After the meat is done, strain from the stock. Let the meat cool down. Remove excess fat from the stock.
Reserve the stock to make the sauce.

Tripe

Combine the tripe with the rest of the ingredients. Bring to a boil, then turn it down to simmer until tender. Cook until the tripe is tender.
Braising - 3 to 4 hours.
Pressure cooker - 1 hour.
When the tripe is already tender, strain from the stock. Discard the stock.
Place the tripe in the chiller to cool down. When cooled, cut 1/2 cm thick.
Dredge the tripe with flour.
Deep-fry the tripe until crispy. Set aside over paper towels under a heater.

Sauce

Heat oil in a braising pan.
Add the onions and the garlic. Cook until fragrant.
Add the fish sauce.
Add the peanut butter. Stir and let it slowly incorporate with the rest of the ingredients.
Pour in the broth. Whisk to combine peanut butter with the broth.
Add the toasted rice powder to help thicken the sauce (if needed).
Add the meat to the pot.
Taste and adjust seasoning with fish sauce if needed.

Bagoong

Whisk in the vinegar and the honey together in a stainless bowl.
Add the bagoong to the bowl. Whisk together.
Season with Knorr Shrimp Powder, Knorr Lime Powder, and salt. Set aside until ready to use.

Garnish

Combine all the vegetables in a bowl.
Toss with the bagoong dressing.